Blackpink Merchandise
Blackpink is currently one of the most popular girl bands and KPop groups in general. The group that consists of Jennie, Jisoo, Rosé an Lisa debuted on August 8, 2016 with the single Square One that was extremely well received by the fans of South Korean music.
Since the debut the girls maybe haven't released as many physical albums (especially vinyl records) as we hoped for but we can be pretty much pleased with the Blackpink merchandise that YG Entertainment managed to deliver.
The members are known for their collaborations with many recognizable brands such as Monopoly, Acmé De La Vie, and even Tiffany & Co.
Pop-Up Store 2017 Merchandise
In 2017 Blackpink opened their first pop-up store during the release of As If It's Your Last to sell some of the merchandise prepared by YG Entertainment. The shop was opened for 11 days starting from June 23. The visitors could get three items - two different sets of posters (525 x 750 mm, 6 sheets in each set), set of 22 postcards (111 x 170 mm) and a photo frame (480 x 357 mm). There were 12 different types of a photo frame available: two of each member - Jennie, Jisoo, Rose and Lisa and 4 of the whole group.

Square Up Pop-Up Store 2018 Collection
The second pop-up store Square Up was opened from June 16 to June 24, 2018. The location of the store was at the same place where the reality show Blackpink House was shot. The attendees were able to get three pieces of Blackpink merchandise.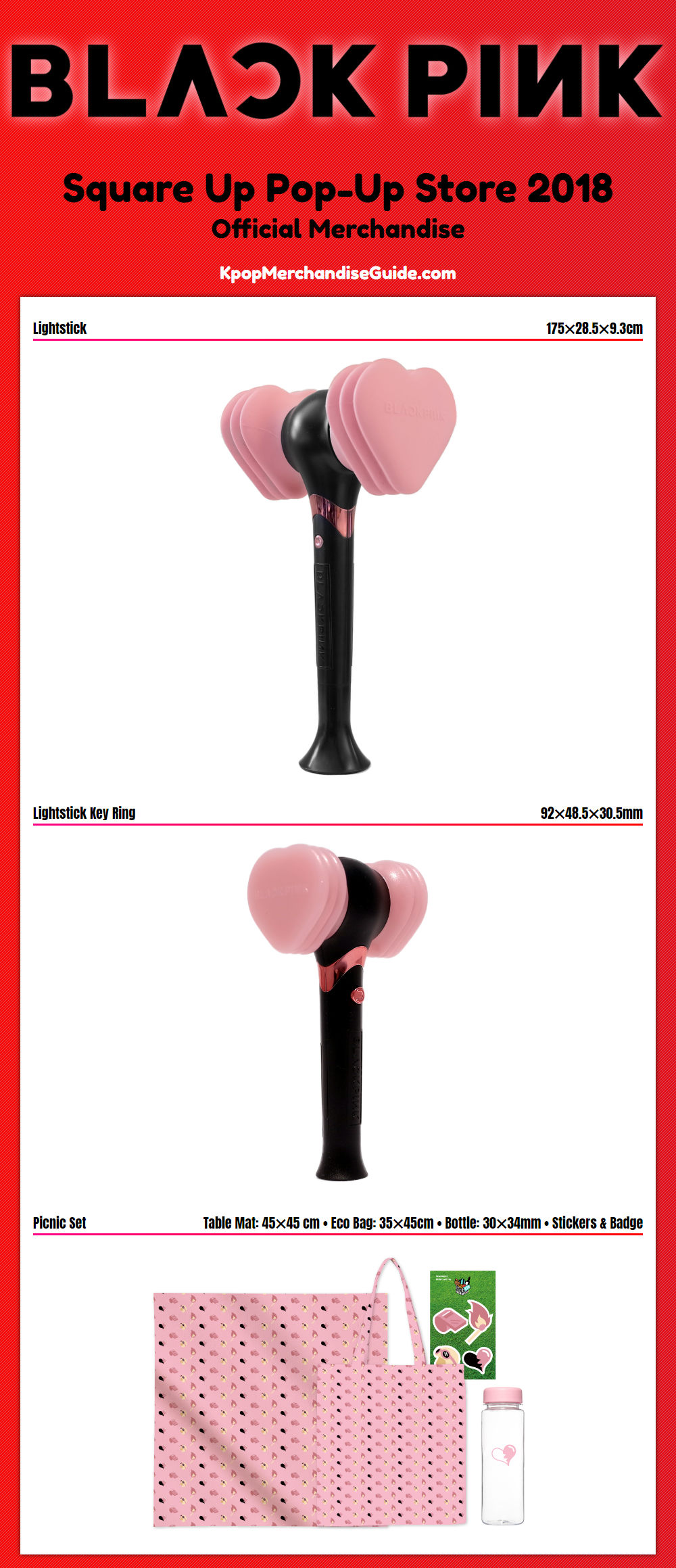 The first item is Blackpink official lightstick that looks like a hammer with a triple pink heart on both sizes. It is responsive to sound. The size of it is 175 x 28.5 x 9.3 cm and it weights around 310 g. It runs on two AAA batteries. The work time of the lightstick is 5~10 hours. It is manufactured by TRADIT.
Initially the lightstick came with a set of photocards (version 1 or version 2) when purchased from official YG store.
The second item is a keyring that looks exactly the same as the Blackpink official lightstick. Of course the size is much smaller - 92 x 48.5 x 30.5 mm. But it works almost equally good. All you need is three LR41 batteries and it can run for 6 hours. Please remember that you most likely will not be able to get it from the official YG store since it includes an internal battery that cannot be shipped overseas.
The third and the final part of this Blackpink merchandise is a picnic set that includes a picnic table mat (45 x 45 cm), eco bag (35 x 45 cm, strap: 65 cm), bottle (30 x 34 mm) and a set of stickers and badge. Similar picnic sets were also released for other YG groups like Sechskies, Big Bang, Winner and iKON as a part of YG Box Season 2 collection.
In Your Arena Tour Merchandise
In Your Arena is Blackpink's second concert tour after Arena Tour in 2018. It started in November 2018 with a concerts in Seoul where the girls performed before the audience of 20 000 people. The group continued the tour in 2019 performing in more countries in Asia and will be visiting United States, Canada and then Europe and Australia in the upcoming months.
YG Entertainment prepared a special selection of Blackpink merchandise. And we're talking here about a huge number of goods - 33 in the first part and 12 in the second. The second part is a YG mascot Krunk related collection.

The 33 items in this part is a treat for every Blackpink fan. If you're thinking about purchasing any of these you can easily get them online on the official YG shop YG Select. Some of them might be out of stock though.
The collection starts with a selfcare planner sized 142 x 185 x 335 mm. It comes with a set of 4 transparent photocards with the picture of each member. You can purchase a black ballpen with a a pink heart on it that will go nicely with the planner.
The ballcap from RINSE&CO is a part of Square Up merchandise but was also included in this set. It is a free size item (54-60 cm). If you prefer a bucket hat you can get a black hat with the words "Ddu Du" written in green and yellow. The third option is a simple beanie. The black version says "Debuted On August 8, 2016" and the pink one has "Ddududu" on it.
Next we have a travel pouch set that consists of 4 different size pouches with a Blackpink logo on it - flat pouch: 255 x 160 mm, mesh pouch (S): 320 x 220 mm, mesh pouch (M): 290 x 270 mm and mesh pouch (L): 400 x 300 mm. These were manufactured by ACE KOREA Co., Ltd. You can get another pouch sized 230 x 115 x 30 mm separately that was made by SFM KOREA CO., Ltd.
Two types of socks are available - black and pink with heart or words "Black" and "Pink" matching the color in type 1 and with letters "B" or "P" in type 2. The size is free (24 cm).

A lightstick and keyring that were a part of Square Up Pop-Up Store 2018 collection are included here as well.
The set of two Krunk tumblers should be a part of the latter collection but somehow it was added to the first part. Two colors are available. It was manufactured by Seung Hwa P&P Co., Ltd.
Next we have a transparent phonecases with a glitter in it. Unfortunately these are available only for IPhone (IPhone 7/8, IPhone 7/8 Plus, IPhone X).
The four pin badges are not all in one set. You have to get them separately. The pins are available in the shape of Blackpink logo (55 x 15 mm), two hearts with the letters "BP" (33 x 18 mm), lightstick (33 x 54 mm) and hearts (38 x 33 mm). They are made of brass.
A set of two heart shaped soaps will look great in your bathroom. As a souvenir of course because it would be a pity to use it up. The first one is white and the second is pink with a visible glitter. The size of each one is 143 x 74 x 35 mm.
If you're in need of something to sleep in you will appreciate a pink free sized pajama. It has initials "BP" on a left sleeve. The set consists of shirt and pants. If you need just pants you can get a striped black and pink sleeping pants manufactured by YG Entertainment.
The portable charger will make your life less difficult by helping with charging your smartphone. It consists of two parts - a head (95 x 55 x 50 mm) and a battery itself (handle) (20 x 20 x 125 mm). In a box you will find a strap, USB cable and user manual.
The scrap book is a binder that you can use to make the notes, keep your photocards or other stuff. It includes the photos of all members. The size of this item is 240 x 235 x 40 mm and it is manufactured by TAESUNG DPA.
There is even an item designed for your pet. It is a simple pink scarf that comes in two sizes: M and L.
The official concert Blackpink slogan also comes in this collection. It has a logo of the group on both sides (a mirror image of the logo on the pink side). The size of the slogan is 300 x 1100 mm.
The next item which is a transparent bag can contain all your necessities. It has a Blackpink logo on front. The size of the bag is 280 x 270 x 105 mm and the length of the strap is 580mm.
There are available two types of T-shirts - long sleeve and regular. The regular one is available in three colors: blue, pink and white and three sizes: M, L, XL. The long sleeve T-shirt comes in two colors: black and white and two sizes: M and L.
The other items are a pink bath headband (200 x 70 mm), blanket (750 x 1050 mm), masking tape (one of 4 available) (15 x 5000 mm), bracelet with a heart pendant, heart cushion (36 x 27 x 12 cm), heart massage stick (42 x 12 x 6 cm), Krunk hair string with a charm, set of epoxy stickers made by HANKANG J.K.C (195 x 168 mm) and a trifold wallet (125 x 75 mm) with a lanyard made by UNIONOBJET.
In Your Arena Tour Merchandise 2
YG Entertainment decided to release another line for the ongoing In Your Arena tour - this time it's a Krunk related collection. We will find here 12 new items.

The first two products are a Krunk cushions/teddy bears - one bigger (45cm) and one smaller (30cm). The next is a keyring with a Krunk wearing black T-shirt with a name Blackpink on it.
There are two different versions of a cross bag available - a round one and a regular. Both made of polyester.
If you need a sleeve for your laptop you can get it a black one sized 38 x 28 x 3 cm with Krunk's face on it.
One of two available pairs of slippers will be a great addition to the pajama introduced by YG earlier. You can choose between black and pink fur slippers. Both come in three sizes: S: 230~240mm, M: 250~260mm, L: 260~270mm.
In this collection you can get a pet hoodie (in two different colors) for your pet that will match the pet scarf from the first collection. It comes in three sizes: S, M and L.
The other items are a pouch (22 x 14 x 6.5 cm), hooded cushion (32 x 30 x 11 cm) and a wrist toy (8.5 x 5.5 x 5.5 cm).
Blackpink Winter Edition Set
At the end of 2018 a special set of Blackpink merchandise showed up on YG shop. It is a part of a YGBOX4 Winter Collection were similar sets were released also for Big Bang, iKON, Sechskies and Winner. The set consists of three items: muffler (165 x 1600 mm), gloves (free size), badge (33 x 42 mm) and calendar.