Stray Kids Stay In London Photobook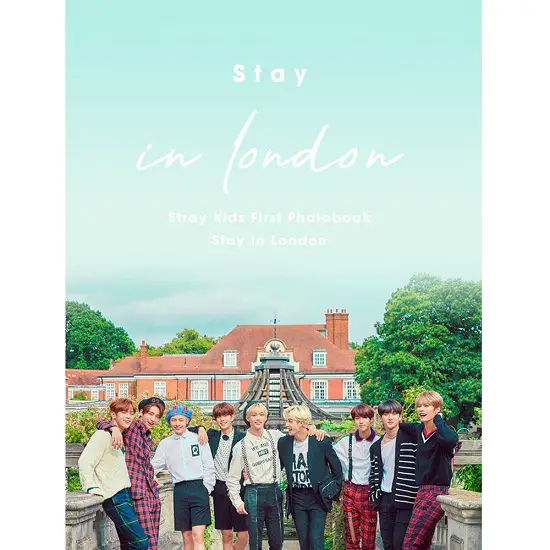 On September 8, 2019 Stray Kids announced they first photobook titled Stay In London. It documents the time when the group stayed in the capital of UK during their Unveil Tour "I Am...". All members including Bang Chan, Woojin, Changbin, Lee Know, Hyunjin, Felix, Han, Seungmin and I.N performed there on July 28, 2019 at the O2 Brixton Academy venue. The pre-order of the Stray Kids photobook began on September 9 at 12 PM KST. London was one of 12 cities they visited during the tour that began with the concert in Bangkok, Thailand on January 19, 2019 and concluded on August 4, 2019 in Moscow, Russia. The tour was created to support the group's albums Mixtape, I Am Not, I am WHO? and I Am You.
The group previously documented their visits in other cities through the music videos - Los Angeles by releasing the MV for TMT from Clé 2 : Yellow Wood album and New York through Voices from the extended play I am WHO?. Although this is the first time when the members of Stray Kids will be presenting their memories by other medium than a video. It's the group's personal gift for their official fandom that goes by the name Stay. It is a very unique and precious collectible.

The promotional photo for this new release features the members in the casual attires posing on front of a classic British building on a warm and bright Summer day. The Stray Kids Stay In London photobook is the first merchandise of that kind since the group debuted in March 2018. Although they had previously released a special photo album as part of their collection of merchandise prepared for the first showcase Unveil Op. 01 : I Am Not that took place at the Jang Chung Arena in Seoul on March 25, 2018. The item consisted of 56 pages and measured 210 x 297 mm. The other photo album was available during the Unveil Op. 03 : I Am You showcase and included 124 pages. It was a little bit smaller than the precious one since it measured 160 x 170 mm.
The Stay In London photobook consists of 325 pages full of photos taken in England. In the package you will also find a DVD with a making of footage, a set of 9 postcards, a set of 3 photocards randomly chosen out of 9, a paper holder and a folded poster (two different variants are available). Additionally a special gift in the form of 1 polaroid photocard was awarded for everyone who purchased the Stray Kids Stay In London photobook during the pre-order period. Nine different versions of the polaroid are available.
The item was made in South Korea under the license of JYP Entertainment and is distributed by Soundwave. It measures 210 x 297 mm and weights approximately 2 kg. It is a very nice product for anyone who is a Stray Kids fan and for any KPop fan that likes to collect photobooks.
Available From Ebay ▼
Check It Out
Or Amazon ▼
Check It Out