BTS World Tour Love Yourself: Speak Yourself London Wembley Concert DVD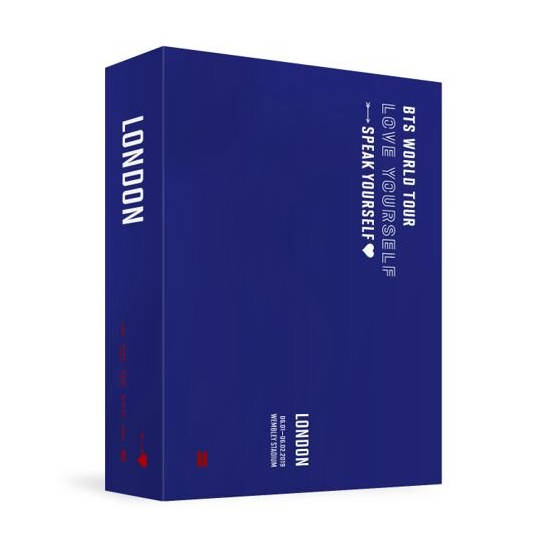 The DVD features the concert recorded in June of 2019, when the group visited London and performed at the Wembley stadium during the extension of their world tour Love Yourself titled Speak Yourself. The DVD was released on September 24, 2020 and consists of 2 disks - the first with 18 performances, and the second with 4 encore songs alongside the concert making film.
On the DVD number 1 (around 108 minutes) you will find the videos for Dionysus, Not Today, Interlude: Wings, Trivia Gi: Just Dance, Euphoria, Best Of Me, Serendipity, Trivia Seung: Love, the Japanese version of Boy With Luv, BTS Medley (DOPE - Silver Spoon - FIRE), IDOL, Singularity, FAKE LOVE, Trivia Jeon: Seesaw, Epiphany, The Truth Untold, Tear and MIC Drop. The second DVD disk (around 118 minutes) features Anpanman, So What, Make It Right, Mikrokosmos and the additional content which is the making of. The Korean, English and Chinese subtitles are provided so you can enjoy it without knowing the Korean language.
The Speak Yourself concert DVD comes in a dark blue box of a dimensions of 153 x 202 x 44 mm. Inside you will find the DVD disks itself in a separate cover (140 x 189 mm), a 152 pages photobook (140 x 189 mm), a folded poster of a size of 567 x 280 mm, and a random photo bookmark chosen randomly out of 7 variants, each of them featuring a single member of BTS.
The DVD was released under Big Hit Entertainment, its subsidiary Big Hit Three Sixty Co., Ltd., and Play Company Corp., it was made in South Korea and distributed beNX Co., Ltd.
The DVD is marked as a region code 1, 3, 4, 5 and 6. A Blu-ray version of this BTS concert is also available if you prefer it.
Available From Ebay ▼
Check It Out
Or Amazon ▼
Check It Out