KPop Canvas Pencil Case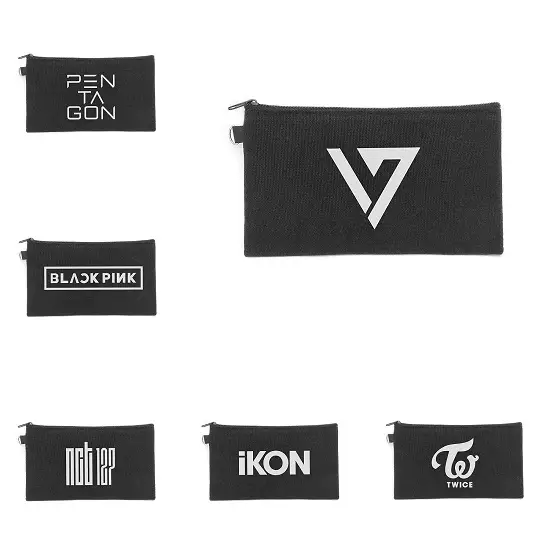 It is a simple yet very useful product. What you can see here is a black KPop pencil case made of canvas. It is more comfortable than normal nylon items. It can help to - as the name suggests - keep your stationery like pencils, pens, rulers, highlighters, erasers and other things in one place. Of course you can also use it for other purposes, for example you can keep your money in it. The KPop pencil case is opened and closed by a zipper. It features a logo of the KPop group of your choice which was printed in a special way to make it more clear and sharp looking. The size of the pouch is 8.3 x 5 inch. It comes with a bonus lomo photocard. You will definitely be pleased with this wonderful item.
There are many variants to choose from. If you need to get the case with a logo of your favourite KPop band you will most likely find it among the options. The available groups are 2NE1, 2PM, AOA, VIXX, Astro, B.A.P, B1A4, B2ST (Highlight), Big Bang, Blackpink, BTS, C.N.Blue, Day6, iKON, SHINee, G-Dragon, GOT7, Infinite, KARD, MBLAQ, Monsta X, NCT 127, NU'EST, Pentagon, Red Velvet, Seventeen, Sistar, Girls' Generation, Twice and Winner. As you can see the list is big enough for any fan. You will probably find here the best design.

This is unofficial fan made product. If you would like to become the owner of a official item there some examples I can think of. Of course they seldom show up anywhere online so getting them can be a little bit tricky. In 2018 at the Momoland fan meeting that took place at the Ewha Women's University the fans could purchase a special set of stationery. It consisted of 3 pencils (red, yellow and blue), 1 eraser and of course a cool case made of PVC. It features the logo of Momoland and some drawings of all kind of candies. Additionally you could get six memo pads in one set that measures 70 x 88 mm. At the pop-up store of Twice in Summer of 2018 titled Dance The Night Away you could get a transparent pencil pouch with the mentioned title and a small logo pendant. It measures 200 x 70 mm and is also made of PVC. Finally the attendees of the Seoul concerts of 2017 BTS Live Trilogy Ep. III: The Wings Tour had an opportunity to purchase a nice black case representing their most beloved group. It has a zipper and measure 215 x 85 mm. It was one of few cases the members of BTS has released as part of their collections of merchandise available at the events.
If you like this KPop pencil case you can get it for a fair price of $10.50 from a person who have been selling these kind of items for years. The other collectibles beside the pencil case he offers are backpacks, jewelry, postcards, phonecases and fashion in general. You will get something interesting for you regardless of what KPop group you're following.
Available from Amazon ▼
Check It Out