IZ*ONE (Izone) Merchandise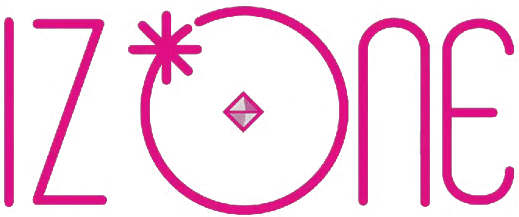 Izone (stylized as IZ*ONE) debuted on October 29, 2018, with their first EP Color*Iz and a special concert called Color*Iz Show-Con. The event took place at the Olympic Hall in Seoul at 8 p.m. and was streamed through various Youtube channels (Mnet K-Pop, Mnet Official, m2) and Facebook pages (IZ*ONE, Mnet, Stone Music Entertainment, produce48, mnet mcountdown, m2). During the showcase the fans were given the chance to purchase some of the official IZ*ONE merchandise.
Color*Iz Show-Con Collection
The collection consists of 6 different products. Every fan unfortunately could get only a limited amount of items - only two lightsticks per person and five of other items per person. The sale had to end exactly one hour before the show.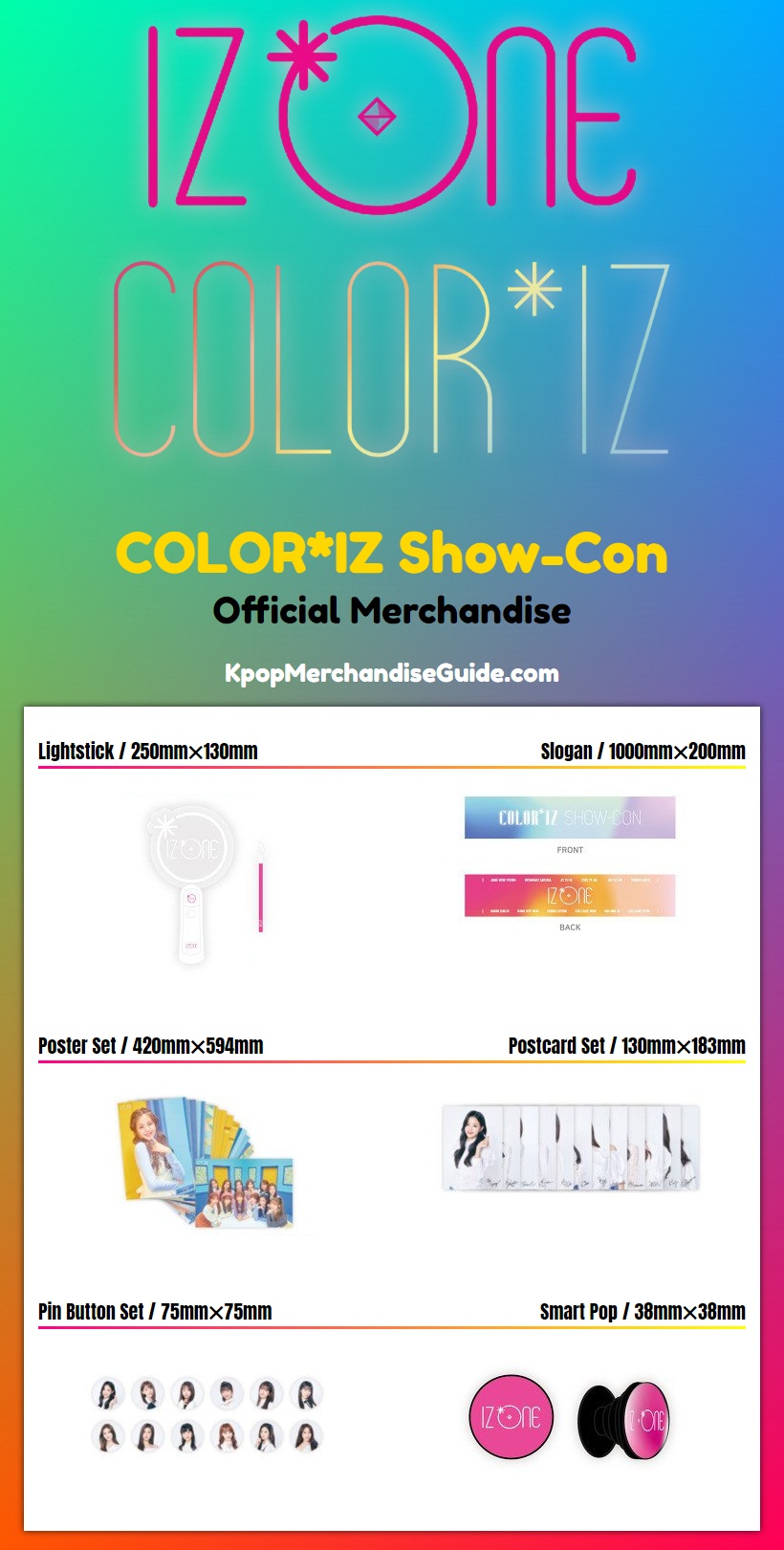 The official white lightstick is made of acrylic and comes with a strap. The slogan has the name of the event Color*Iz Show-Con on front and the logo of IZ*ONE and the names of all members on the back. The poster set (420 x 594 mm) consists of 13 sheets of poster - 1 group and 12 of each member - while there are 12 postcards in a set and no group postcard is available. The pin button set consists of 12 buttons with the photos of each girl. The last item in the collection is a smart pop (also known as KPop popsocket).
HEART*IZ Pop-up Store Merchandise
The first IZ*ONE pop-up store opened on March 29, 2019 at the EX:T (EX:Ting: Timessquare) in Hongdae, Seoul in conjunction with the release of new mini album HEART*IZ. It was opened until April 30. The girls prepared literally a tons of new interesting products.

The first one is newly introduced official IZ*ONE light stick. The second one is a smart pop available in two versions - Violeta and Sapphire. Next we have a flower badge made of brass and epoxy. The set of photo cards consists of 12 cards with the photo of each member. The size of each one is a standard 55 x 85 mm size. Then there's a photo set with 12 photos of each member plus one group photo.
The pin button set consists of 1 face (65 x 65 mm) and one name button (58 x 58 mm). There's 12 different sets available.
If you need a binder to store all your photo cards you can get one with the newest IZ*ONE album's promotional photo on the cover. It has 30 sleeves in it.
In the pop-up store you can equip yourself with some travel items like a card wallet made of artificial leather (available in sapphire and black versions), a mini cross bag made of polyester, a passport wallet (sapphire or silver version), a green notebook pouch (350 x 250 mm) and an eco bag made of canvas. All these items come with a randomly chosen photo of one member.
The next item is a photo screen made of polyester and steel that you can hang on your wall.
The other items are a deskpad (530 x 380 mm) and a cushion cover with a photo of your favourite member on one side and HEART*IZ album logo on the other.
You could also get some accessories for your light stick like a silicon ball set (12 colors), decoration ring, and handle cover.
IZ*ONE Showcase In Japan Merchandise
On January 20, 2019 the members showed up in Japan where they participated in their first showcase in the country of the rising sun. The event took place at the Tokyo Dome City Hall and almost 4000 fans were present. The girls revealed the music video to their debut Japanese song "Suki To Iwasetai".
This time the Japanese fans had the chance to get some interesting goods prepared by the group. A total number of 7 official items were available.

The first one is a lightstick. This is a completely different lightstick than the one from the Color*Iz Show-Con collection. It can produce a light in 12 different colors - you can choose the color according to the member you're rooting for.
The T-shirt comes in two designs - red and blue. It's available in four sizes - S, M, L, XL.
The slogan sized 1100 x 210 mm comes in 12 colors with a name of each member. It comes in a plastic pouch.
Two versions of pins were available - 12 in each version. You could get a set consisting of two random pins out of 12 in each version.
The set of photos consists of 2 random photos out 60 different designs. There are 5 different designs for each member.
The last products are a fan (12 different types) and a simple pink smartphone holder ring.
The items were also available online on the official IZ*ONE Japanese shop.
Suki To Iwasetai Official Merchandise
The group debuted in Japan with the music video for "Suki To Iwasetai" on February 6. To commemorate the debut an official line of IZ*ONE merchandise was released and available on the group's official Japanese shop. Many of the items were almost immediately sold out. If you desperately need them you can attempt to get them from the third party sellers online.
The collection consists of 9 items. The first one is a photo set of 2 or 10 random photos. Two versions were available: you could get 2 photos out of 60 in version 1 and 10 out of 100 in version 2.

The T-shirt is available in 12 types - with the name of each member on the corresponding background on front. You could get one of three sizes: M, L, XL.
The black cap has a pink logo of IZ*ONE on front and a sticker with one member chosen by you.
The standing doll is available for every member. You can put it on your desk or a bookshelf. The height of the doll is 1000 mm and the width is 30 mm.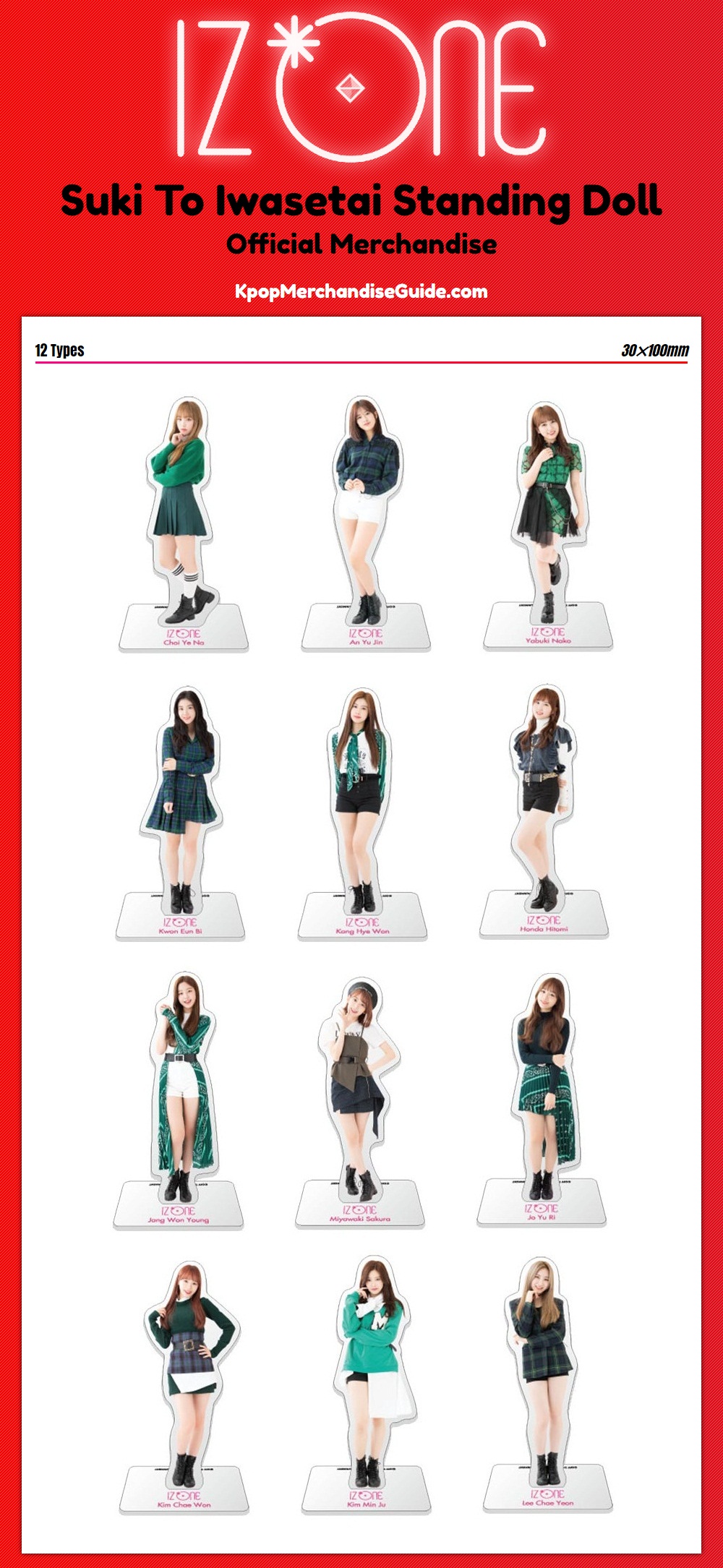 The other items are big towel (1300 x 600 mm) with the promotional photo for "Suki To Iwasetai", hair tie band (12 colors), iPhone case (in two versions: for iPhone X, XS and iPhone 6, 7, 8), L-holder file in A5 format (1 out of 12) and 12 types of ticket case.
Suki To Iwasetai Official Slogan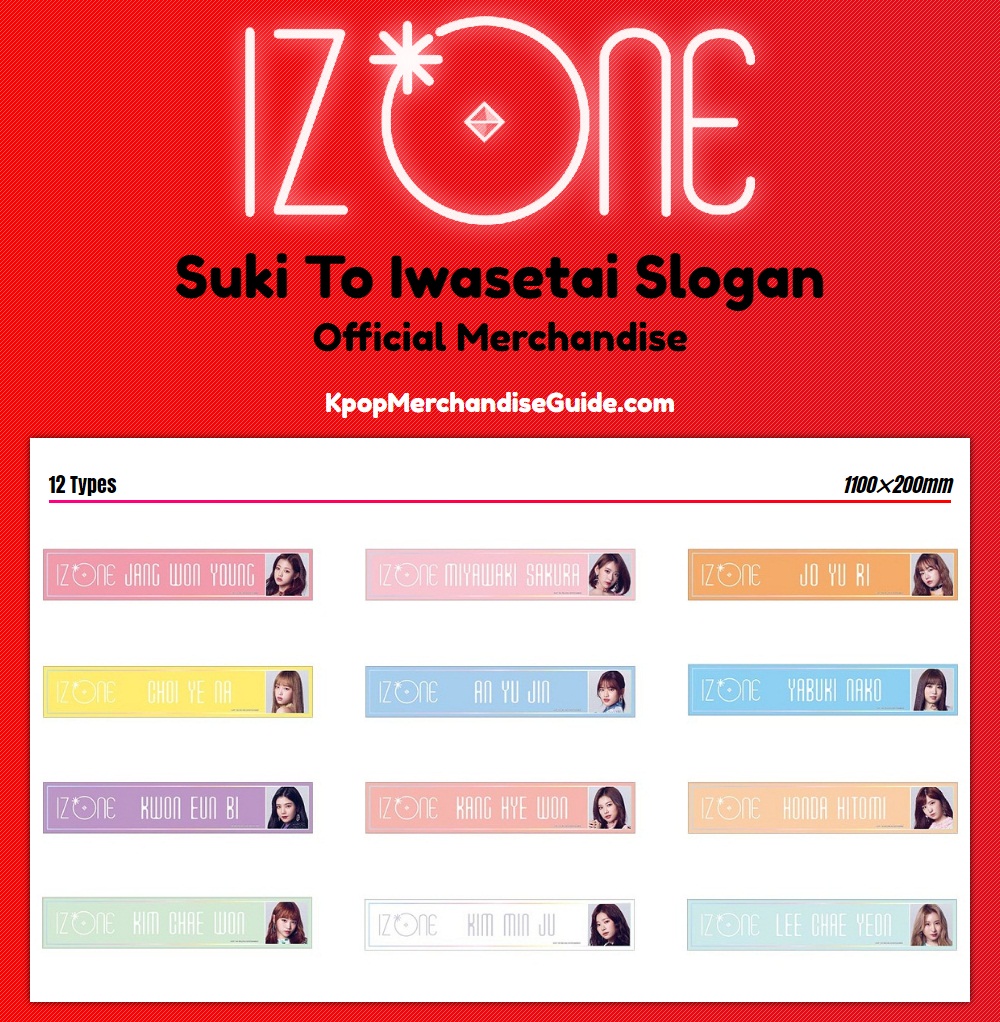 The official slogan was available online on the IZ*ONE shop but as soon as it showed up it disappeared because the fans sold out everything almost the minute the sale started.
The size of the slogan is 1100 x 200 mm. It comes in 12 variants - each with the photo and name of the chosen member and Izone logo. Every type's color is different.