Stray Kids Merchandise
One of the companies that are exceptionally interested in releasing collectibles related to their artists is certainly JYP Entertainment. We are used by now to being spoiled by them whenever another new music video shows up on Youtube and the new album is released. Almost immediately an accompanying line of merchandise is available on various online stores for thirsty fans to grab.
JYP Entertainment is always very keen to commemorate every Stray Kids' comeback with a special event. While these events are a great success Park Jin Young doesn't forget about a nice treat to fans which is a set of cool goods. I hope that the infographics below will be very helpful.
Unveil Op. 01 : I Am Not Official Merchandise
On 25, March 2018 the first showcase Unveil Op. 01 : I Am Not took place at the Jang Chung Arena. It was the first time when the group released a selection of official Stray Kids merchandise. That was a great gift made especially for fans. 10 different items was released: lightstick, 600 x 200 mm black slogan with group name on the one side and the members names on the other, 56 pages photobook, set of 10 photocards, set of 2 different clear files and 90 pages note, set of two masking tape, free size black T-shirt (small Stray Kids logo on front and bigger on back), key ring with a strap, three different logo badges - type A with group's logo, type B with words "I Am Not" and type C with a title of the song "District 9". The tenth and the last item was a special capsule that you could get in a lucky draw.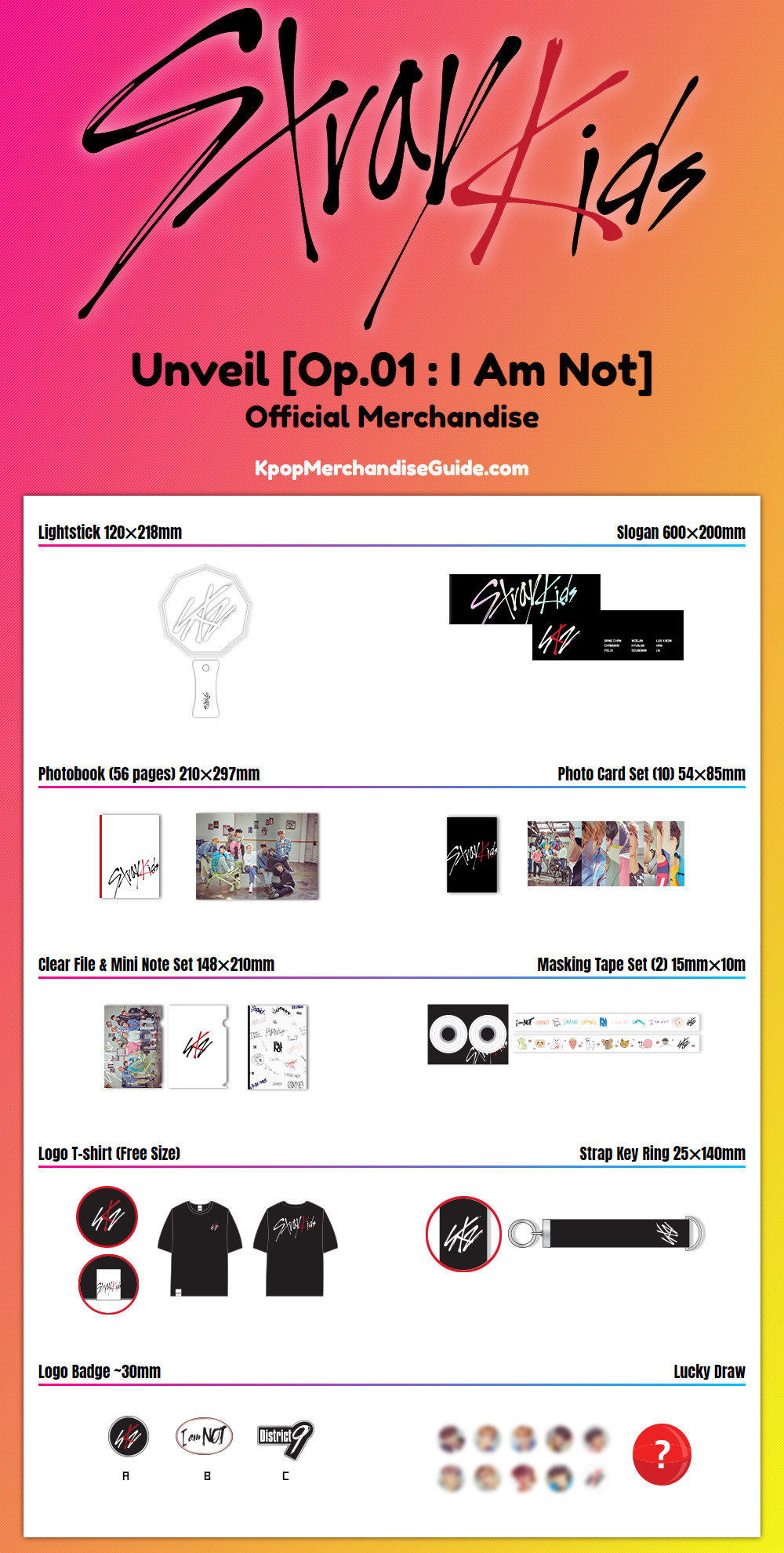 Unveil Op. 02 : I Am Who Official Goods
The second event was held at Grand Peace Palace at the Kyung Hee University on 5, August 2018. It was called Unveil Op. 02 : I Am Who. This time JYPE prepared more items in their collection than previously. 15 different goods were released: for the first time a lightstick was introduced, black free size T-shirt with yellow elements on front and back, free size bucket hat, black backpack, a black key ring with a strap and words "I Am Who", 6 posters - 1 group poster, 3 unit posters and 2 of a one member - were chosen randomly from 9 different types, black and yellow bandanna, black free size bracelet with the album's title on it, pair of free size socks, set of 13 sheets of post cards, set of random 10 polaroid photocards out of 60 available, set of 10 bookmarks with every member, set of removal stickers, set of 1 postcard, three round stickers and 2 photocards. The last item was a special capsule available only to those that had won in a lucky draw.

Unveil Op. 03 : I Am You and Unveil : Review Selections
The latest event took place at the Olympic Hall on 21 October 2018 and was called - as you've probably guessed - Unveil Op. 03 : I Am You. A total number of 15 products were released: once again a lightstick, free size black hoodie, a black cap with group's logo on front, a neck strap, mini black key string with a strap, bracelet with words "Stray Kids I Am you", silver ring with a black pouch, 124 pages mini photobook, a set of 10 random polaroid photocards in a box (out of 60), envelope with a 1 postcard, 3 stickers and 2 photocards, a set of 10 stickers in a transparent cover, a standing doll with all members, a photo fan and one of three different magnet bookmarks.

This time they also prepared a special draw during which the fans were able to get a mini pendant key ring, a name tag and a random rubber bracelet.
A special selection of merchandise from the Unveil : Review was chosen to be available online for those who couldn't attend the event. Nevertheless you can still find other items on various websites like Ebay. The selection was a response of JYP Entertainment for a high demand and a massive success the Stray Kids merchandise have been achieving so far.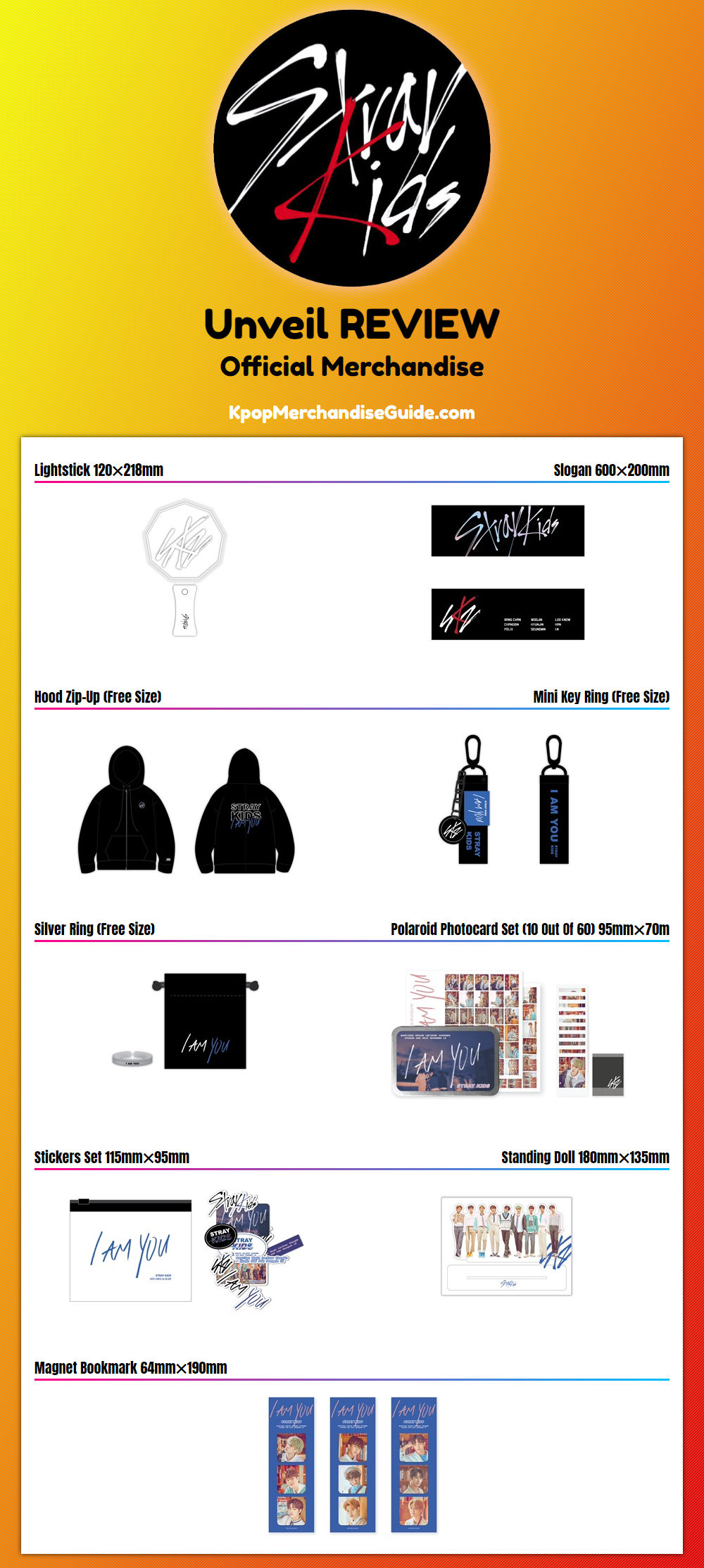 The included are lightstick, slogan, hoodie, key ring, ring, polaroid postcards, stickers, standing doll and bookmarks.
The Albums of Stray Kids
Mixtape Pre-debut Album
Before the official debut Stray Kids released a special album consisting of seven songs from the reality TV show they were in. The extended play was called Mixtape and was available for buying in a physical form on January 2018. In the package you will get a CD, a nice 176 pages photobook, two random photocards - Selfie version and Making version (each from 9 different types). A benefit of a postcard set and a random poster out of three types were added for those who preordered the album.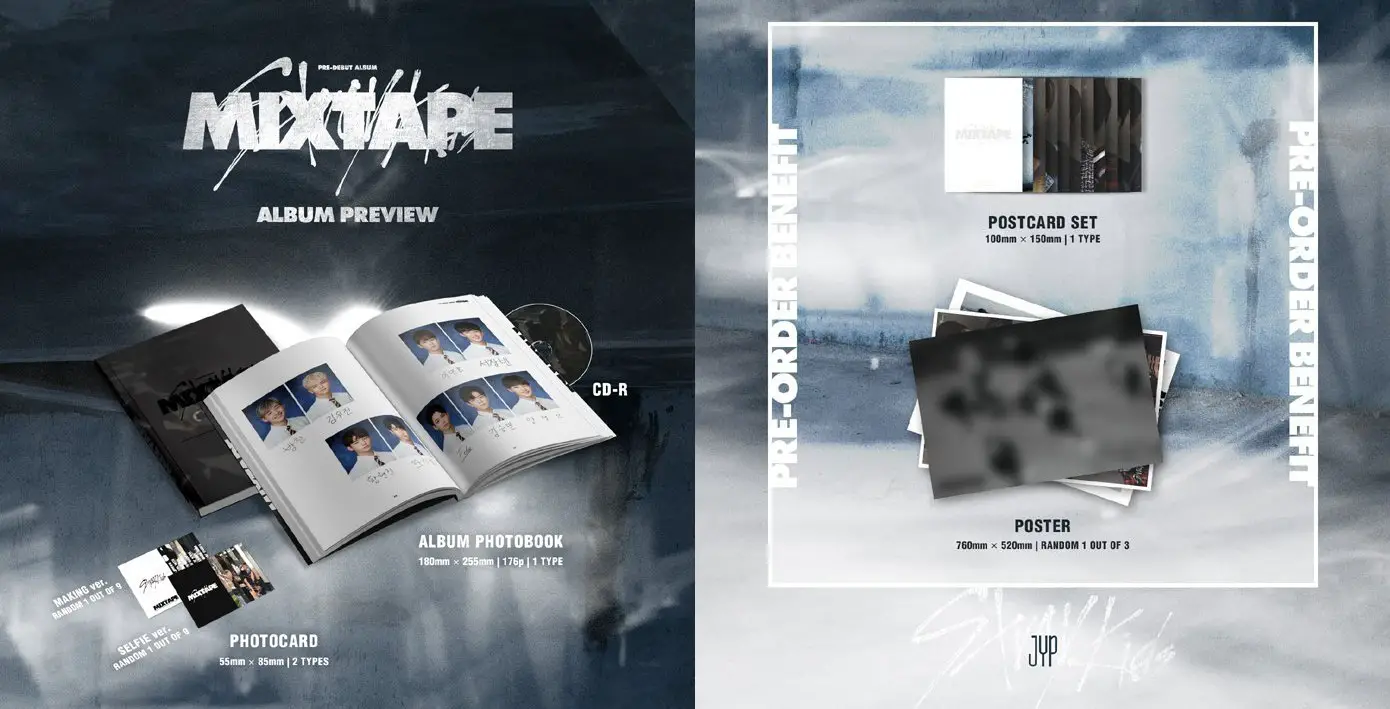 The First EP I Am Not: Versions I Am and Not
Two months after Mixtape the boys released their debut album I Am Not. The EP comes in two versions - I AM and NOT. Both have different covers and different CD art. It consists of a photobook - I AM and NOT versions, both with 1 of 9 covers. Additionally there's a set of three photocards - one Childhood ver. (out of 9), one Unit ver. (out of 21) and one Selfie ver. (out of 9). Unit and Selfie version have QR code on the back. You could have gotten a bonus merchandise when preordering the album - a poster (out of 10 types) and 20 pages postcard book (out of 2 types).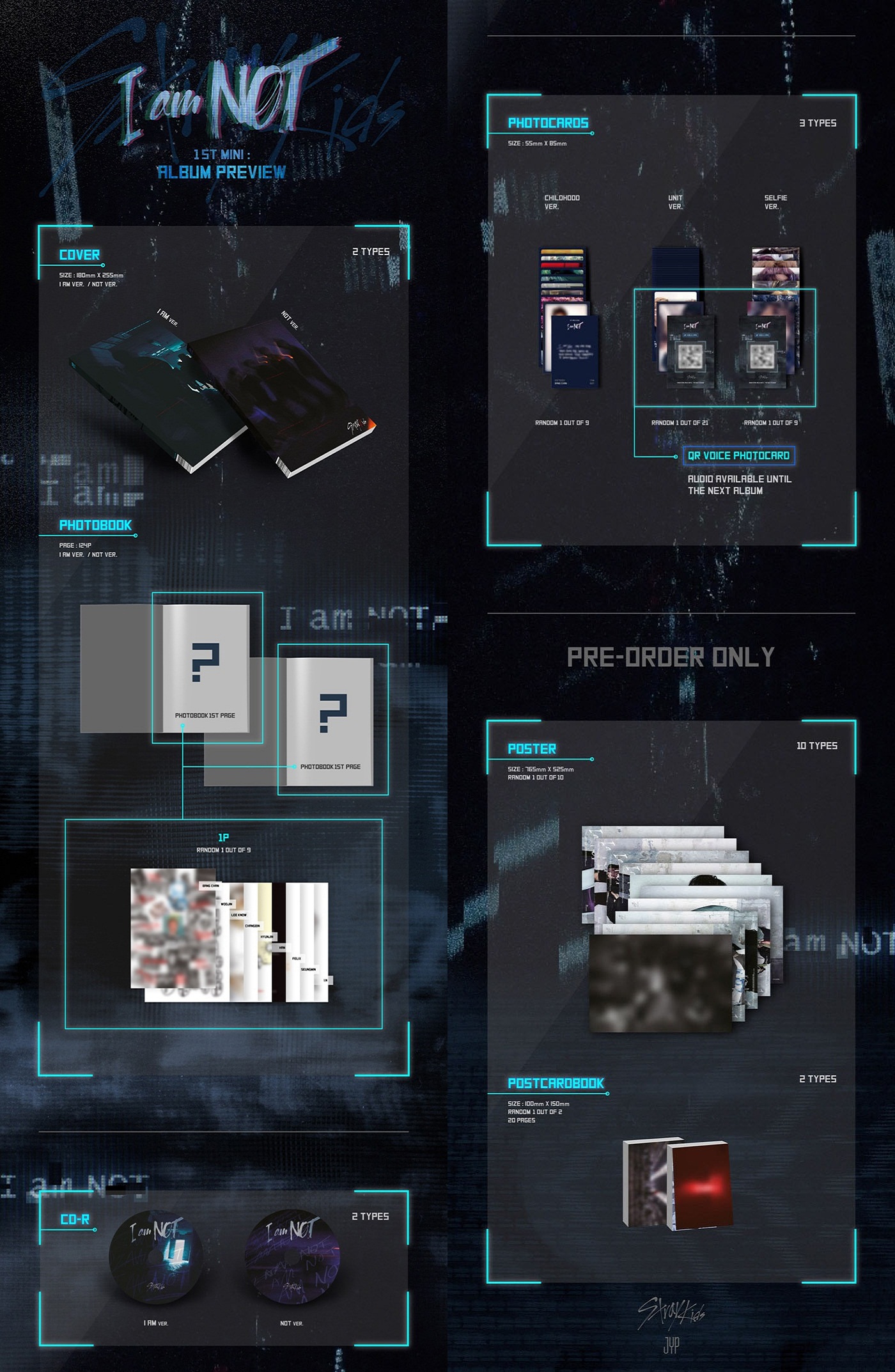 The Second EP I Am Who: Versions I Am and Who
Their third album I Am Who was released in August of 2018. It's another album full of merchandise because who would have liked a simple CD in a jewel case and nothing more. Each of two different versions - I Am and Who consists of a CD (black or yellow background), a photobook (two different variants - on the second page there is a random photo chosen from 9 styles), a set of three QR photocards (1 Self-portrait, 1 Selfie and 1 Behind) and a lyrics poster (one random from 9 styles). Three items were added only to preordered album: a book of 15 postcards (chosen from 2 different styles), a sheet of stickers and a random poster (from 3 styles).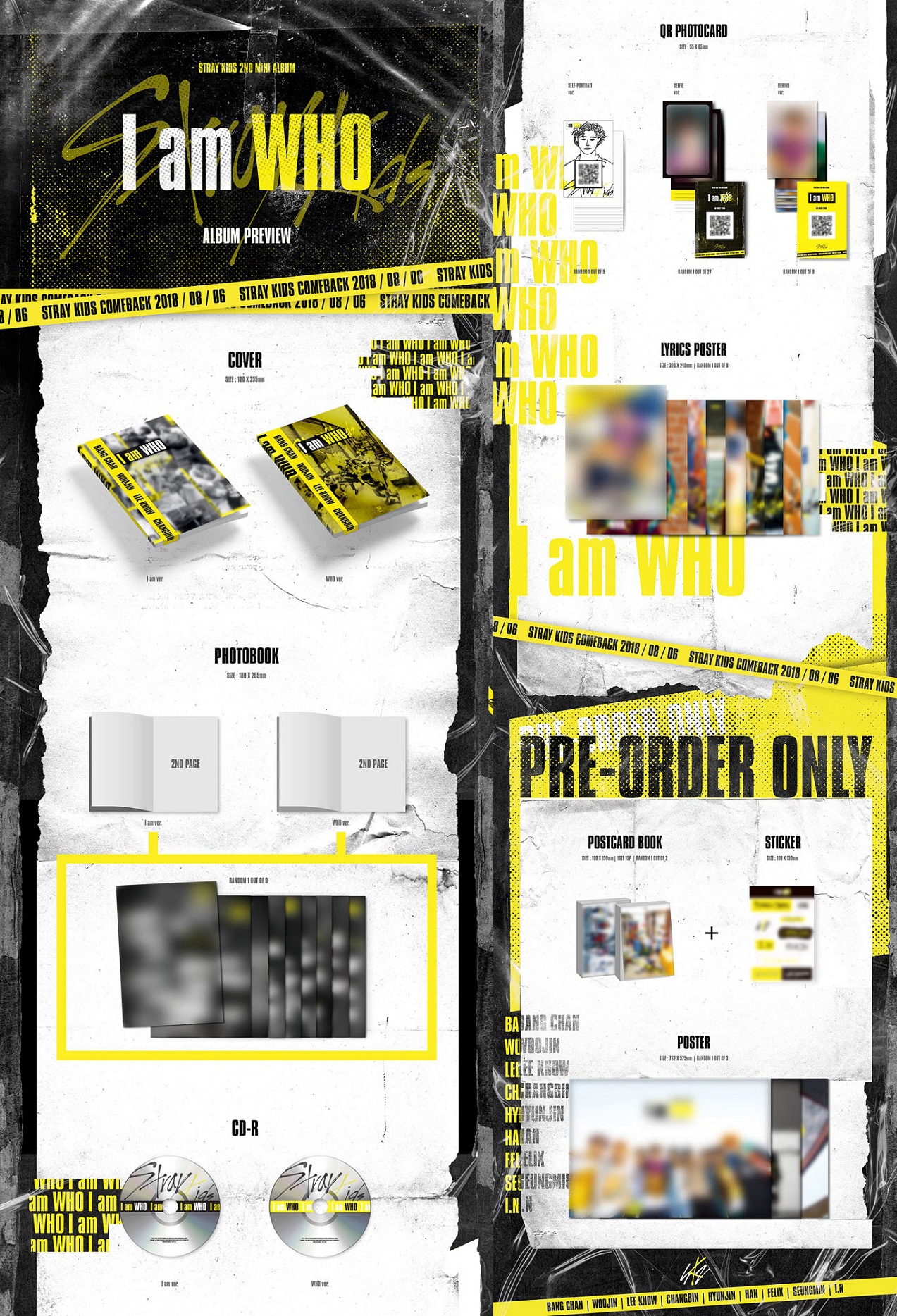 The Extended Play I Am You: Versions I Am and You
Stray Kids came back with their fourth official album I Am You in October 2018. The release follows the same pattern when it comes to added goods as I Am Who. We have here two different album variants - I Am and You which contains a unique photobook (with one of 9 photos on the second page), CD with different background and 3 types of QR photocards (type A, B and C). A lyric poster is omitted. The only other difference is the number of photocards the random ones are chosen from (B version has 36 and C version has 27). Three additional goods are included when preordering the album: a random poster (one of three), a postcard book (one of two) and a random photocard (one of 9).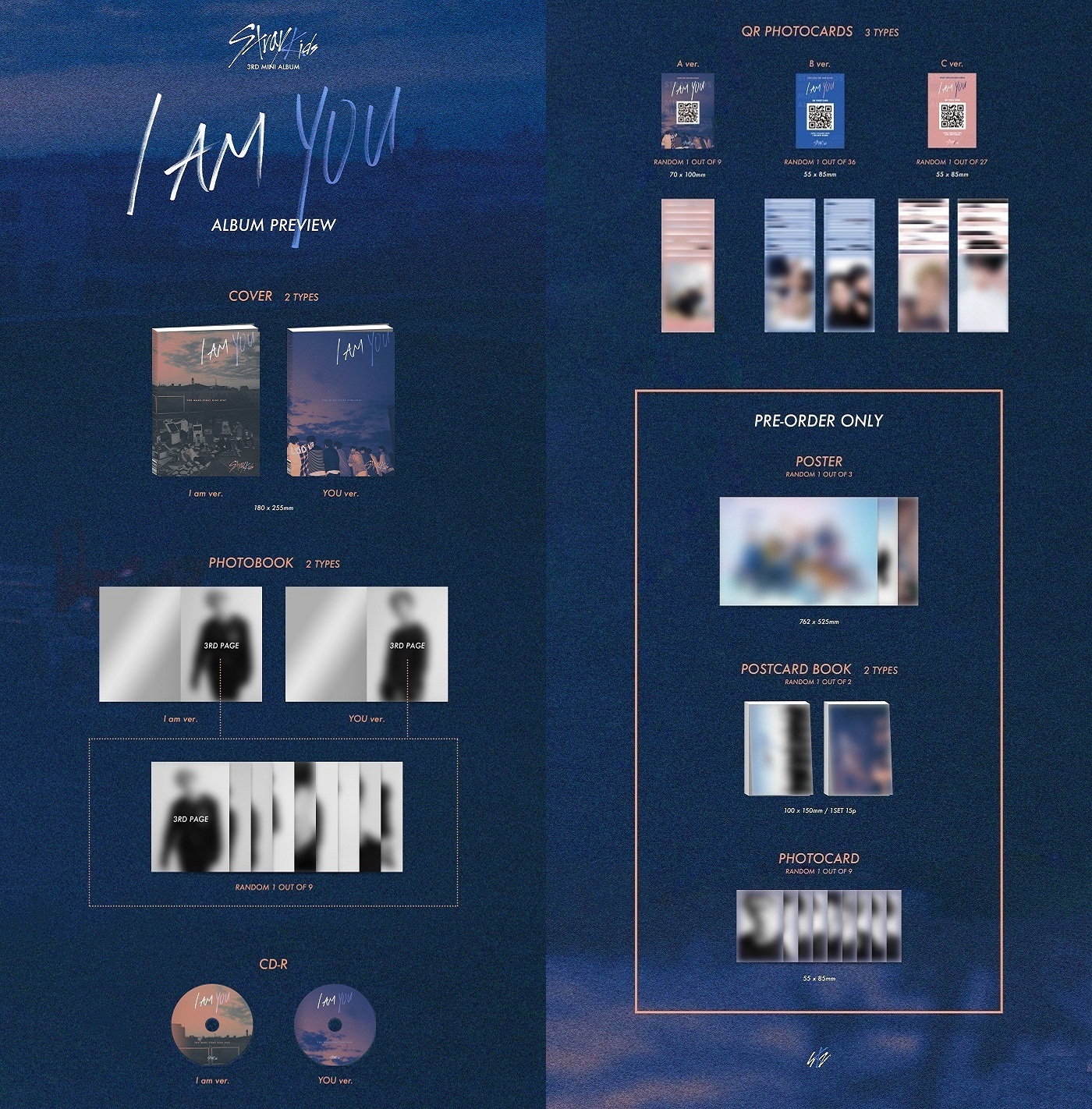 Stray Kids
The group was created in 2017 through an Mnet TV survival show. Although the two contestants were eliminated they were brought back to the final line-up. Stray Kids officially debuted under JYPE only three months after the show had ended. The members are Bang Chan, Woojin, Changbin, Lee Know, Hyunjin, Felix, Han, Seungmin and I.N. They debuted with their first extended play I Am Not and the music video for "District 9". Their second and third EPs were released respectively on August 6 and October 22, 2018 with as a title tracks "My Pace" and "I Am You".
Bang Chan
Changbin
Felix
Han
Hyunjin
I.N
Lee Know
Seungmin
Woojin
The members are very active during the production of their music. Three members - Changbin, Ji-sung and Bang Chan were credited as composers and lyricist multiple times. The trio is called 3racha. 3racha contributed to a total number of 27 songs from their four albums (including Mixtape).