Blackpink Official Light Stick Bl-Ping-Bong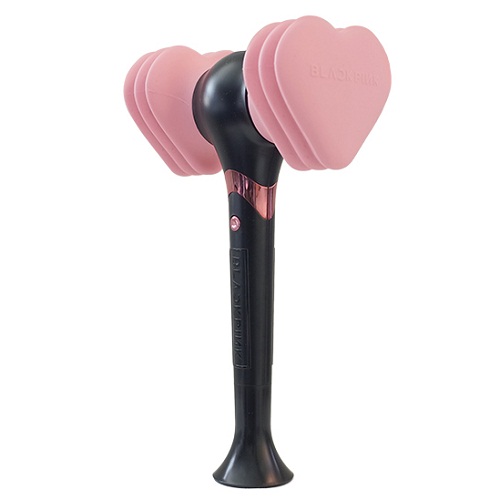 | | |
| --- | --- |
| Release Date | 28 May 2018 |
| Price | 78.99-$79.99 |
| Width | Depth | Height |
| --- | --- | --- |
| 90mm | 155mm | 255mm |
| | |
| --- | --- |
| Operating Time | 5 Hours |
| Power | AAA Alkaline Batteries 2EA |
| Content | Light Stick |
Available From Ebay ▼
Check It Out
Or Amazon ▼
Check It Out
Or Yesasia ▼
Check It Out
The Blackpink official light stick called Bl-ping-bong was unveiled on May 16, 2018 when the CEO of YG Entertainment - Yang Hyun Suk posted a teaser photo on his Instagram account. I was released on May 28, 2018. The Blackpink members are responsible for the design of the product. It looks like a hammer and has a pink heart made of silicon on both sides. It can make a squeaky sound which can be turned off by a switch at the top of the light stick. It has also one interesting feature - it can react to an external source of music.
It is powered by 2 AAA batteries that are not included in the package. This is one of the few that does not require 3 batteries. It can work for 5 to 10 hours.

The Blackpink light stick initially came with a set of limited photo cards randomly chosen between black version and pink version. The both sets consists of 5 sheets.
The dimensions of the Blackpink light stick are 90 x 155 x 255 mm and weights around 148g. It comes in a box sized 175 x 93 x 285 mm.
If you like the look of this product you will probably be interested in other that are based on this design - YG Entertainment released also a light stick key ring and a portable battery that's composed of two parts - a head and a handle (the battery itself).
Available From Ebay ▼
Check It Out
Or Amazon ▼
Check It Out