1THE9 Merchandise
1THE9 debuted under MBK Entertainment on April 13, 2019 with their title song Spotlight. The KPop group consisted of 9 members that were chosen through the survival TV show Under Nineteen on Munhwa Broadcasting Corporation. The contestants that finished in the final 9 and debuted as 1THE9 were Jeon Doyum, Jung Jinsung, Kim Taewoo, Shin Yechan, Jeong Taekhyeon, Yoo Yongha, Park Sungwon, Lee Seunghwan and Kim Junseo. They group disbanded after 12 months of promotions in August of 2020, following the premiere of their last record Good Bye.
There one officially released piece of 1THE9 merchandise you will probably be interested in.
1THE9 Official Slogan
The official slogan of 1THE9 was revealed in April of 2019 and is available on various online KPop stores. It is distributed by Dreamus Company - s Korean entertainment and electronics company which cooperates - among others - with SM Entertainment, JYP Entertainment and Big Hit Entertainment. It was founded in 1999 as Iriver Ltd. but in 2019 rebranded itself and changed the name to Dreamus.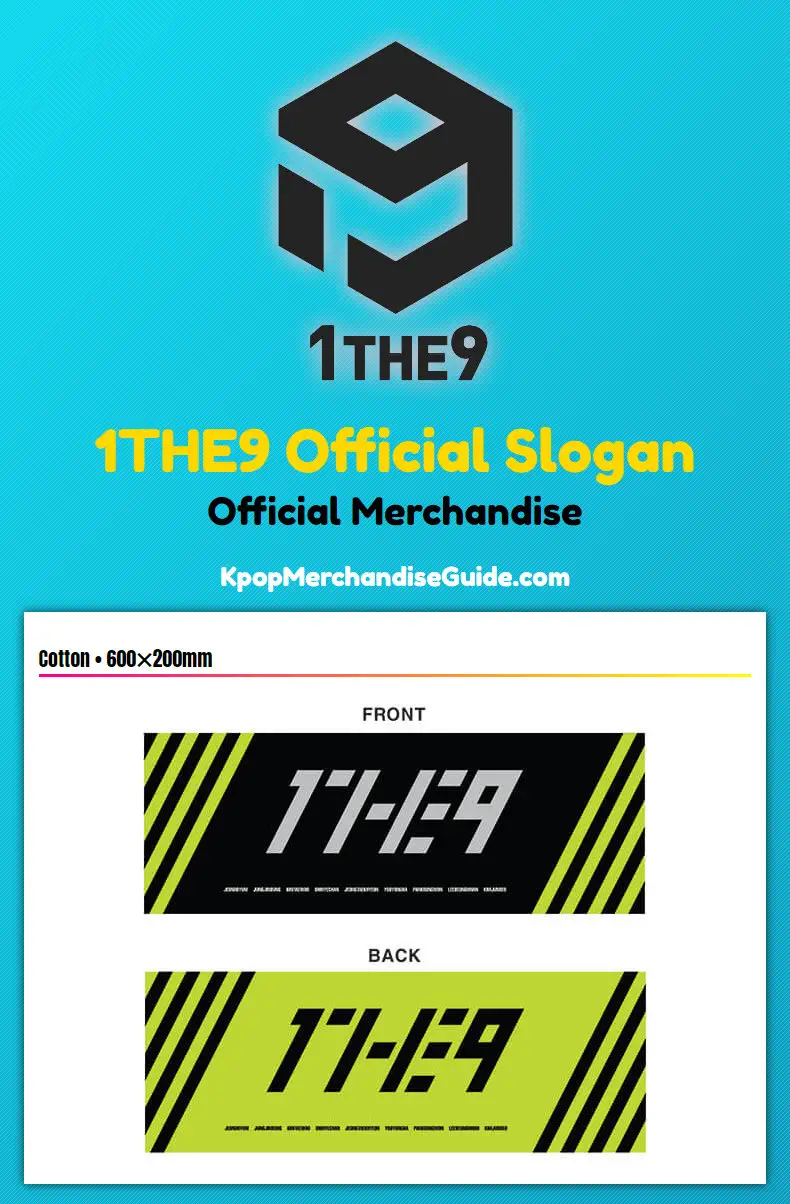 The slogan has the logo of the group and the names of all members in silver color on a black background on front and in black color on a green (or rather lime punch) background on the other. It is made of cotton. The size of this official 1THE9 merchandise is 600 x 200 mm.
1THE9
In 2018 MBC decided to create a new survival show where 57 contestants competed to become a member of a new KPop boy group. After 14 episodes the final 9 was decided and they eventually debuted under MBK Entertainment.
On April 7, 2019 the group released pre-debut song with Crush (who was one of the teachers during Under Nineteen TV show) called Domino.
On April 13 the first EP titled XIX was digitally released. It consists of 5 songs including Spotlight.
On April 17 they held a special showcase that was streamed through V Live where they announced that their official fandom name will be Wonderland.