Baekhyun Merchandise
Baekhyun is a member of a boy band EXO. He debuted with the group in 2012 with their first single Mama. He is also a part of the sub-unit Exo-CBX (alongside Chen and Xiumin), and the leader of SM Entertainment's supergroup SuperM. The vocalist eventually began his solo career on July 10, 2019 with his mini album City Lights, and the lead single UN Village.
There are many collections of Baekhyun merchandise officially released by SM. That includes the goods prepared to promote the albums of the artist including his mini album titled Bambi, his concerts and fanmeetings. The official Baekhyun light stick is still to be announced.
Baekhyun Birthday Party Merchandise
In April of 2019 the it was announced that the fanmeeting with the members of the official fanclub EXO-L will be held in May. The ticket sales began on April 15, and only the members with the ACE ranking could attend the event. The fanmeeting titled Baekhyun Birthday Party took place at the Daeyang Hall of Sejong University in Seoul on May 3, 2019. It was organized to celebrate the soloist's 27th birthday (28th in South Korea).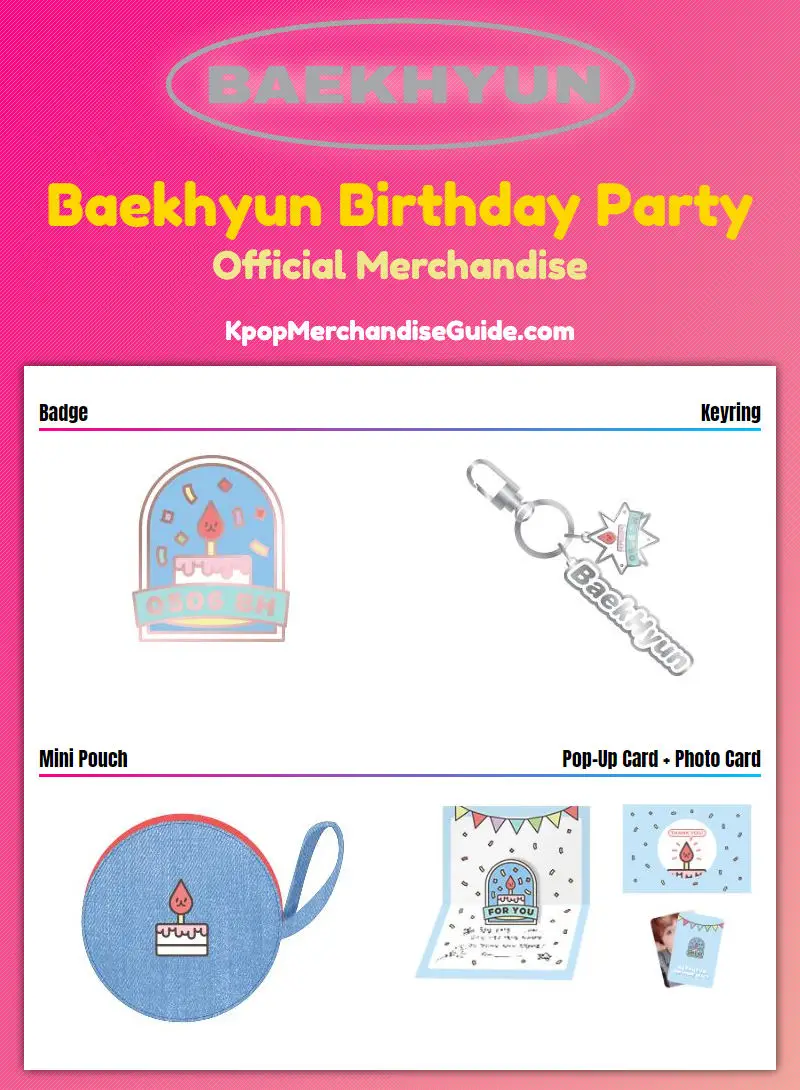 4 different pieces of Baekhyun merchandise were prepared for the fans, and were available for purchase at the venue.
The first one was a metal badge featuring a drawing of a cake and the numbers "0506" representing a date of birth of Baekhyun - May 6, 1992. The second item was a keyring with 2 charms - the first one with a design similar to the one from the badge, and the second with the name of the artist. Next we have a round blue mini pouch with a hand strap. It is made of Cotton and cost only 20,000 KRW. The last collectible available onsite was a pop-up card. It contains a handwritten message from Baekhyun, and comes with a single photo card.
City Lights Album Goods
City Lights is the first extended play of the artist. It had its premiere under SM Entertainment on July 10, 2019. On the CD you will find 6 songs including the title track UN Village, Stay Up (with a South Korean rapper Beenzino), Betcha, Ice Queen, Diamond and a bonus song Psycho.
The mini album topped the weekly Gaon chart, and reached number 4 on both Billboard's US World and US Heatseekers charts. It sold 508,321 copies in its premiere month and additional 31,131 units of the Kinho edition. It was the 6th best-selling album in South Korea of 2019, and the highest placed release of any solo artist.
To commemorate the EP, a selection of 26 interesting Baekhyun merchandise was prepared for the fans. In the collection you could find a transportation card in 2 variants (both with a picture of Baekhyun on the front), an artist phone case for your smartphone (4 variants), a puzzle package, a hologram photo card set, 2 different binder indexes, a set composed of a hologram card and a holder, 2 different round hologram griptoks (popsockets), a black badge with the title of the EP, 2 different A4 format photos, a set of 3 4x6 photos, a frame phone case (2 variants - Day and Night), a DIY glitter sticker, a water book bottle, and 5 different pin buttons.
The other pieces of Baekhyun merchandise were a pack of 10 photo card stickers in a transparent pouch, an acrylic keyring with some letter charms, a picket fan, a postcard book, a mood light panel with a translucent photo and a stand, 5 variants of a round keyring (1 logo and 4 picture variants), another griptok with a logo of City Lights printed in black on a white background, 3 DIY artist pins, a photo card binder with a single bonus card, a glitter holder, a set of stamp and a photo card, and finally an LP coaster that looks like a typical vinyl record in a square paper cover.
The puzzle package is composed of a jigsaw with 1000 pieces, measuring 510 x 735 mm after completion, a folded poster with the same photo as on the jigsaw (510 x 735 mm), a paper frame with a card and a stand (122 x 175 mm), and a lucky card with the artist's autograph and a designated number (86 x 54 mm). All comes in a box of a dimensions of 231 x 310 x 63 mm. The package weights 1,050 g. A similar product was later released for the next album titled Delight.
The hologram photo card set is available in 2 different variants - Night and Day. Both come with a paper photo stand (pop-up card) and a hologram photo card. The size of this piece of Baekhyun merchandise is 140 x 215 mm.
Delight Album Collection
Baekhyun came back as a solo artist with his second mini album titled Delight on May 25, 2020. It is composed of 7 songs including Candy, R U Ridin'?, Bungee, Underwater, Poppin, Ghost and Love Again. Candy serves as the lead single.
For the second time Baekhyun's album reached number 1 on the Gaon Weekly chart. It also peaked at number 5 on the Billboard's US World chart, and at number 9 on the Oricon's chart. It managed to sell 660,826 copies in May of 2020, and additional 311,050 copies in June. By the end of the year it sold 971,554 regular units and more than 49,089 units of the Kihno edition, and exceeded 1 Million copies in total. It was the 7th most purchased South Korean release in 2020.
Similarly to the previous album, a selection of Baekhyun merchandise was released to commemorate the premiere. This time you could get a total number of 19 collectibles.
The selection consists of a Cashbee transportation card you can use to pay for your bus, train or subway (2 variants), another jigsaw puzzle package, a wall scroll poster in a sturdy tube, an MV scene DIY kit from the Candy music video, a smartphone deco set composed of 2 sheets of stickers and a photo card (2 variants - A or B), 2 different griptoks - a round and a heart-shaped, 3 artist phone cases, an Airpod case cover with a keyring featuring the word "Candy", 5 versions of a round keyring, and 2 versions of the hologram photo card set.
The collection continues with 3 variants of the binder index, a phone tab with a strap in 2 variants (Mint or Honey), a photo pouch with a picture of Baekhyun on the front, a pack of 10 stickers in a pouch, a photo fan, a postcard book with 10 cards inside, 2 versions of the A4 photo (A or B), a set of 3 4x6 photos, and 2 versions of the badge - one with the title of the Delight album, and the other with the title of the lead single Candy.
Beyond Live Light Online Concert Merchandise
The live concert of Baekhyun titled Light was broadcasted through Beyond Live on January 3, 2021. Beyond Live is a platform created by SM Entertainment and Naver in April of 2020 to provide the fans with live concerts of their favourite KPop artists streamed online.
SuperM was the first group to hold their concert on the platform. The event titled Beyond the Future was broadcasted on April 26, 2020.
Although the official Baekhyun light stick was still not announced, a selection of 10 pieces of Baekhyun merchandise was available for the fans online.
The collection begins with a candle set titled "Grass Of Han River". It consists of a 7 oz (200 g) candle with a special label, a guarantee card sized 54 x 86 mm, and a photo card of a standard size of 55 x 85 mm. It cost only 42,000 KRW.
The second item is a nice accessory for your smartphone - a phone stand. You can use it to position your device in a more convenient way. It is composed of a stand with an acrylic silhouette of Baekhyun wearing black trousers and a white shirt. It measures 90 x 160 mm and comes with a bonus photo card (55 x 85 mm).
The third collectible is a set of postcards, similar to those previously released. You will get 5 horizontal and 3 vertical postcards in a book. All of them measure 127 x 178 mm, and come in a white package. It was available for a very affordable price of 8,000 KRW.
Next there is a scrap book deco sticker set. It is composed of 2 sheets of deco stickers including drawings and logos. Inside the package you will also find a single photo card with a picture of Baekhyun (55 x 85 mm), a polaroid photo (88 x 107 mm), a square film photo (100 x 100 mm), and a 4x6 photo measuring exactly 4 x 6.3 inch. The whole set costs 15,000 KRW. If you like this piece of Baekhyun merchandise, you should definitely think about getting the luggage sticker set. It consists of a zodiac nightglow stickers on a single sheet (210 x 270 mm), 10 hologram stickers in a size ranging from 40 x 57 mm to 40 x 80 mm, and 2 photo card stickers (55 x 85 mm).
Next we have 2 different badges - the first one with the logo of the concert Light, and the second one with a hand drawn emoticon. The size of the items is 38 x 27 mm and 40 x 16 mm respectively.
The ID card and film set consists of an ID card with some information about the artist (54 x 86 mm), a standard-sized photo card (55 x 85 mm), a photo sticker (79 x 109 mm), and film card (70 x 118 mm).
The last piece of Baekhyun merchandise released for the concert is a flip book of a size of 65 x 135 mm and a single photo card (55 x 85 mm).