BTS Uno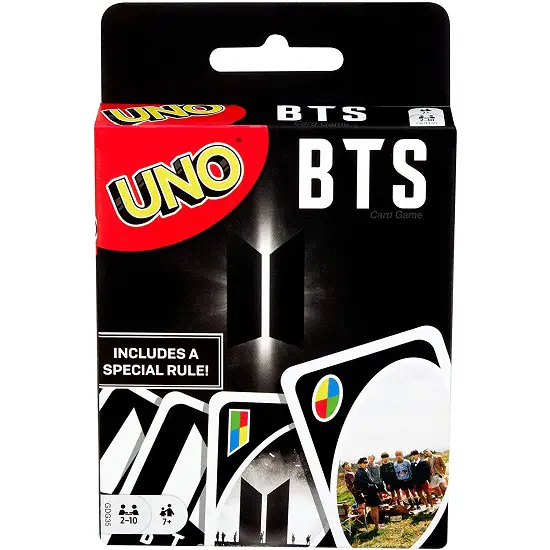 A pre-order for a BTS Uno card game began on July 17, 2019. The item is a collaboration between Big Hit Entertainment and Mattel. The card game was created in 1971 in Ohio by Merle Robbins. Mattel began to manufacture UNO since it was bought from International Games, Inc. in 1992. There are many special versions of the game in existence including these related to the Star Trek movie franchise, the anime One Piece, The Simpsons animated television series, Sesame Street educational series and the national hockey league in North America (NHL).
But what exactly is UNO game? The goal is to deplete the cards you have in your hand by matching them by a number or color. The typical deck is composed of 108 cards but in this BTS UNO version you will get 112 sheets including a special Dancing Wild card. It forces a player to perform her/his favourite dance routine from one of the Bangtan Boys' songs. If you feel a little bit uncomfortable with this you can draw three additional cards instead. You can also use the standard action cards such as Wild Draw Four, Skip and Reverse. You can play the UNO card game in a group of 2-10 people. It is designed for anyone who are 7 years old or older. This BTS UNO special edition features the exclusive images of all members of the group including RM, Suga, Jin, J-Hope, V, Jimin and Jungkook and at the same time keeps the classic colors of the game (green, red, blue and yellow). If you like you can consider the cards as a typical KPop photocards. They come in a simple cardboard package with a sticker of authenticity on the back and a notice that it is an official item from Big Hit Entertainment - the company who of course created BTS. In the box you will also find a user manual with the instructions on how to play the game. The deck was originally retailed for $5.99. At this moment you can get it for a slightly higher price of $7.52.

This is not the only item from Mattel that was announced. Another products from the company were the BTS dolls. A series of 7 dolls representing each of the members wearing a colorful suit is currently available for purchase on a various stores online and offline. They are priced at $19.99 and you can get them directly from the Mattel official website. You can choose one of 7 variants or even get a all of them in a single set if you are a collector. They will probably gain more value in time.
If you like this BTS UNO set you should definitely grab a copy. It is a very original item which you can use to actively spend the time with your friends or family members. You will definitely won't be disappointed. This is a highly recommended piece of merchandise for every A.R.M.Y. It is an official product so you don't have to worry about the quality. You will certainly be pleased with the purchase.
Available From Ebay ▼
Check It Out
Or Amazon ▼
Check It Out