VAV Merchandise
VAV debuted in 2015 under A Team Entertainment (also known as AQ Entertainment) with the extended play Under the Moonlight. Currently it consists of 7 members - Baron, St. Van, Ace, Jacob, Ayno, Lou and Ziu. Three other members - Zehan, Xiao and Gyeoul left the group before the track Venus (Dance With Me) was released in 2017.
Although there've been years since the KPop group debuted there're not many pieces of official VAV merchandise that we can collect. All of them were released in conjunction with their numerous fan meetings and tours. Their albums such as Poison and Made For Two can also be a great items to own.
2018 Meet & Greet in Europe: Spotlight Merchandise
In March of 2018 the group came to Europe for their 2018 Meet & Greet in Europe tour where they met with the fans in five different cities: Moscow (Russia), Cologne (Germany), London (U.K), Madrid (Spain) and Warsaw (Poland). The tour started on March 22 in Moscow and concluded in Warsaw on March 29. The boys prepared a collection of 4 memorabilia for the fans.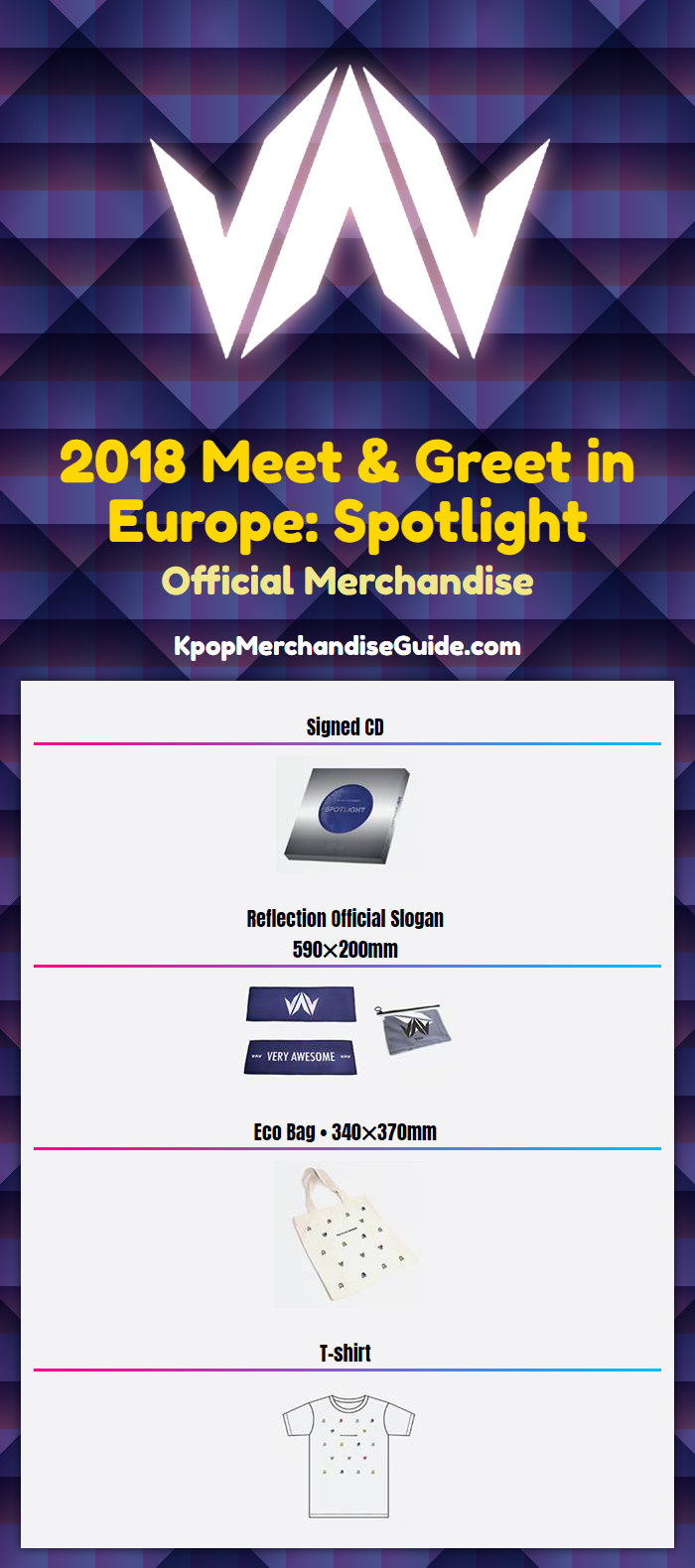 The first one is the album titled Spotlight with the signatures of all members. The second is a reflection slogan with the logo of the group on one side and words "Very Awesome" on the other. The size of this official slogan is 590 x 200 mm. It comes in a pouch with a zipper. Next we have an eco bag sized 340 x 370 mm. The final item is a white T-shirt (52 x 52 x 25 mm).
Some of these items show up in other VAV collections released during the events that took place this year.
2018 Meet & Live in US Goods
In August of 2018 VAV went to United States for their 2018 Meet & Live in US series of events. They visited Jersey City (White Eagle Hall) on August 17, Atlanta (Buckhead Theater) on August 19, Dallas (Granada Theater) on August 21 and Chicago (Copernicus Center) on August 23.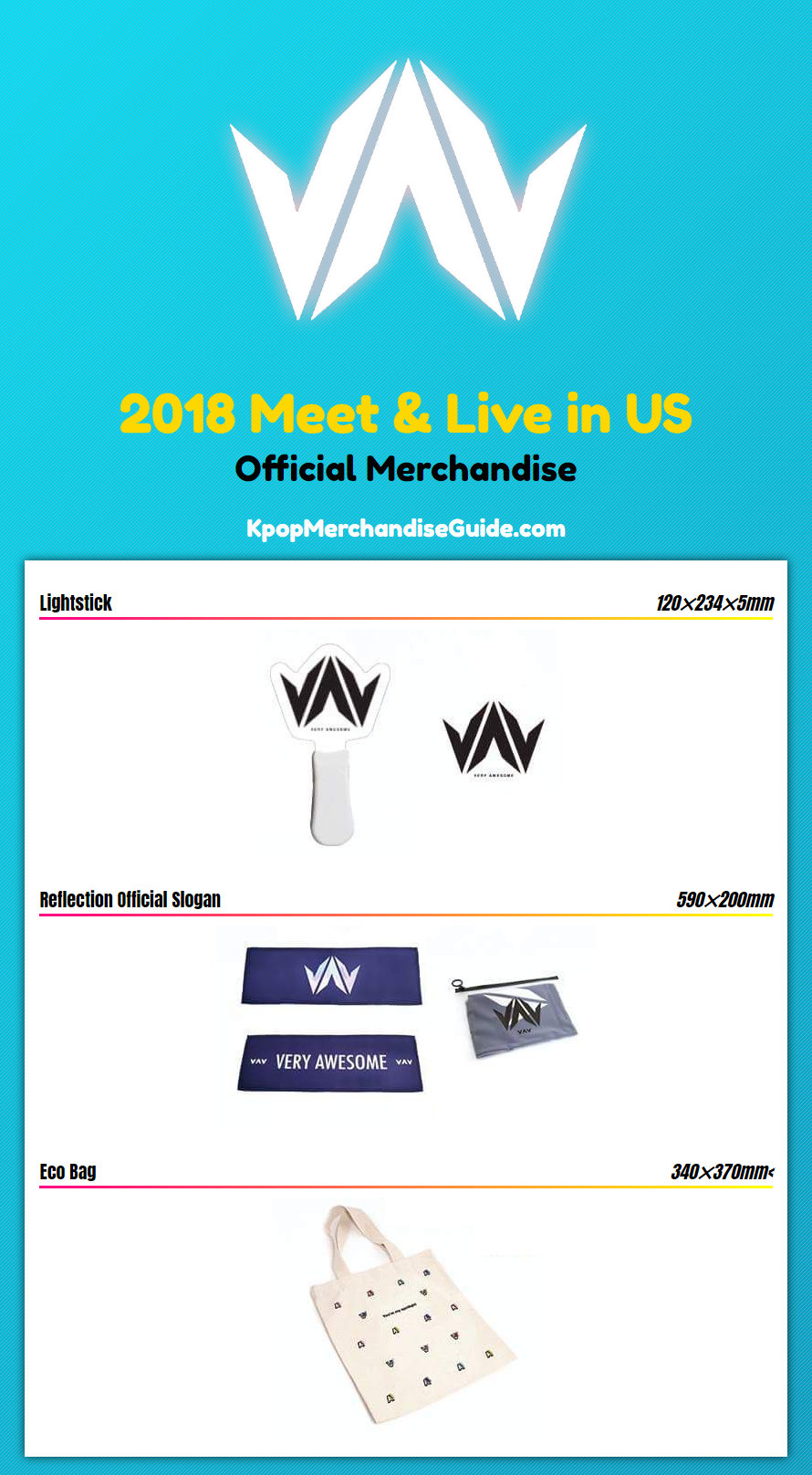 Three items were prepared for the fans. This includes two previously released during 2018 Meet & Greet in Europe: Spotlight events - slogan and eco bag and one new product - an official light stick with a black VAV logo (120 x 234 x 5 mm).
2018 Meet & Live in Europe: Senorita Tour Collection
They once again met with their European fans in December 2018 during their 2018 Meet & Live in Europe: Senorita Tour. The tour began with the concert in Essen (Germany) on December 8 and followed by the events in Paris (France), Milan (Italy), Amsterdam (Netherlands), Madrid (Spain), Prague (Chech Republic) and Berlin (Germany). The tour concluded with a concert in Budapest (Hungary) on December 20.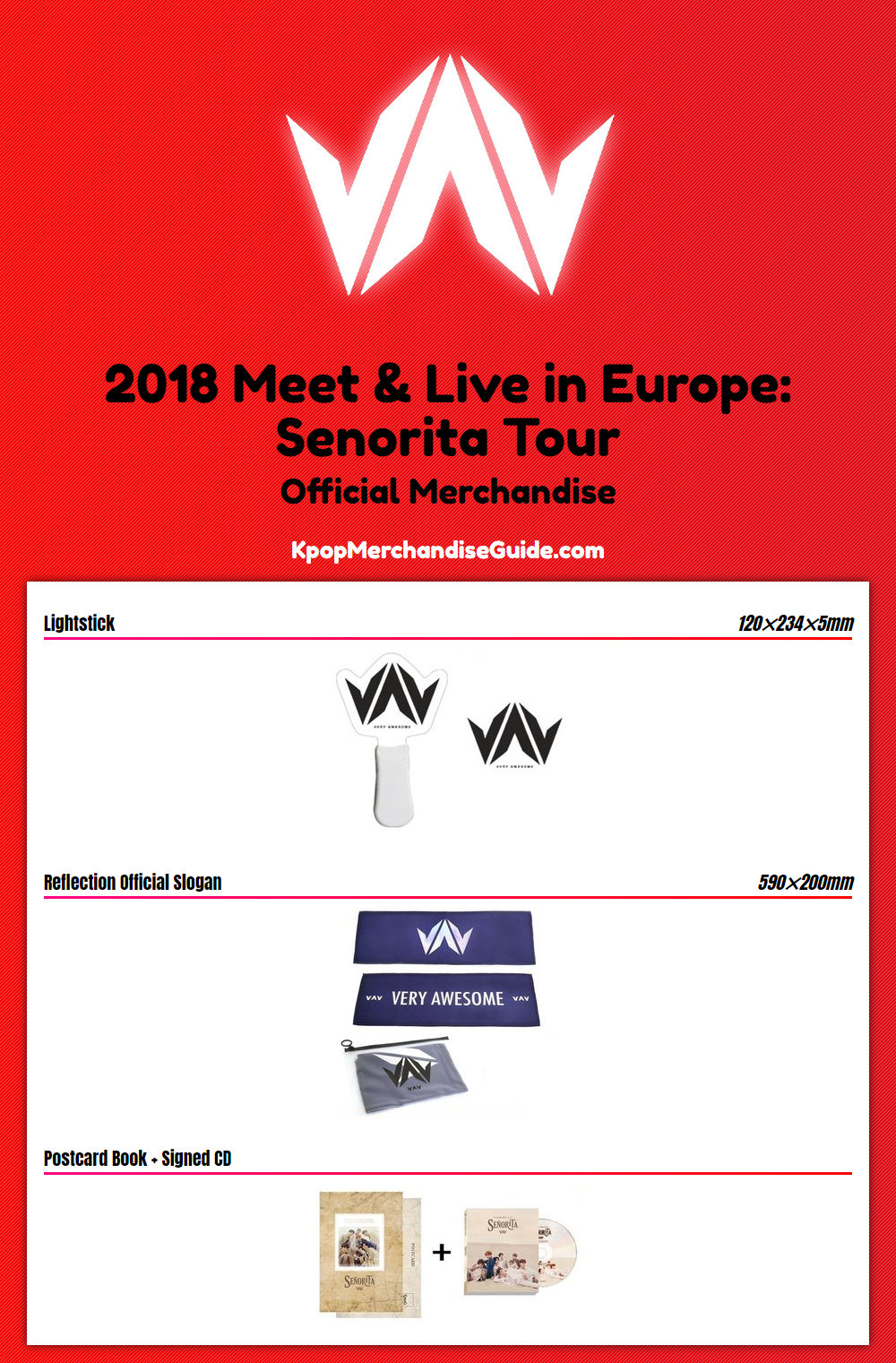 The fans were able to purchase three pieces of VAV merchandise: an official light stick, the official slogan and a book with 30 pages of postcards plus Senorita album.
2019 Meet & Live in North America Merchandise
The boys from will be returning to North America this year and are scheduled to visit 6 cities: Jersey City, Dallas, San Francisco, Los Angeles and other unconfirmed yet U.S city. They will be opening the tour with the event in Toronto (Canada).
Jacob will not participate since he went on hiatus and is currently with his activities in China.

Four items were prepared for the fans. They were available for purchase online or at the venue.
The first one is a completely new light stick this time with a round head and white VAV logo. It comes with a strap in a blue package. The second one is Thrilla Killa album. Two other products are a slogan and a postcard book plus Senorita album set which we already know from the previous releases.