Monsta X Merchandise
Monsta X debuted in 2015 under Starship Entertainment as a result of the reality show No.Mercy. Initially a seven-member group group, it currently consists of six members including Minhyuk, Shownu, Kihyun, Hyungwon, Jooheon and I.M. Wonho departed in October of 2019.
As a fans we can be quite pleased with the Monsta X merchandise that were available during all these years since the group released their first extended play Trespass. There are plenty of examples of collectibles released for various occassions such as concerts for their official fandom Monbebe including MX Home Party, MX University and MX Agent.
1st Pop Up Store One Fine Day Collection
At the end of 2015 Monsta X opened their first pop-up store called "One Fine Day". The guys prepared a collection of 13 different items for their official fandom Monbebe.
We start with two versions of the second extended play of the group Rush. Two versions were available at the store - and .
The second product is a card case with a string. Next we have a simple tumbler with the photo of all members on a white background.

The set of L-Holders consists of 7 L-Holders of each member and one of the whole group. Then we have a set with 7 different posters with the photos similar to these on the L-Holders.
The mini photobook is a very attractive item. It has 60 pages full of the pictures of your favourite KPop group.
Then there's a photo set to hang it on your wall. The string and some clothes pins are included.
The postcard set consists of 8 postcards - 1 group and 7 member postcard.
The pop stand is a stand made of a sturdy styrofoam(?). The silhouettes of all members come in a one package on two square boards - Kihyun, Hyungwon, Jooheon and Shownu on the first one and Minhyuk, Wonho and I.M on the second one. You can connect all of them so it could stay perfectly lined up.
You can also get a cushion with your bias looking very cute.
If you need something to wear the black hoodie and the face mask both with the "One Fine Day" words on it will be a perfect choice.
The last item in this set is black bandanna with Monsta X logo on front. The size of this item is 50 x 50 cm.
1st World Tour - Monsta X Beautiful In Seoul Concert Merchandise
The first world tour of Monsta X started on 17 and 18th June of 2017 with the concerts in Seoul. The tour was named "Beautiful" after their title track from their album The Clan Pt. 2.5: The Final Chapter. The group visited also other cities in Asia during the tour - Hong Kong, Indonesia and Bangkok - and even performed on continents like North America and Europe.
For the Seoul concerts the group prepared a special selection of Monsta X merchandise. All the goods were available to buy at the event.

The fans could get an official Monsta X lightstick. It needs 3 AAA batteries to work and it can emit a light in three different colors. The size of the lightstick is 96 x 95 x 236 mm. It comes in a beautiful black case with a strap and a user manual.
Next we have a three items that you can wear to any event related to Monsta X - a black T-shirt, two wrist bands in a set and a knit slogan. All with a logo of the "Beautiful" world tour.
Next we have a pouch and a shopper bag to keep your things in one place.
The program book consists the content from the making of The Clan album series like photos and interviews with every member.
The post cards are available in two sets - set A or set B. Each of them contains 8 different post cards (127 x 178 mm).
The same applies to photo card set where we have 8 cards in two sets A or B. The size of the photo card is 66 x 82 mm.
The set of stickers consists of 20 different stickers in different sizes - from 40 x 40 mm to 50 x 50 mm.
Image picket comes in 7 variants - with a face of your favourite member. The size of the picket is 295 x 435 mm. When it comes to poster you have to choose your favourite one from 7 available (420 x 598 mm).
A set of three Seoul badges is a limited item. It consists of a Namsan tower, heart and Monsta X lightstick badges.
The next products are a black phone case for your iPhone - iPhone 7 and iPhone 7+ and a keyring (black, red or ivory). You can use both of these with a special accessories charm (7 are available).
The last item is a special silver necklace made of silver 925 which is an alloy of 92.5 % silver and 7.5 % other metals. I's unfortunately very expensive. It costs 132 000 won (around $115 USD).
2018 World Tour The Connect Selection
The second world tour of Monsta X - The Connect started with the concerts at the JangChung Arena in Seoul on May 26-27, 2018. The members were scheduled to visit London, Amsterdam and Madrid in Europe, Bangkok, Hong Kong and Taipei in Asia and Chicago, Newark, Atlanta, Dallas, Houston, San Fransisco and Los Angeles in USA. They finished the tour with the performance in Monterey, Buenos Aires, Santiago, and Sao Paulo in South America.
Starship Entertainment - the company of Monsta X - created a new line of merchandise consisted of 24 items.

We start with the official lightstick that we could also get at the concerts during the "Beautiful" tour. Then we have a handy fan with an heptagonal head. Then we have a voice keyring that can play the voices of the members - similar to the BTS voice keyring that was available in the Muster collections.
Next we have a free-sized black T-shirt with the logo of the tour on front and at the back.
The red towel slogan comes in a pouch. The size of the slogan is 1000 x 200 mm.
There are 7 charm lanyards to choose from - each with a different charm that represents different member.
Another pieces of fashion that you would want to equip with is a 3D face mask and a ballcap with a little charm on front and a long strap at the back.
Next is a program book similar to the one from the "Beautiful" world tour with the photos and interviews written in Korean. We also have here the corresponding set of photo cards with two sets (A or B) to choose from. Although this time Starship provides us with a special album (we have to buy it separately) for the cards and even comes with a set of eight new.
As we could have expected we have here a mini poster set of 7 posters (297 x 420 mm), a post card set of 8 postcards (142 x 210 mm) and a set of 20 various sized stickers.
The image picket (295 x 435 mm) is available in 8 variants - 1 group and seven member versions.
Pin button set is available in 7 versions - for each member. There are two pin buttons in a set.
The glass bottle is a special item because it was illustrated by Monsta X members. It comes in a black sleeve.
A black diary (180 x 230 mm) comes with one sheet of stickers.
The other items are a string pouch (115 x 270 mm), a pouch with a transparent window (180 x 105 mm), brooch (60 x 170 mm), shopper bag, an opener with a red strap and a roll of a masking tape.
2018 World Tour The Connect Encore Collection
The two additional concerts in Seoul that were a part of The Connect world tour was held on August 25-26 at the SK Olympic Handball Gymnasium.
Some additional products were added to the initial collection available from the beginning of the tour.

The most interesting new items is probably the mini light keyring that looks like a small lightstick. It can work in two different modes - on, blink and flicker. The size of this item is 44 x 44 x 104 mm and it comes in a black box.
Three pieces of fashion were added - white T-shirt, black rain coat and a black long belt. The first two come in a free size. Additionally you can get a black hair band with the words "The Connect" and even a special silver piercing.
Here we have only one lanyard instead of 7 available in the first collection.
The PVC bag comes with a special photo.
This time we had the opportunity to get different badges - one black and round and one in the shape of heart.
Instead of program book we have "The Connect Book" with the photos of Monsta X members.
Once again we have two sets of photo cards (8 new in each set), a photo card album with 8 additional cards, sticker set (20) and a set of 8 postcards.
A photo flag with a silhouette of each member is a new product. So is the acrylic stand available in seven options and a keyring with the official Monsta X mascot Mon.G.
The last two items are an image picket (8 options available) and a shopper bag.
2018 Fan Con Picnic with MONBEBE Merchandise
A special fan-con for the fanclub Monbebe was held on January 5, 2018. The boys performed some of their songs like Perfect Girl, Newton and Miss You.
The fans were able to get some cool Monsta X merchandise. Exactly 8 products were available.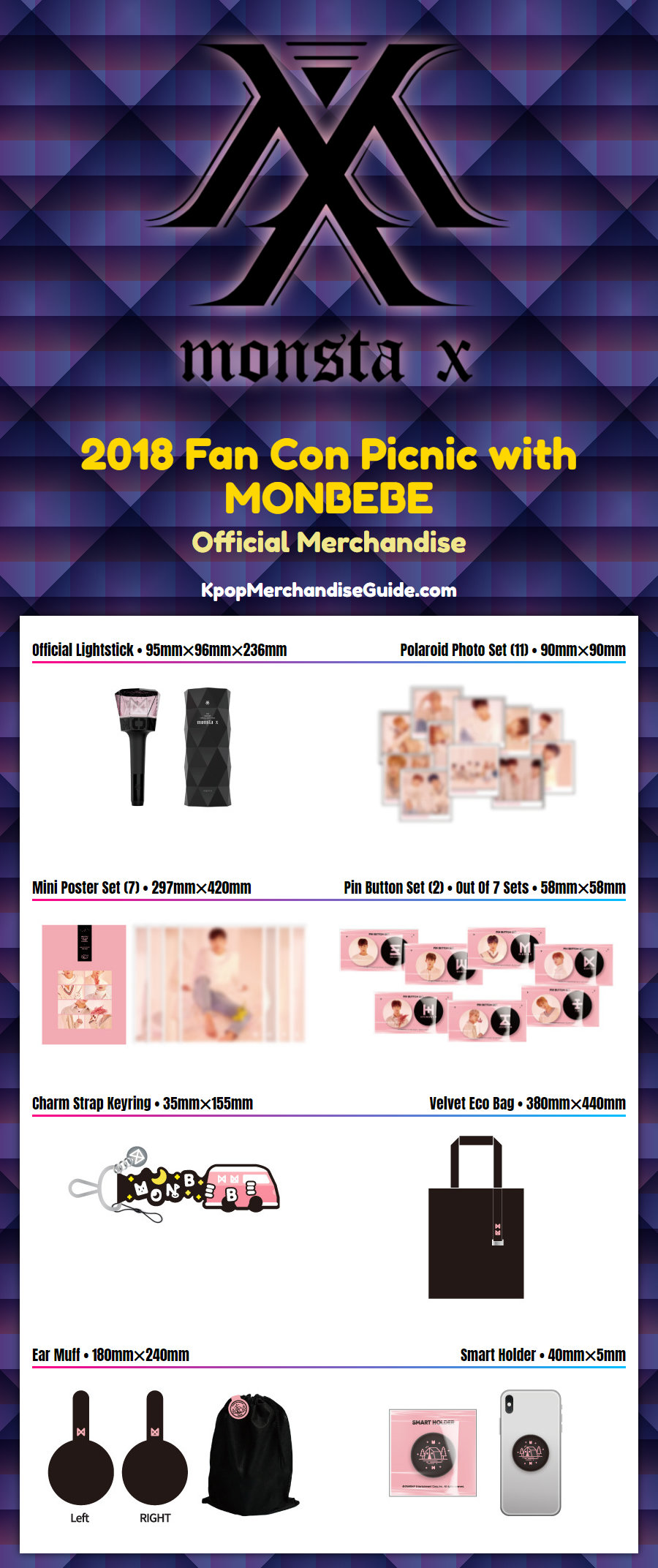 The lightstick, polaroid set with 11 polaroids in it (90 x 90 mm), set of seven mini posters (297 x 420 mm), seven different sets of pin buttons similar to the ones from The Encore tour collections, charm strap keyring (35 x 155 mm), black velvet eco bag (380 x 440 mm), ear muff in a pouch (180 x 240 mm) and a smart holder to help you during using your smartphone (40 x 5 mm).
2019 Fan Con The Game: MX Kingdom with MONBEBE Collection
Exactly one year later on January 5, 2019 the boys met again with their fans at the fan-con event The Game: MX Kingdom at the Kyunghee University in Seoul. It's their third that kind of an event.
The event brings us 20 brand new items (beside the lightstick, so technically it is 19).

Two pieces of clothing - black sweatshirt, and a hooded blanket (both size free). The muffler (225 x 2000 mm) with the words "From Beginning To The End".
The next item is a wappen with a name of the member of your choice. Additionally you can get a beautiful medal brooch that's 87 mm long.
The passport case comes with seven passport photos of all members.
A set of two red stamps is available. The size of the first one is 34 x 30 mm and the size of the second one is 21 x 13 mm.
The mini flag comes in 7 variants and it's 65 mm high.
This time we have only 7 (instead of 8) photo cards in a set. The size of each card is 62 x 88 mm. The post card set is - as always - composed of 8 sheets (142 x 210 mm).
The photo garland comes with a string and 11 photos. You can hang it in your room.
The collection introduces two new items with the Mon.G character - a cable protection cap and a pompom pouch.
If you need to charge one of your devices such as your tablet you can get a portable charger with a photo of Monsta X.
The other items are a hair band, snow ballpen, smart holder (named here grip tok), set of 14 travel stickers and a shopper bag with the worlds "From Beginning To The End" written in white.
2019 World Tour We Are Here Merchandise
The third world tour titled We Are Here started with two concerts at the Olympic Handball Gymnasium in Seoul on April 13-14, 2019. After a one and a half month break they will continue the tour in June visiting the cities in Asia and Oceania (Bangkok, Sydney, Melbourne, Kuala Lumpur), Europe (Madrid, Amsterdam, Paris, London, Berlin), South America (Sao Paulo) and North America (Mexico City, Dallas, Houston, Atlanta, New York, Chicago, Los Angeles).
The members did not forget to prepare a collection of merch for their fans. This time there are 26 new items ready to be collected.

We start with the second version of the official Monsta X light stick. It can work in three modes: on, flicker and blink. It comes with a special stand, user manual and a strap and needs three AAA batteries to operate but it can be used with the official power bank instead. You can connect the light stick to your smartphone via Bluetooth 4.1 (operating range 10m). The dimensions of the item are 100 x 97 x 234 mm.
The second item is a power bank designed especially for the official light stick (version 2). You can get rid of the handle - which is also a batteries compartment - and use the power bank instead. It can also work perfectly fine as a smartphone charger.
The third item is an official slogan - version 3 already. It has the newly introduced second version of Monsta X logo on one side and the name of the group on the other. The size of the item is 800 x 200 mm.
Next we have three pieces of fashion - a ticket bag (190 x 200 mm), a black T-shirt in M and L sizes and an anorak windbreaker with the new logo on front which also available in two sizes: M and L.
The wappen badge comes in seven variants (one for every member) and is shaped as a heart.
The white strap keyring comes with two red pendants - a small logo and a heart. It has the title of the tour "We Are Here" on a strap.
The brooch consists of a safety-pin and three accessories: two hearts joined together with a small chain, a white leather strap with a red heart, two metal pendants: one with Monsta X name and the other with the new logo on a chain.
A massage stick is a very original collectible. It ends with a heart shaped head that has a white logo of the group on one side and the title of the world tour on the other. The length of the stick is 360 mm.
The We Are Here grip tok is another KPop popsocket released officially. The size of the product is 40 x 40 mm.
The glass cup can contain 515 ml of your favourite beverage. It comes in a cardboard box.
In the collection we can also find a special poster prepared for the tour with a photo of all members and a big Monsta X logo. The size of the poster is 450 x 620 mm.
The mini flag comes in seven options - of course every member is included. The height of the photo flag is 165 mm. The same goes to the image picket but here we also have the additional one with a photo of a whole group. The size of the fan is 295 x 435 mm.
Two sets of photo cards are available - version A or B. Both consist of 7 photo cards sized 62 x 88 mm.
The photo card album is available in seven variants. It is still the same album but it comes with one of 7 special photo cards of each member. The size of the item is 115 x 155 mm.
The glitter cushion cover has the initials of each member on one side and the photo on the other. It comes in 7 variants. The size of the cover is 400 x 400 mm.
In the We Are Here Monsta X merchandise collection we also have two Mon.G products - a hand mirror (90 x 68 mm) and a coin case (105 x 90 mm).
Other items are a hair band with two accessories, a heart shaped piercing/earrings (7.5 x 7 mm), a dreamcatcher (70 x 420 mm), a black shopper bag with the title of the tour on front (470 x 340 x 140 mm), a set of 14 stickers and a set of 8 postcards (142 x 210 mm).
Also a special random goods were offered at the venue exclusively for Nonbebes.