SF9 Merchandise
SF9 (Sensational Feeling 9) is the first boy group from FNC Entertainment. At least the first dance group because we've already had the pleasure to experience FNC's bands like F.T.Island, C.N.Blue and N.Flying.
The company of the nine-member group worked hard to deliver a series of interesting collections of memorabilia. That includes those prepared for events such as their anniversary "Fantasy Race", online fan-meeting Reply Fantasy, online concert Noob Con, and the series of the concerts Live Fantasy. There are plenty of wonderful items to choose from, so getting something that will please you will not be a problem.
Surprise Festival 9 Fanmeeting Part.2 and Part.4 Merchandise
Before and just after the official debut SF9 held a series of fanmeetings. During the events the fans were able to get some interesting items prepared by FNC Entertainment. Two lines of SF9 merchandise were released.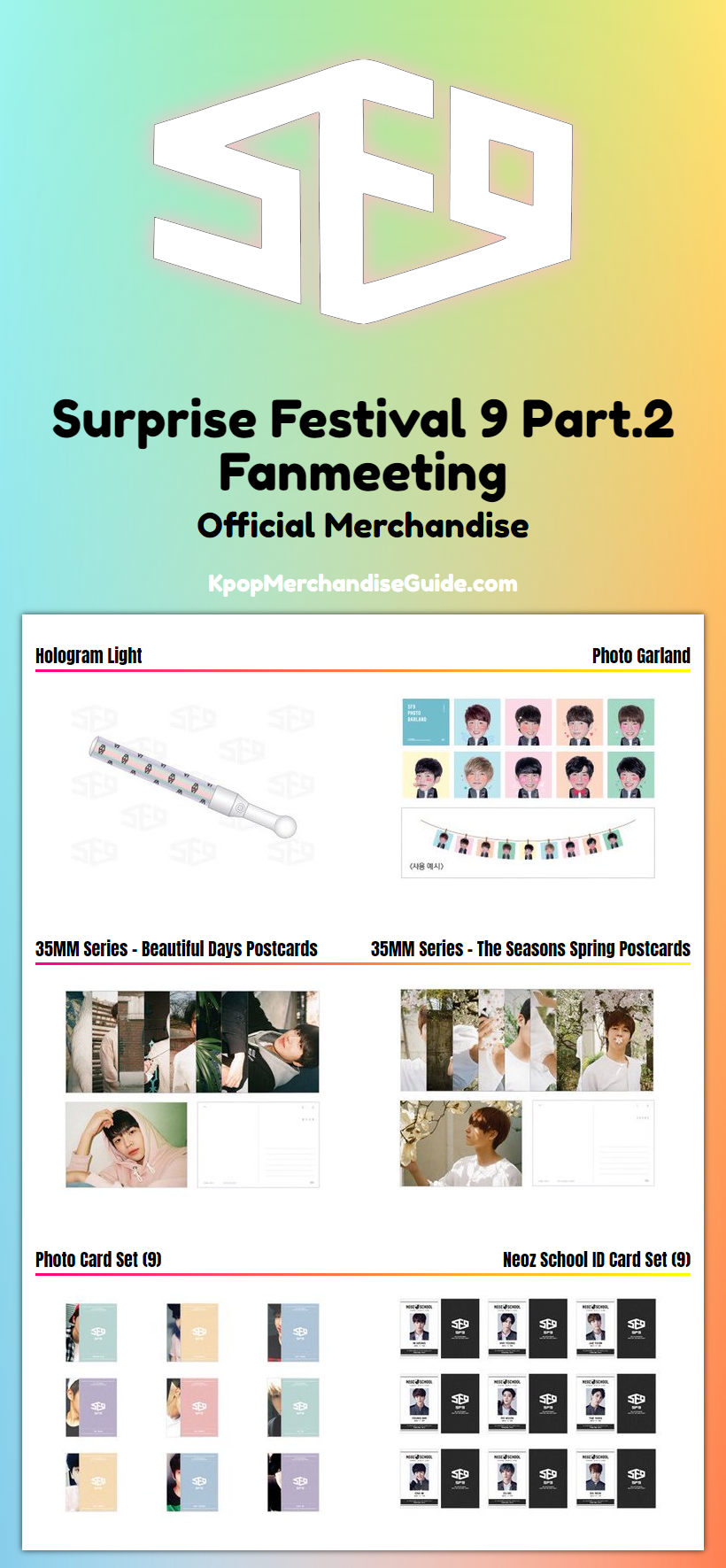 The first line consists of 6 products: a hologram light/lightstick, a photo garland with photos of all SF9 members, two sets of postcards – Beautiful Days and The Seasons Spring, a set of 9 photocards and a set of Neoz School ID cards.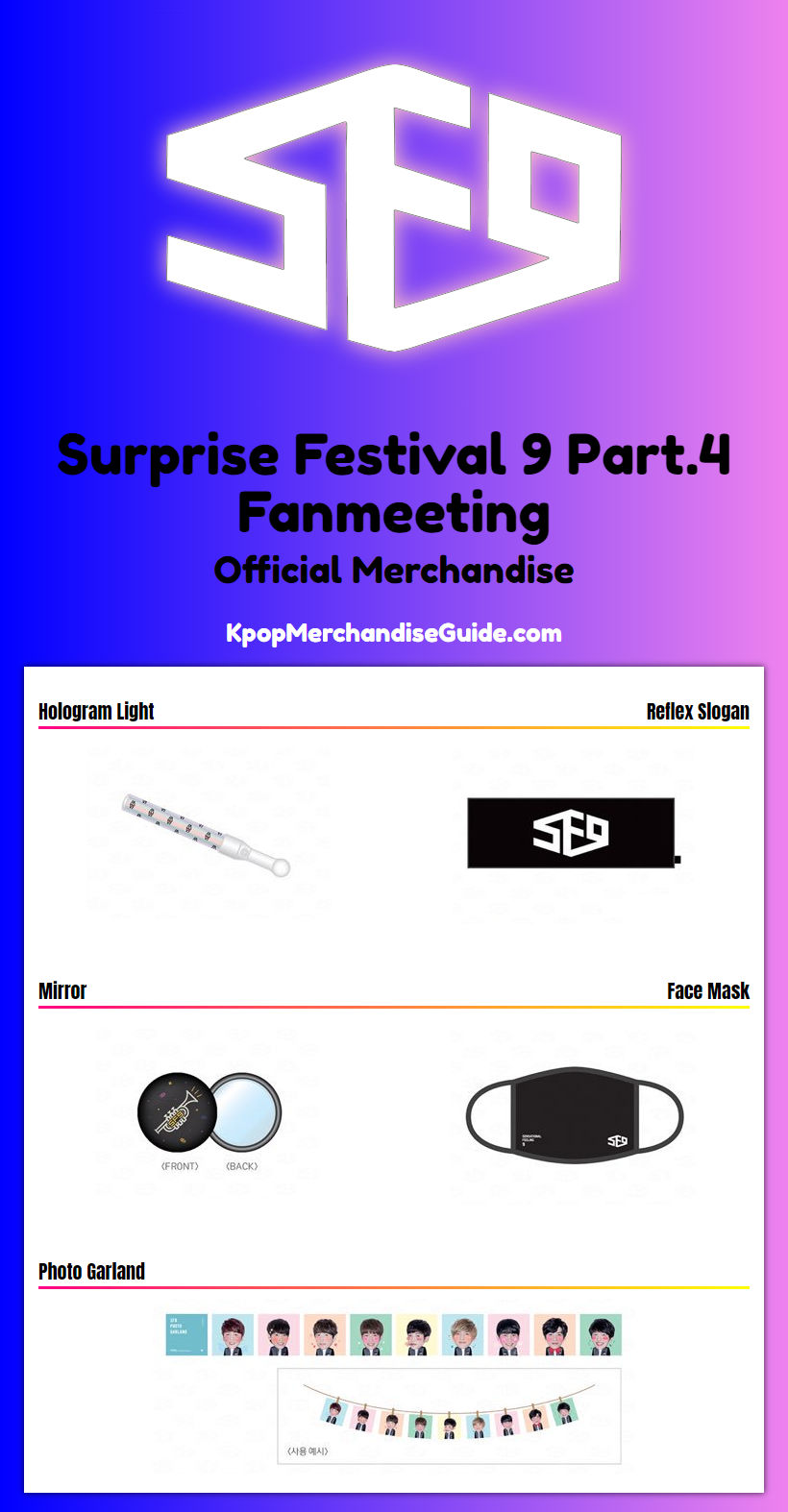 The second collection gathers one less products than the first one: a reflex slogan with white group's logo, a mirror with trumpet logo on front and a black face mask. The hologram light and photo garland are the same as in Part.2.
1st Showcase in Japan Fanfare Merchandise
The boys from SF9 started their adventure in Japan on April 7, 2017 with their showcase that took place at the Tsutaya O-East venue in Shibuya. 1300 fans attended. The collection of 4 items was available for the Japanese fans. The first one is a black nameplate with white SF9 logo and every member's name (9 different nameplates plus one with the name of the group written in Korean). The second item is a key holder with a photo of a chosen member. The next one is a fan with a photo of a single member on the one side and his name on the other. The last one is a pin button (9 for each member and one with the group's logo).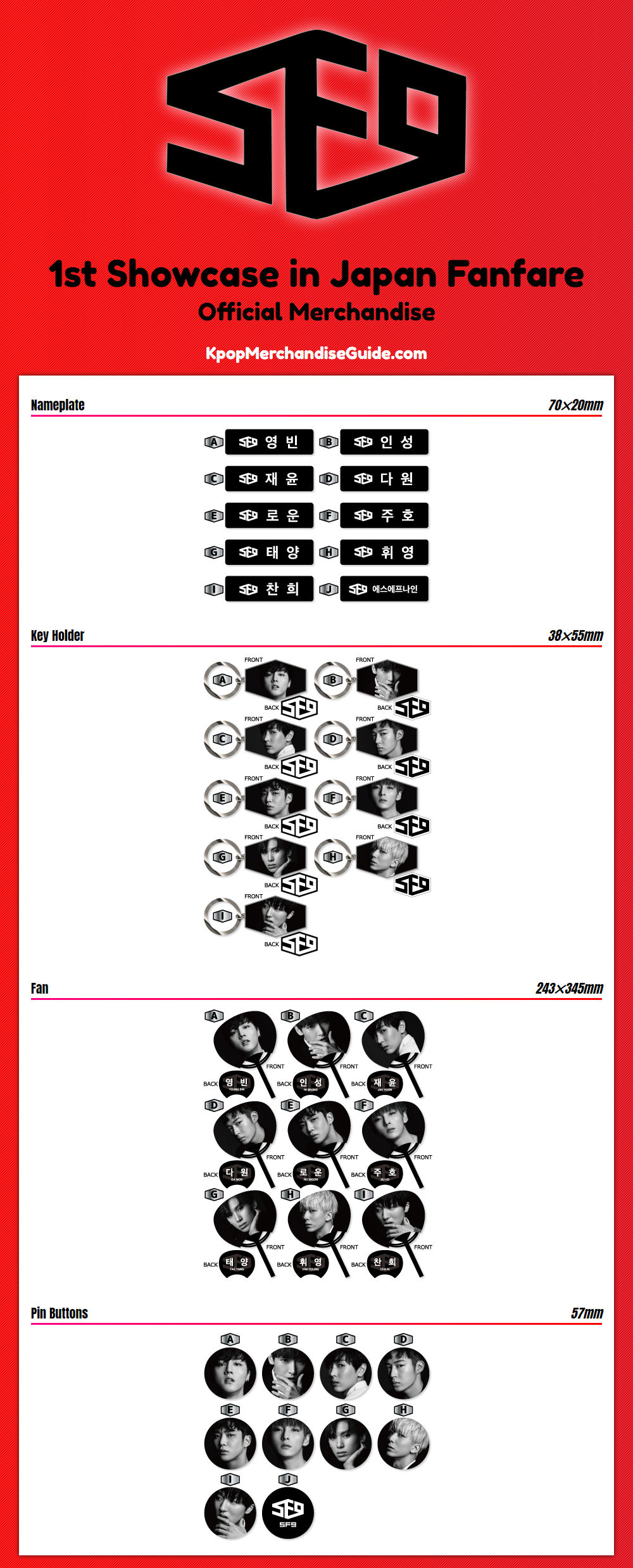 First Concert in Japan Fanfare Collection
The group performed in Japan with a concert for the first time on August 2, 2017 at the Zepp Osaka Bayside venue, then again two days later on August 4, 2017 at the Toyosu Pit. A collection of SF9 merchandise were prepared for everyone willing to buy it. The items were limited to 5 per every ticket holder.

A total number of six items were available: a lightstick (110 mm x 180 mm), one of 9 key holders with a particular member's photo on a red background, a black or white T-shirt with Fanfare concert logo on front (available in L size), a towel/slogan (810 mm x 340 mm), a black tote bag and a pin button (9 member buttons and 1 SF9 logo button).
Be My Fantasy in Seoul Fanmeeting Goods
During a fanmeeting with the members of their official fanclub Fantasy on August 13, 2017 SF9 prepared a set of limited items for the attendees. They could purchase a poster (300 mm x 900 mm), a set of two sheets of stickers and a polaroid card with a photo of a chosen member (one out of 9), a hologram light (the same as in Surprise Festival 9 collections) and a slogan. This is a different version of slogan from the one in Surprise Festival 9. This one has a member's signatures on the back.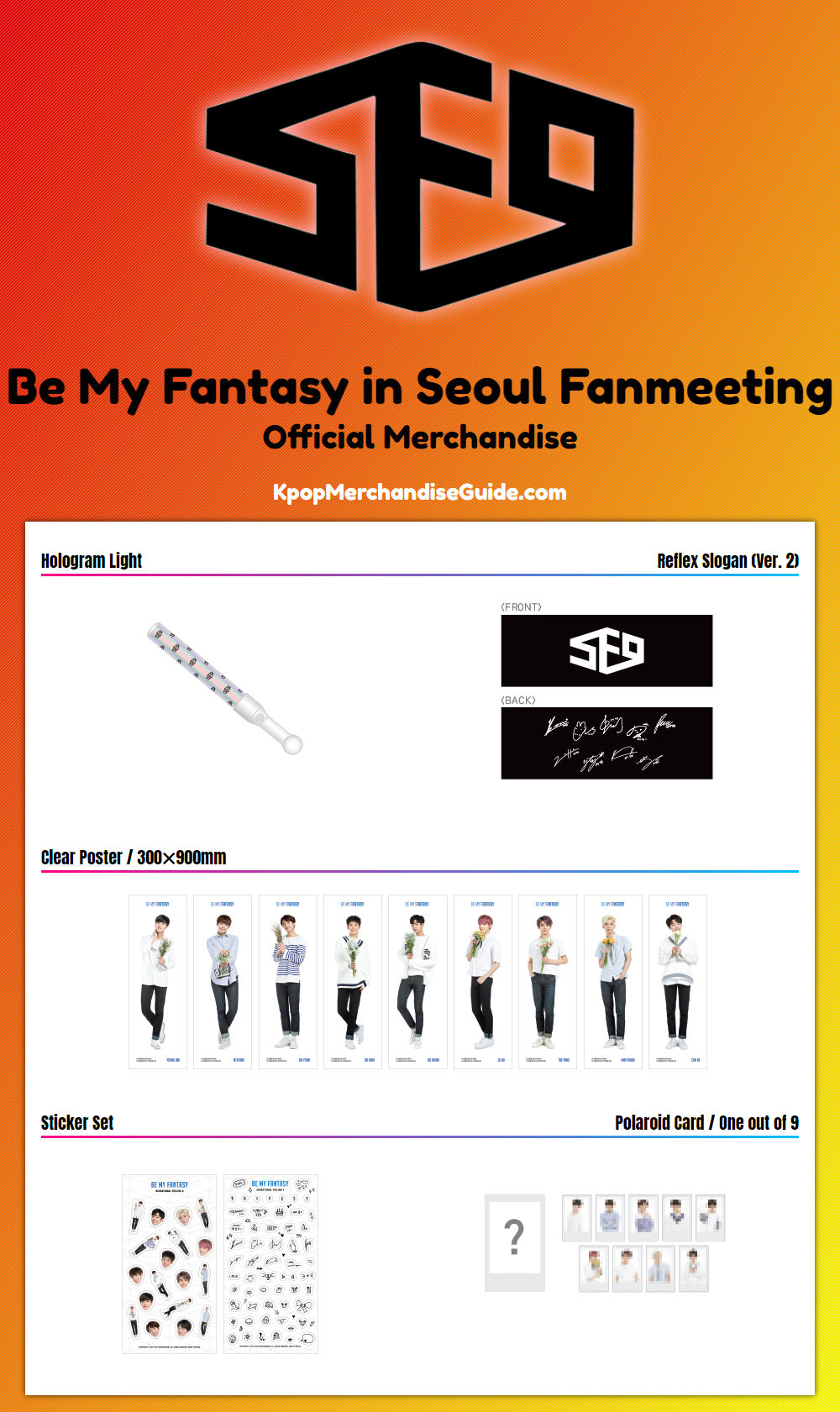 Official Japanese Launching Party: The Beginning of Fantasy collection
On January 19, 2018 the boys held a special event in relation with the opening of their official Japanese fanclub. At the event called The Beginning of Fantasy World 4 items were available for purchase: a lightstick, slogan, one of nine pin buttons with the faces of SF9 members and a set of 18 photocards.
Winter Series Official Merchandise
During the winter of 2017 the group released two pieces of SF9 merchandise for the Christmas season. The first one is a two way blanket made of polar fleece (1300 mm x 750 mm) that you can use also as a cape and a skirt. The second item is a set of 12 photocards (9 member and 3 group cards) that you can use as a calendar.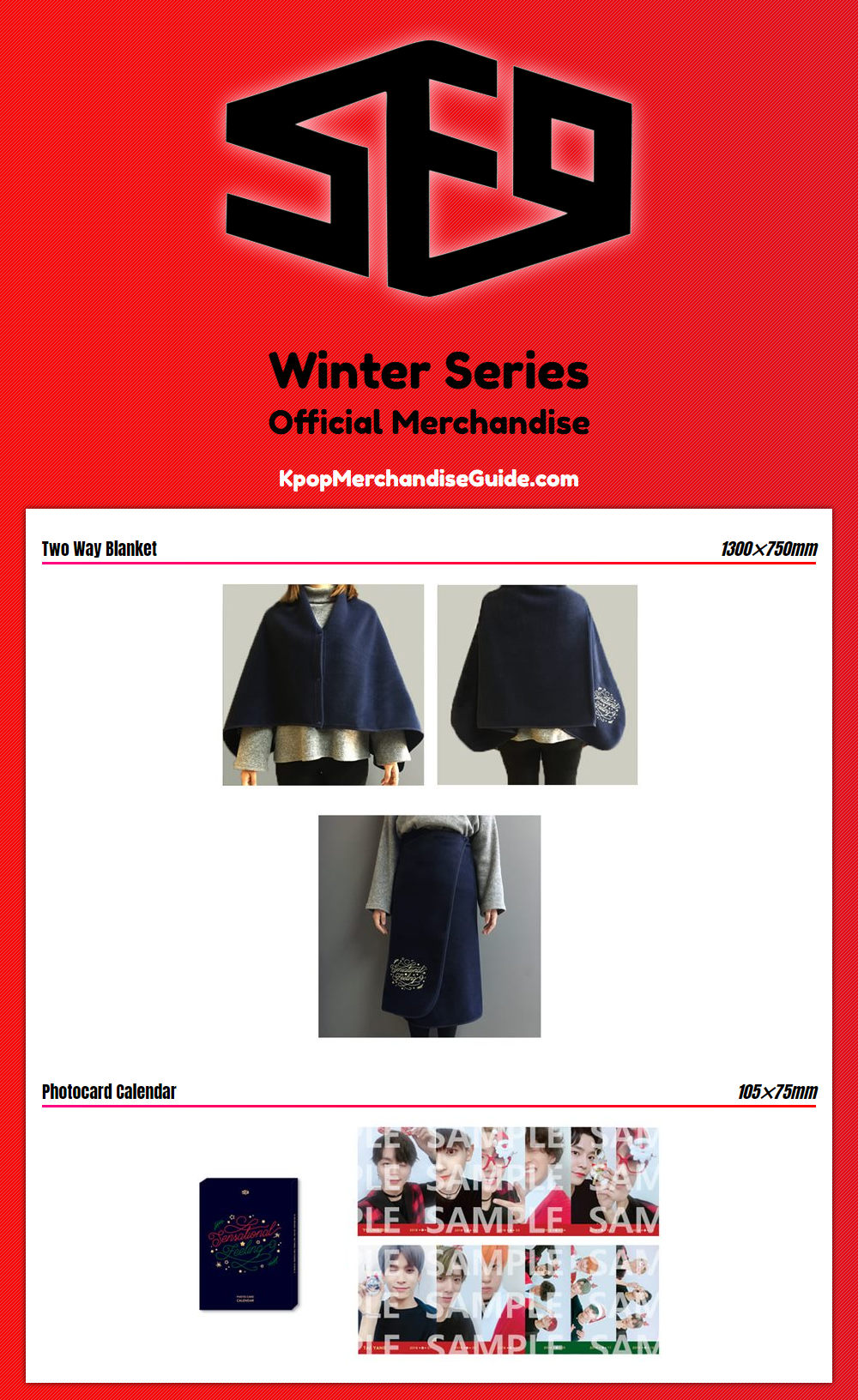 Zepp Tour 2018 Mamma Mia! Goods

On May 23, 2018 the group released the Japanese version of Mamma Mia and a week later started their Zepp Tour 2018 Mamma Mia tour performing in three cities – Osaka, Aichi and Tokyo. 10 different collectibles were available at the venues. The fans could buy two towels/slogans – one with Mamma Mia logo and the other from the official Japanese fanclub The Beginning of Fantasy collection, a green rubber wrist band and a bracelet with a golden pendant, a white and green T-shirt in L size, a pin button (out of 9), a tote bag, a lightstick, a green or orange key ring (out of 9) and a photocard set (similar to the ones from The Beginning of Fantasy but with different designs).
SF9 Members Profile
The group took part in a survival show called d.o.b (Dance of Band) in May 2016 as NEOZ Dance and were competing against NEOZ Band. They eventually won and were renamed SF9. The group consists of 9 members – Inseong, Youngbin, Dawon, Jaeyoon, Rowoon, Zuho, Hwiyoung, Taeyang and Chani. They debuted on October 5, 2016 with their first single Fanfare and the album Feeling Sensation. They later also promoted K.O. In December they released a special MV So Beautiful as a gift for their fans.
On February 6, 2017 they came back with the extended play Burning Sensation and the music video for the track Roar. In April the group released a mini album Breaking Sensation with an MV for the title song Easy Love.
In the second half of 2017 SF9 came back with EP Knights of the Sun and the song O Sole Mio. The album peaked at the 6th position on Gaon Chart.