Red Velvet Selfie Book 2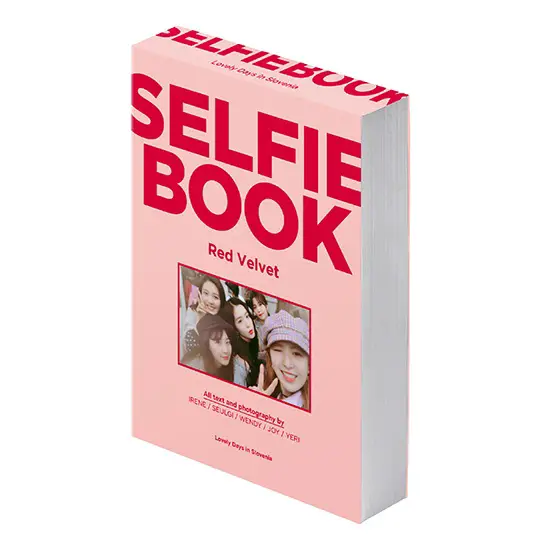 The second Red Velvet Selfie Book was released under SM Entertainment on October 11, 2018. It was available for pre-order since October 1. It consists of 240 pages full of photos taken during the third season of a variety show titled Level Up Project!. During the 3rd series of the show the girls traveled to Slovenia. All text including handwritten commentary and pictures you will find in the book were prepared by the members of Red Velvet including Joy, Wendy, Irene, Seulgi and Yeri. The size of this photobook is 98 x 136 x 16mm. If will be a perfect gift for any person who is a Red Velvet fan. Please notice this is an official collectible from SM that has a sticker of authenticity on the back. It was manufactured in South Korea and its full title is Red Velvet Selfie Book #2 Lovely Days In Slovenia.
The Level Up Project! variety consists of three series. Each season is a separate adventure for the girls who visit different parts of the world - Bangkok (season 1), Namhae, Yeosu and Tongyeong (South Korea) (season 2) and Slovenia (season 3). The show was broadcasted through Oksusu and on KBS Joy, XtvN and JTBC4. It was originally aired from July 27, 2017 to September 10, 2017 (season 1), from January 8, 2018 to March 17, 2018 (season 2) and from August 13, 2018 to October 5, 2018 (season 3). A total number of 123 episodes have been released so far. It is worth noticing that Joy couldn't participate during the first season since she was occupied with a role in drama The Liar And His Lover.
If you're interested in this Red Velvet Selfie Book you can get it both from Ebay and Amazon. It will definitely be something you will cherish. You can get it for less than $20 which is a very affordable price for such a nice item.
Available From Ebay ▼
Check It Out
Or Amazon ▼
Check It Out