Monsta X Comma Photobook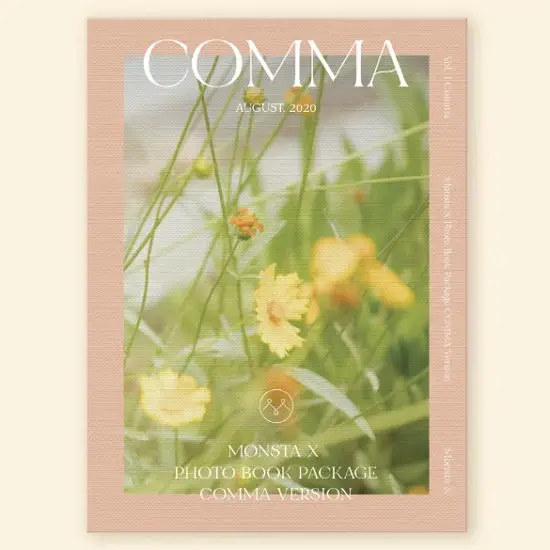 The Monsta X photobook titled Comma was released on July 15, 2020 simultaneously with a different version titled Xiesta. It came out under Starship Entertainment Co., Ltd. and Stone Music Entertainment. It was manufactured in South Korea. It is the second photobook of Monsta X after Temperature that was released in 2017.
Comma comes in a package of a size of 200 x 270 mm. It consists of 256 pages of beautiful pictures featuring all members of the group including Minhyuk, Shownu, Kihyun, Hyungwon, Joohoney and I.M. The package contains also of a DVD disk in an envelope, with approximately 40 minutes of a making of video content (120 x 120 mm), a set of 6 ID photos of a size of 35 x 45 mm, a set of 3 4cut photos showcasing 2 members of Monsta X on each sheet (150 x 100), a set of 6 AR postcards of a dimensions of 150 x 100 mm, and finally 6 polaroid photos in a set (100 x 114 mm). You will be happy with all of those.

The Xiesta version of the Monsta X photobook is a little bit different. Instead of ID photos, 4cut photos, AR postcards and polaroids, you will get a set of 12 photo cards of a size of 62 x 88 mm (2 per each member of Monsta X), 2 sheets of a film photos (50 x 150 mm), an accordion postcard (100 x 150 mm), and an AR mini poster that measures 250 x 170 mm.
This official piece of merchandise will be perfect for all Monsta X fans and for a casual KPop fans as well. You can get the photobook from Amazon, Ebay or Yesasia for a very reasonable price considering the number of goods you will be getting. You definitely won't be disappointed.
Available From Ebay ▼
Check It Out
Or Amazon ▼
Check It Out
Or Yesasia ▼
Check It Out