(G)I-DLE Merchandise
(G)I-DLE debuted on May 2, 2018 and immediately gained attention with the release of their music video for Latata which was written by Soyeon. She also helped with the production of the track. The MV has currently more than 100 million views on Youtube.
The group is currently composed of five members. The sixth one, Soojin, left the group on August 14, 2021.
Cube Entertainment - a company of (G)I-DLE - haven't released many pieces of merchandise since the group debuted. That includes three items you will hopefully find interesting: a slogan, a Season's Greetings and a special photobook. The other collections you would be interested in were release for such events as 2020 online concert I-Land - Who Am I and 2022 world tour titled Just Me ( )I-dle.
Official Slogan
The first one is a slogan - a must have item for every fan of any KPop group. The size of the slogan is 800 mm x 200 mm. It has a white (G)I-DLE logo in the middle and the member's names on both sides on a purple background. It comes in a plastic reusable transparent pouch.

2019 Season's Greetings
Initially I didn't plan to touch the subject of Season's Greetings in any of the artist's pages. I wanted to prepare a special section containing only these types of collectibles. But the lack of any other (G)I-DLE merchandise I could talk about changed my mind. So here we are. Still there's not much in the package here, unlike in other group's greetings. There's only a wall calendar available. It has 12 pages and obviously you can use it for 12 months of 2019. The size of the calendar is 297 mm x 420 mm. It was distributed by 101X.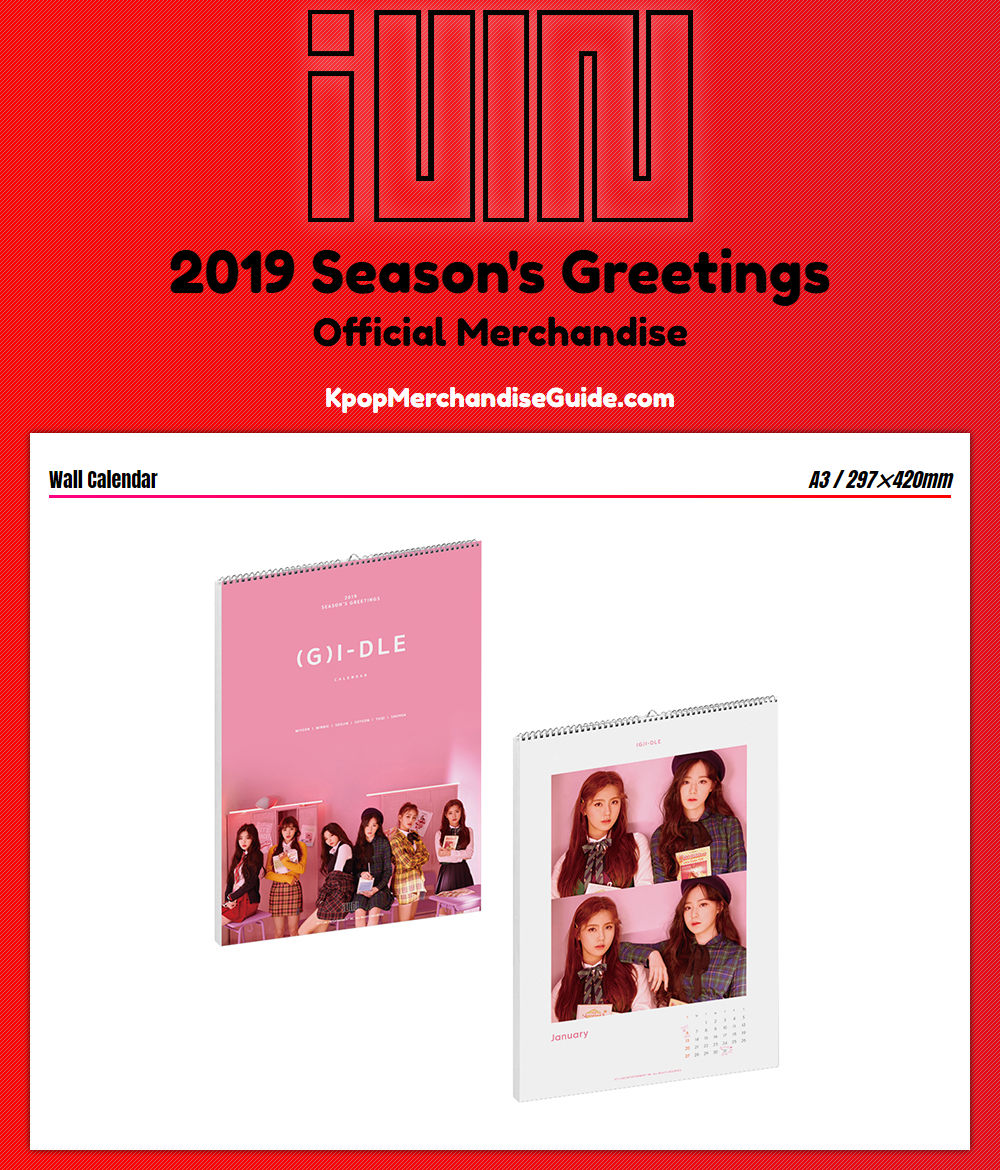 Oddly enough this year Cube Entertainment decided to release more modest Season's Greetings for almost all their artists including Pentagon, CLC and Yoo Seon Ho. Only BtoB received a proper release with poster, photobook, message cards and wall calendar poster.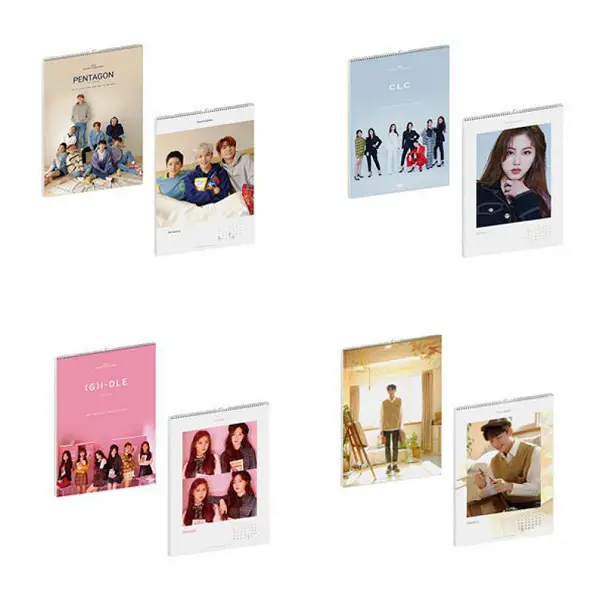 2018 UCUBE Cube On Behind Photobook
The third piece of merchandise I want to cover is a 2018 UCUBE Cube On Behind Photobook released to commemorate the third Cube Entertainment's family concert that took place on June 16, 2018 in Seoul. The photobook has 200 pages and covers the behind the scene photos taken during the production of the Cube artists' recent albums - I Am of (G)I-DLE, Feel'eM of BtoB, Lip & Hip of Hyuna, Spring of Yoo Seon Ho, Demo_02 of Pentagon, Lonely of Jo Kwon and Free'sm of CLC.

The photobook is not entirely devoted to (G)I-DLE but any fan who is in need on any (G)I-DLE merchandise should probably get it.
(G)I-DLE Members Profile
The group consists of five members - Soyeon, Miyeon,Minnie, Yuqi and Shuhua. Soojin left the group in August of 2021. Soyeon is probably the most known member since she participated in the first season of survival show Produce 101 and later was a contestant on Unpretty Rapstar. She's a lyricist and contributed to many group's songs. She's also a leader of the group and the main rapper. Miyeon trained for 5 years under YG Entertainment while Soojin prepared to become a member of a girl band Vivivida under DN Entertainment. Yuqi was born in Beijing as Song Yu Qi. She's a face of the group. Shuhua was born in Taiwan and she's the maknae of (G)I-DLE.
The group officially debuted with the extended play I Am in 2018. They received their first win on music shows with Latata only 20 days after debut. On August 14 the girls came back with their digital single Hann. The song became a hit topping various charts like Genie and Bugs.
On February 26 the group released their second extended play I Made and a music video for Senorita. The song was written and composed (with Big Sancho) by Soyeon.