BTS Official Light Stick Army Bomb (Version 3)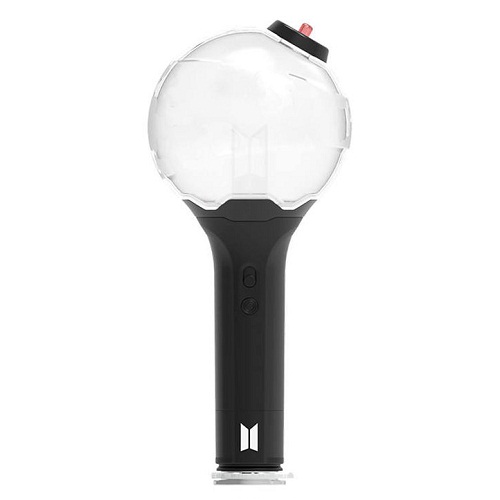 | | |
| --- | --- |
| Release Date | 27 July 2018 |
| Price | $89.99-$129.00 |
| Width | Depth | Height |
| --- | --- | --- |
| 98mm | 98mm | 224mm |
| | |
| --- | --- |
| Operating Time | 5 Hours |
| Power | AAA Alkaline Batteries 3EA |
| Material | ABS, PC, Silicon |
| Content | Light Stick, Set Of 7 Mini Photo Cards, Strap, Nonwoven Bag, User Manual, Quality Guarantee card |
Available From Ebay ▼
Check It Out
Or Amazon ▼
Check It Out
The BTS official light stick (ver. 3) was introduced when the teasers came out on July 5, 2018. It was officially released on July 27, 2018. Similarly to the previous version it can be controlled by a central hub via Bluetooth connection at the concerts of BTS. Additionally it can be also controlled via special app that's available on the App Store for iPhone and on Google Play for Android smartphones. The item was designed, manufactured and distributed by Compact.D company from South Korea and officially licensed by Big Hit Entertainment. The model number of the light stick (ver.3) is BTS×Official 7118G. It comes with a sticker of authenticity on the package.
This version was firstly included in the BTS World Tour: Love Yourself merchandise collection. You could also get it during the BTS World Tour: Love Yourself: Speak Yourself.
The light stick looks almost the same as the previous one with the exception of a silver details on the handle that now are gone. The logos of BTS and A.R.M.Y are now white.
The third version can work for 5 hours and require 3 AAA batteries. It can work in five modes: keep, slow, quick, flash and dimming. It can emit any color of light from the whole spectrum. The brightness of the light might be weakened and might glow in red if the batteries does not have much power left in them.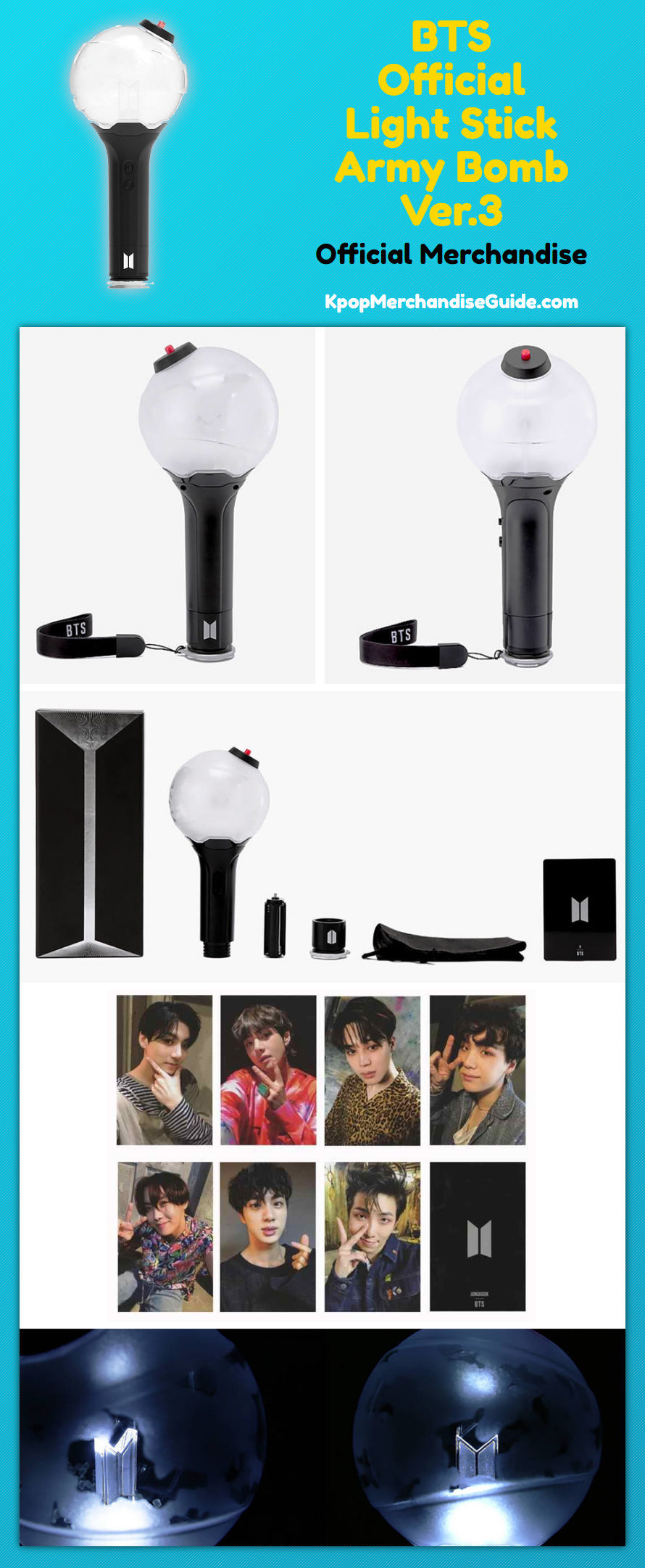 The light stick can be controlled at the concerts to enable a special light effects and color changes. This can be achieved by pairing the light stick with your seat at the venue - either using the app or at a special booth onsite. For this to work it has to be switched to a "Bluetooth mode" with the "power on" switch and the concert location and the exact seat number must be entered through the app. There might be some problems with Bluetooth connection when using Galaxy S10e, S10, S10+. Please notice that the first and the second version of the light stick do not have the pairing function.
The size of the third version of the ARMY Bomb is 98 x 98 x 224 so it's smaller than the both versions 1 and 2. It is made of ABS, PC and silicon and weights approximately 150g.
In the package you will find - beside the light stick - a strap, nonwoven bag, user manual and a quality guarantee card. For the first time the set of 7 mini photo cards is also included.
Available From Ebay ▼
Check It Out
Or Amazon ▼
Check It Out