Loona Merchandise
Loona is a South Korean girl group consisting of 12 members. It debuted with their first mini album [+ +] in 2018 and the members are active ever since (except a short hiatus of Haseul in 2020 and 2021).
I've been following Loona (stylized as LOOΠΔ) for quite some time but - I have to make a confession - not from the beginning. Once I dived into complexity of the world building the BlockBerry Creative introduced to us I found the group very fascinating. It was during Choerry's "Love Cherry Motion" when I fell in love with the sound of their songs and I've been following all their releases ever since.
But that's not what I'll be writing about. Let's talk about some Loona merchandise that includes the items prepared for their fanmeetings and for concerts Loonabirth, Loonaverse and Loonatheworld.
BlockBerry probably made every effort to keep the fans happy by releasing some interesting collections of items. At least the fans that could attend various event held in South Korea. The international fans weren't as lucky. All they could do was to keep track on what had been reselled (most of the time for a significantly higher price) by the participants of the particular event on Ebay and other shopping websites.
Some of these items are still available online so if you don't care about the content of your wallet you can get them. But let's start from the beginning.
Cinema Theory: Up & Line
Cinema Theory: Up & Line is a series of special events that took place in cinemas in Seoul (March 17, 2018) and Busan (July 7, 2018). A content containing already released and unreleased music videos and choreography videos along with other footage was screened. During these events a set of photocards was available for purchase.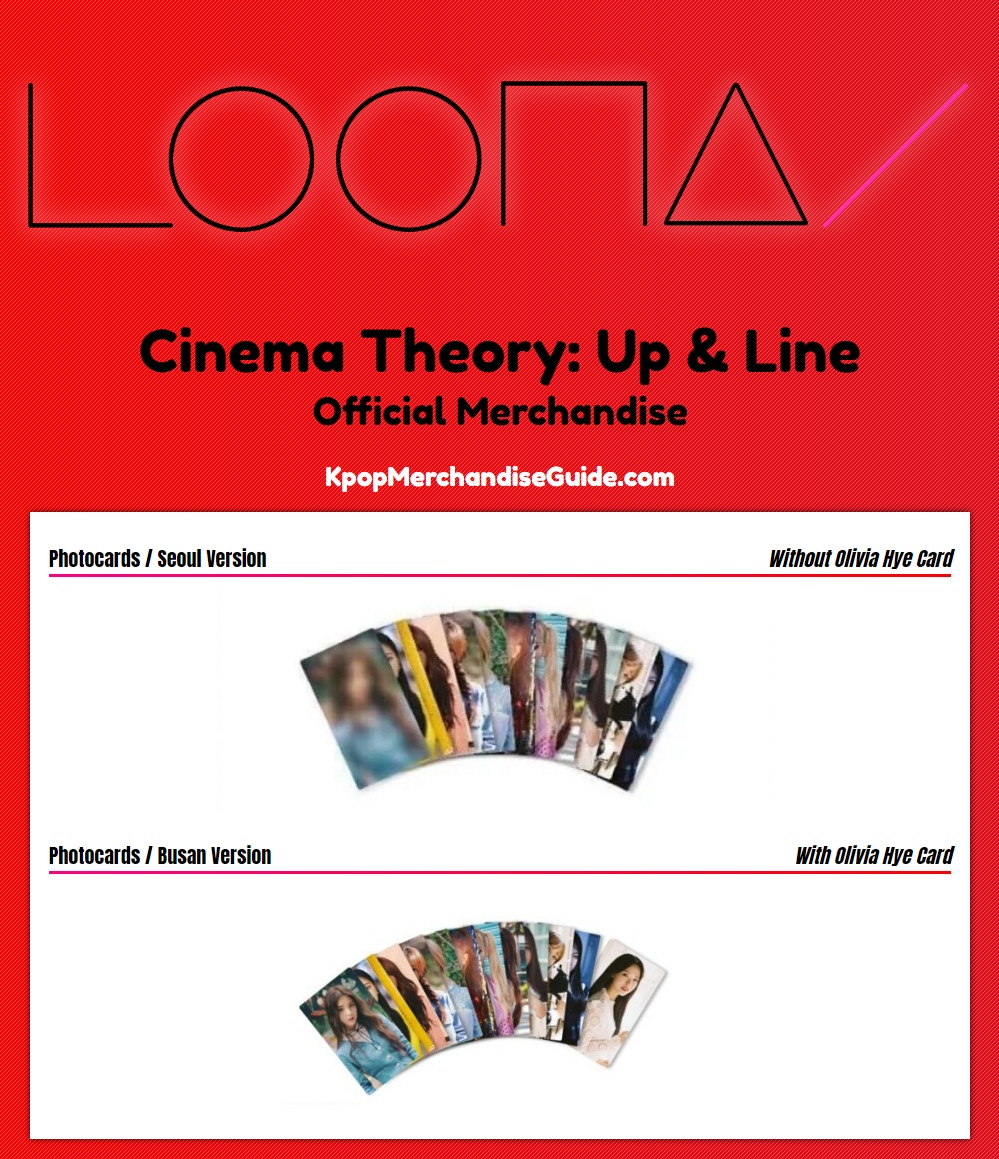 These photocards are made of plastic and are transparent. The set comes in a plastic package. The package contains 12 members cards although the card of Olivia Hye is missing in the Seoul set since she was revealed only the same day the event took place. The full set with all members was available only in Busan.
Premier Greeting Line & Up Collection
The Line & Up Premier Greeting were a special events that were held on the 2nd and 3rd day of June, 2018 to officially introduce all of the members of Loona to the audience. A collection of four items were available for every attendee that was willing to buy it.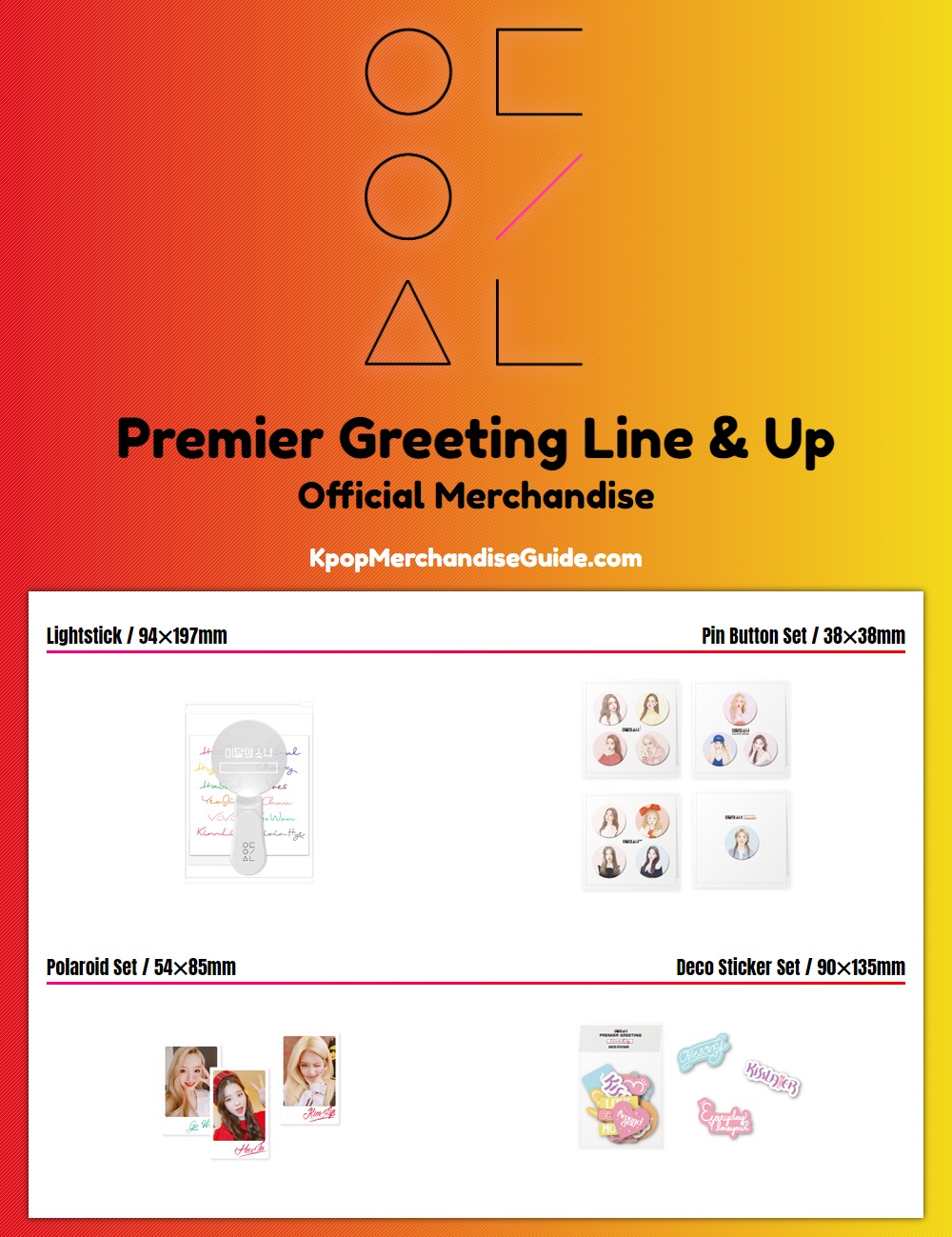 The first item is a lightstick that can produce a white LED light. It runs on three CR AG13 button cell batteries and can work in three modes: light on, flicker and blink.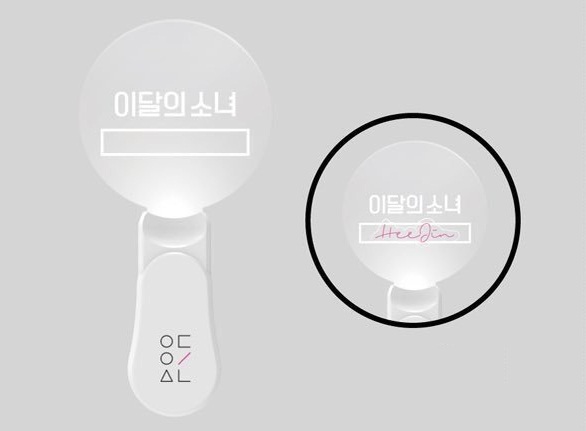 The second one is a set of stickers that includes one sticker with Korean Loona logo and twelve stickers with animals artwork designed by Heejin representing each member.
The artworks featured on the pins are the same as on the Up & Line special tickets. The three sets were available - 1/3 (4 pins), Odd Eye Circle (3 pins) and yyxy (4 pins). You could get the pin with Yeojin if you purchased all three sets.
The set of a 12 photocards that look like polaroids are the last piece of merchandise available in this set.
Debut Concert Loonabirth Merchandise
The first concert of Loona took place at the Olympic Hall in Seoul on August 19, 2018. A total number of 3000 people attended. Every ticket holder had an opportunity to purchase the items from the official line of merchandise prepared especially for this event. However every person could only buy a limited number of items. The collection consists of 10 products and additional - available only for the members of the official fanclub - photo set.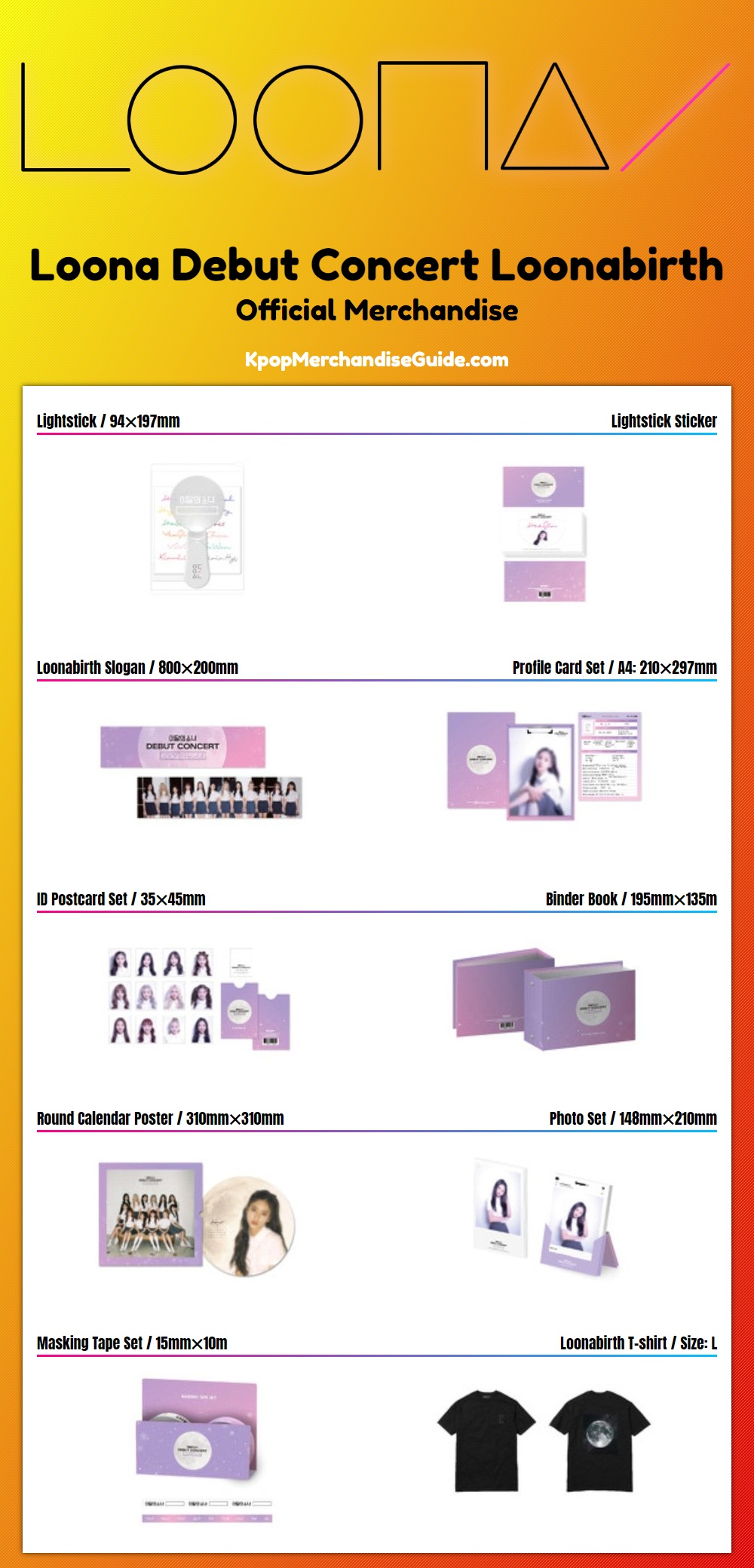 The first item is the lightstick - the same as the one from the Line & Up collection. However here you could purchase a set of lightstick stickers (three random in a set out of 12 available). The sets were limited to 2 per every person so during the event you could get at most 6 different stickers.
The next one is a slogan that has the words "이달의 소녀" and "Debut Concert Loonaverse" on a purple and pink background on one side and a photo of all members on the other. The size of the slogan is 80 x 20 cm. It comes in a plastic pouch.
The profile card set is a very interesting piece of merchandise. You will get 12 A4 sized cards with the picture of each member on front and a special handwritten in Korean profile form on the back. The set comes with a clipboard.
The set of ID pictures contains 12 small (35 mm x 45 mm) ID cards that you can keep in a special binder book that's also available. But unfortunately you will not be able to use the binder for any other typical photocards since they are simply too big to fit into the sleeves.
The LP round calendar poster set contains 12 posters with the photos of each member for every month of the year (from August 2018 to July 2019). The set comes in a sleeve that looks like a typical vinyl album cover.
In the photo set you will find 12 photos of each girl and two special transparent cards of the same size as the photos. One of them looks like a moon and the other like a post on Instagram.
The set of masking tape consists of two rolls of tape - one white with logo 이달의 소녀 and one purple with the names of each member. Both rolls come in one cardboard package.
The last item is a black T-shirt with logo 이달의 소녀 on front and the moon on the back. It has a tag with BlockBerry Creative company's logo.
Studio In Seoul Official Merchandise
From 23rd to 25th day of November 2018 the girls from Loona held their Studio In Seoul event. It was a special meeting with the members who performed different songs and talked to the fans. Blockberry Creative prepared a special line of Loona merchandise you could buy during the event that includes pin button set, postcard & stamp sticker set and polaroid set. The artworks was designed by an artist known as hanavbara.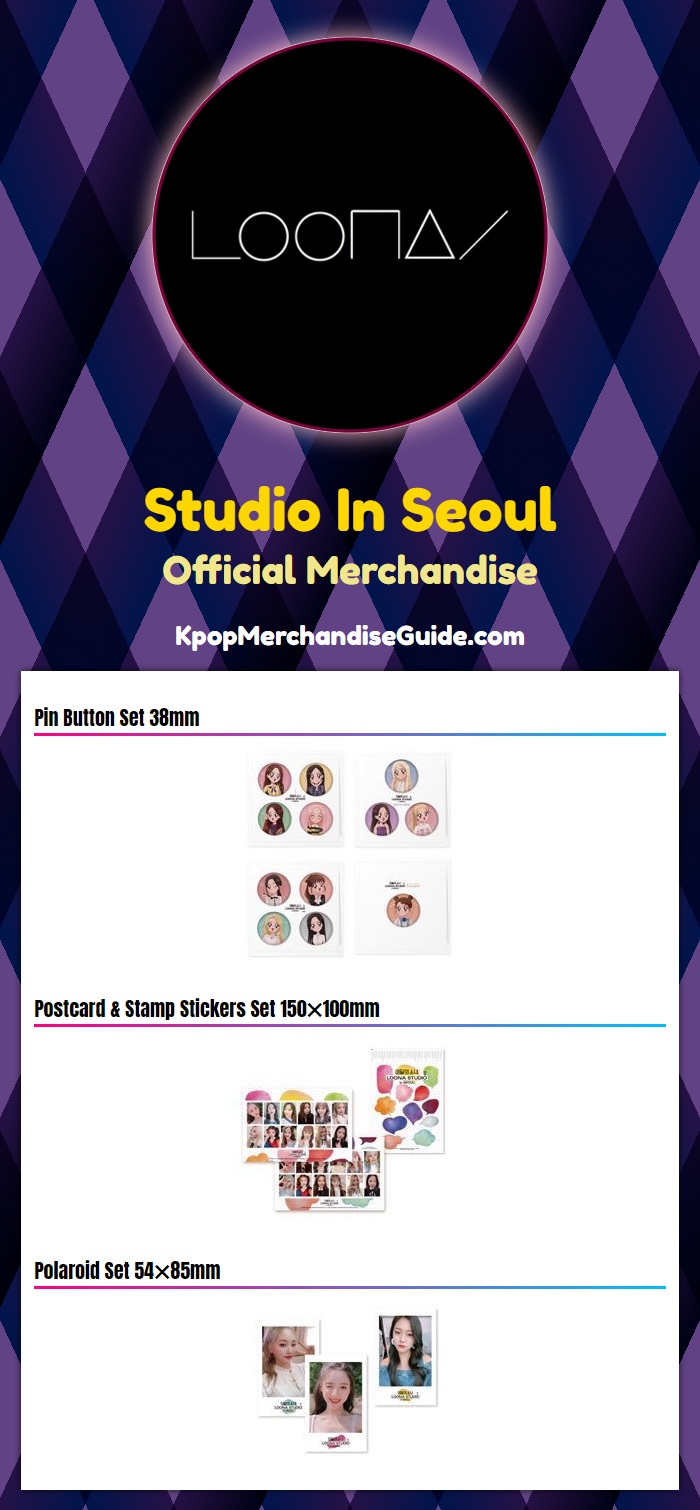 The set of polaroids consists of 25 cards - two of each member and a group card. The postcard and stamp sticker set has three items - one postcard and two sheets of stamp stickers with the photos of each member (2 x 12 stickers). The pins come in three different packages. Every package contains the pins with the members of corresponding subunit (1/3 (4 pins), Odd Eye Circle (3 pins) and yyxy (4 pins)). A special package with a single pin (Yeojin) was given for everyone who decided to purchase all three sets. You could not buy this pin separately. The pins feature the artworks from the Line & Up tickets that you're probably familiar with.
First Official Fanclub Orbit Collection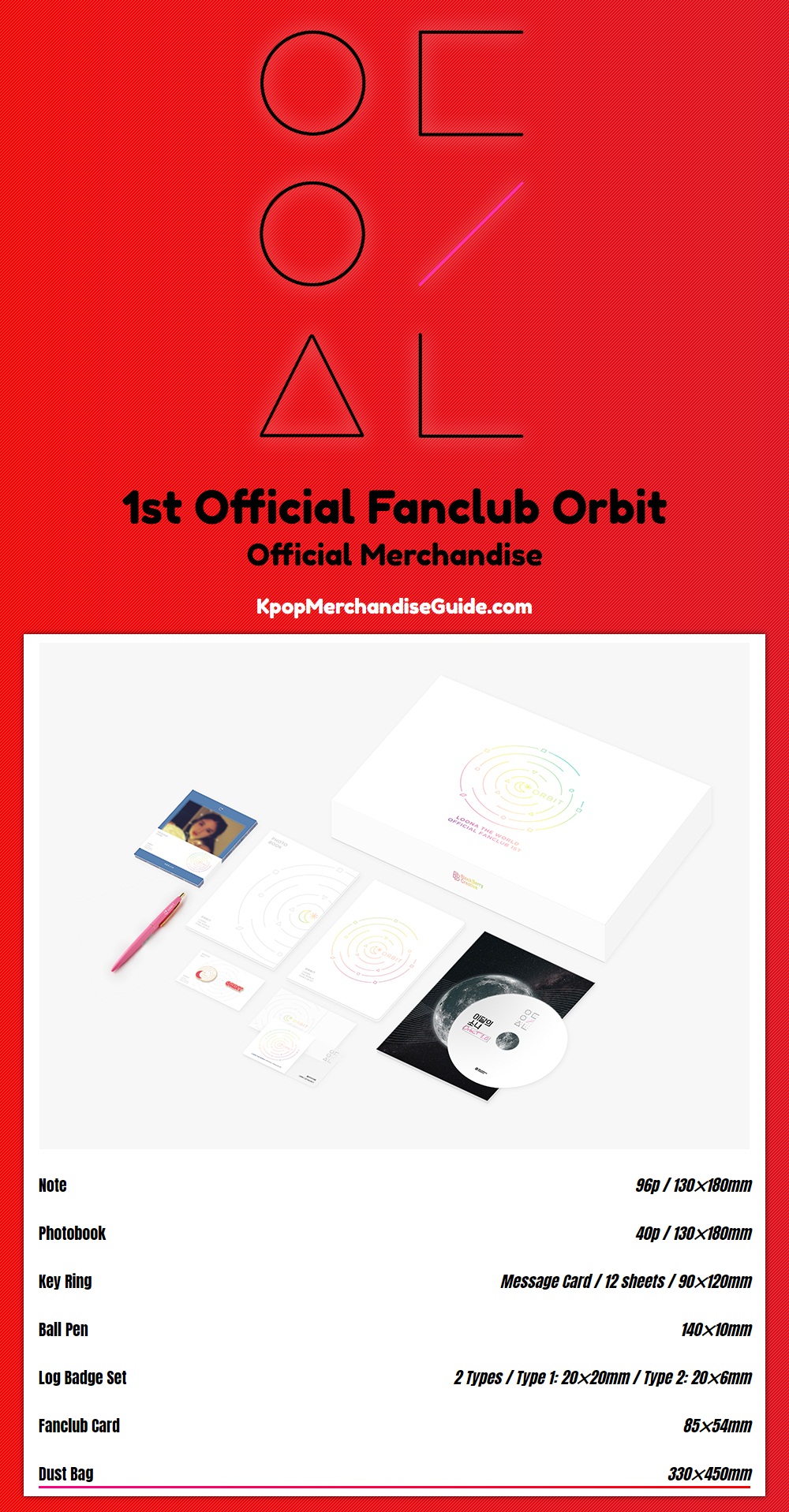 A special set of merchandise in a white box was prepared for the members of official Loona fanclub called Orbit. The package contains a note (96 pages), photobook (40 pages), 12 sheets of message cards, ball pen, two types of logo badge set, fanclub card and a dust bag. A special CD is added with the remix of "Love & Live", "Egoist" with English rap and a remix of "Hi High".