AB6IX 1st Photobook in Jeju 19522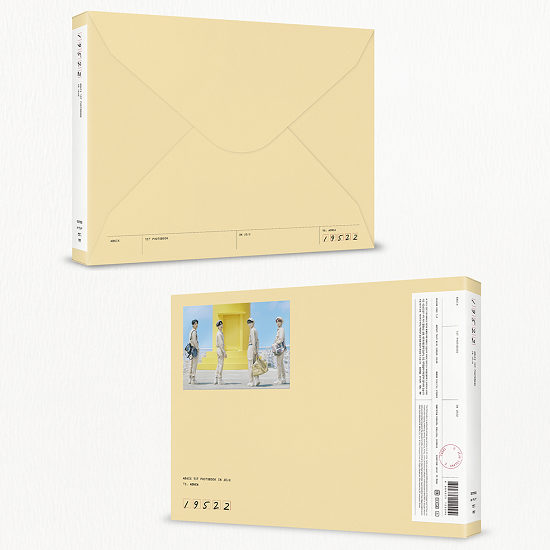 AB6IX 1st Photobook in Jeju 19522 was released by Brandnew Music Co., Ltd. and Play Company Corp. on November 12, 2020. It was distributed by F.F Company. It features four members of AB6IX including Woong, Dong Hyun, Woo Jin and Dae Hwi, during their stay in Jeju island. The photobook was released after Young Min left the group in June of 2020. It came out to support the third mini album of the group titled Salute that came out 10 days earlier on November 2, 2020.
The photobook looks like a post package or a big envelope. The outer case measures 287 x 212 x 25 mm. Inside the case you will find the photobook itself, consisting of 200 pages of beautiful pictures (210 x 285 mm), a DVD disk in an envelope with the making of video content, a sheet of stamp stickers showcasing all members (237 x 68 mm), a set of 5 photo cards measuring 54 x 86 mm, slightly different than the standard size (1 group and 4 solo photo cards), and a folded postcard showcasing a random member (170 x 120 mm).

The DVD disk contains around 90 minutes of content with a 16:9 wide screen aspect ratio and digital stereo sound. English, Chinese and Korean subtitles are included. The region code of the DVD is 1 and 3. You can also watch it on your PC.
The first press copies of the AB6IX 1st Photobook in Jeju 19522 came also with an additional photo card (56 x 84 mm), and a single polaroid photo (72 x 85 mm). The polaroid was very difficult to find since there are only 100 sheets available.
If you like this 1st Photobook in Jeju 19522 you can get it from Amazon, Ebay and Yesasia for a very reasonable price, especially when the photobook is the official collectible.
Available From Ebay ▼
Check It Out
Or Amazon ▼
Check It Out
Or Yesasia ▼
Check It Out