ONF Merchandise
ONF (On n Off) is a South Korean group under WM Entertainment and is composed of six members: E-Tion, Hyojin, J-Us, MK, Wyatt and U. Laun left the group in August of 2019 due to some personal matters. They debuted in 2017 and have released many cool merchandise since then. They prepared a special collection of items on a number of occasions like their meeting with the Japanese fans, participating in the reality show such as Dive Into ONF, or releasing an album.
They are probably best known for the collectibles released to commemorate the premiere of their records. They have treated their fans with some nice bonus products during the premieres of the extended plays Spin Off, Popping, Goosebumps and other.
WM Entertainment Official Shop Goods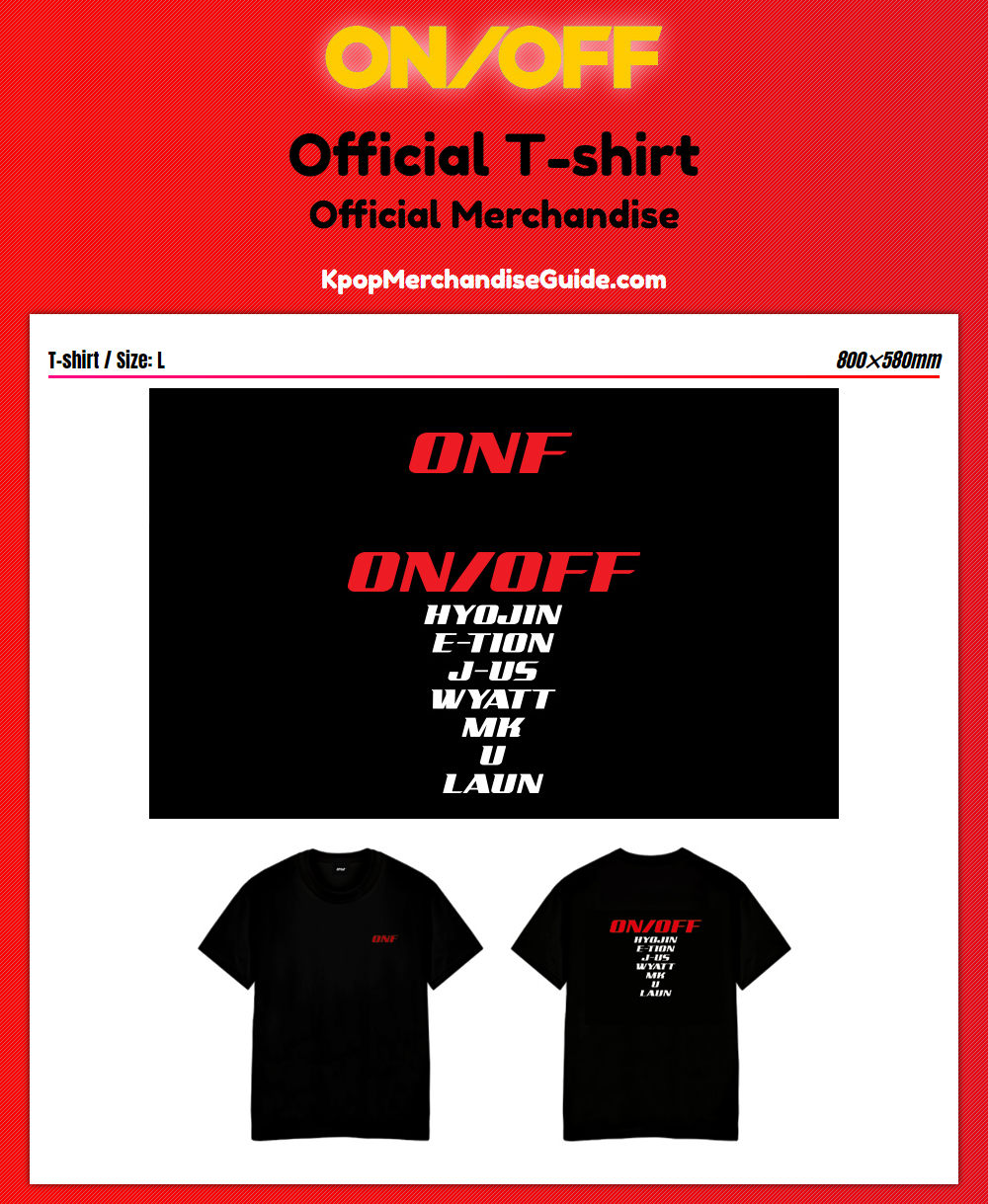 Probably the best place to look for some ONF merchandise is WM Entertainment official shop. It is available for both South Korean and international users. You can get some interesting items including merch from albums You Complete Me and We Must Love.
Others items are a black T-shirt and a polaroid set. The T-shirt has a red ONF logo on front and ON/OFF at the back with the names of all members. It was designed by E-tion. The polaroid set is composed of 32 different polaroids sized 89 mm x 54 mm. It has 28 polaroids with a single member (4 of each member) and 4 with the whole group. It comes in a box. Unfortunately it is out of stock on the WM shop as I write these words.
1st Fanmeeting in Japan Lights On Collection
On March 12, 2018 ONF held their first fanmeeting in Japan in Tsutaya O-East in Shibuya called Lights On.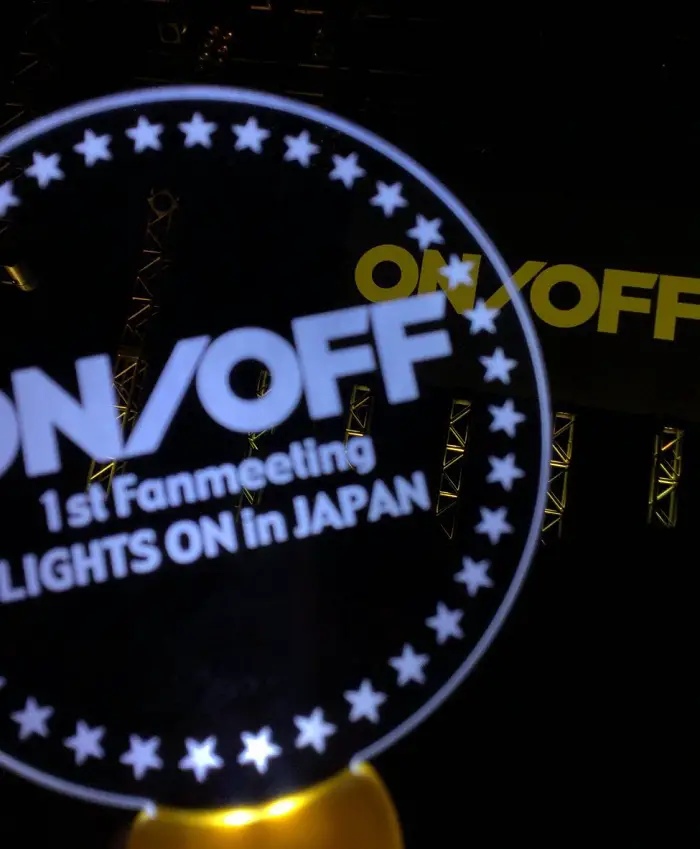 The attendees could get some interesting ONF merchandise from a collection of 9 products: a lightstick, towel, white or yellow keyring, T-shirt, hoodie, tote bag with yellow or black ON/OFF logo, name tag, pin buttons and a set of photocards (version 1 and version 2 with 7 cards in each version).

You Complete Me Merchandise
On June 7, 2018 the group came back with their second extended play called You Complete Me. This was a perfect occasion to release a collection of three items.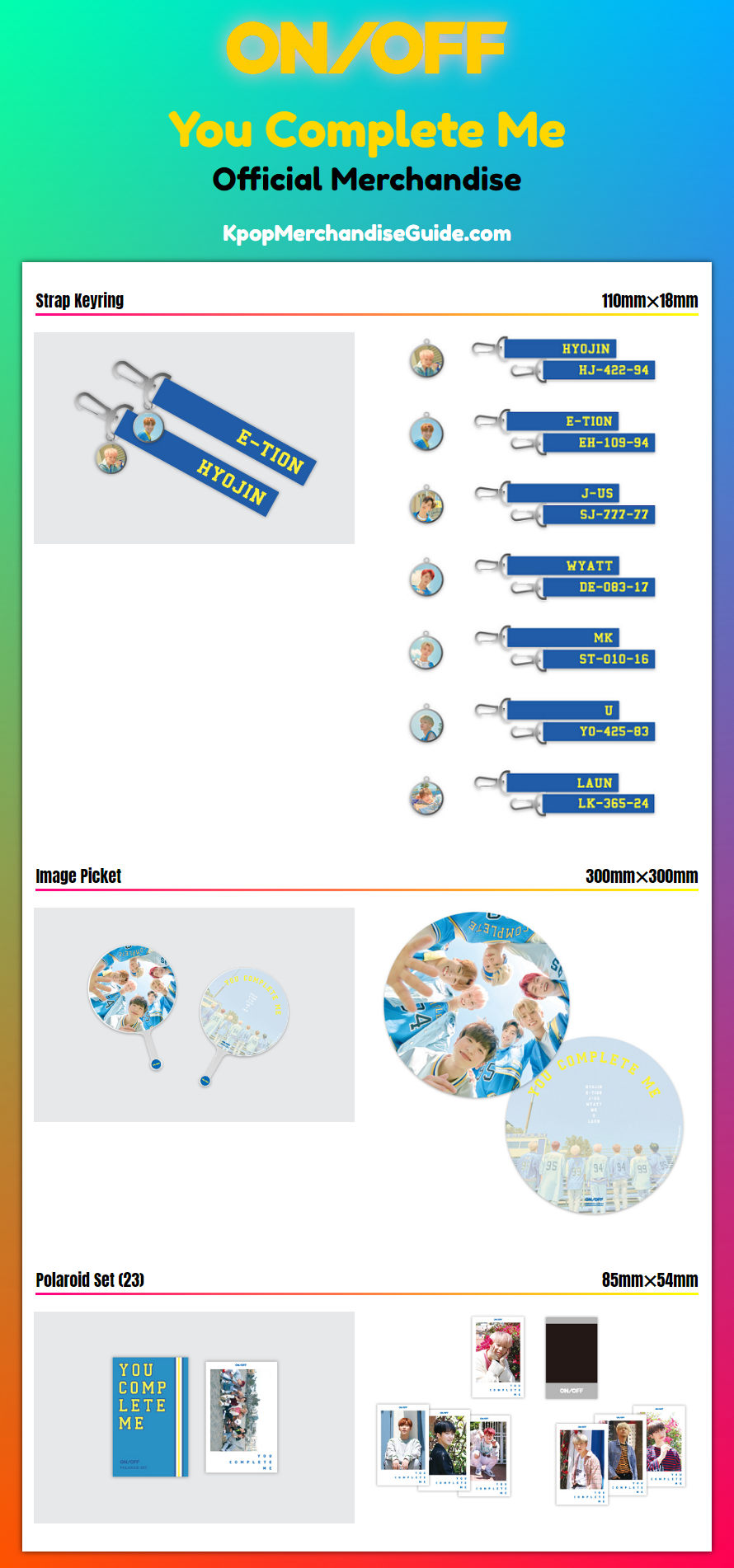 The first one is a blue keyring with a strap and a pendant. It has a name of your favourite member on the strap and his photo on the pendant. The size of this item is 110 mm x 18 mm.
The second item is a set of polaroids unlike the other set it consists of 23 photos and the size of each one is a little bit smaller: 85 mm x 54 mm. There's 21 sheets with a single member (3 of each one) on it and 2 with the whole group.
The last item is an image picket with a photo of ONF on one side and the name of album You Complete Me on the other. The size of this product is 300 mm x 300 mm.
We Must Love Collection
On February 7, 2019 ONF released their next EP We Must Love. As in the case of You Complete Me they prepared a collection of 3 items for the fans to get. The first one is a set of 8 posters - one group and seven member posters. The size of each one is 260 mm x 185 mm.
The polaroid set is the next one. This time we have 30 different polaroids sized 85 mm x 54 mm. These are the size of the set from You Complete Me. The set consists of 28 member and 2 group polaroids.
The third and the last one in this collection of ONF merchandise is a set of postcards and stamp stickers. You will get 2 group postcards and 2 sheets of stickers (14 stickers on both). The size of all four sheets is 210 mm x 148 mm.
ONF Profile
ONF debuted on August 3, 2017 with their mini album ON/OFF under WM Entertainment - a home of popular KPop groups B1A4 and Oh My Girl. The boy band's members belongs to two teams - team ON and team OFF. Team ON consists of four members: E-Tion, Laun, MK and leader Hyojin. Team OFF consists of U, Wyatt, leader J-Us nad Laun who is a member of both teams.
All members participated in the survival show Mix Nine with Hyojin and Laun joining the last nine. Unfortunately they were not able to debut as the individual companies couldn't came to agreement.
In 2018 the boys released their second EP You Complete Me with the title song Complete. In August they debuted in Japan with a Japanese version of ON/OFF. Later that year the music video for Japanese version of Complete was released.
At the beginning of 2019 ONF came back with the MV for We Must Love. They plan to perform in Hong Kong, Singapore, Taipei as a part of their tour 2019 Asia Tour.