KPop Canvas Backpack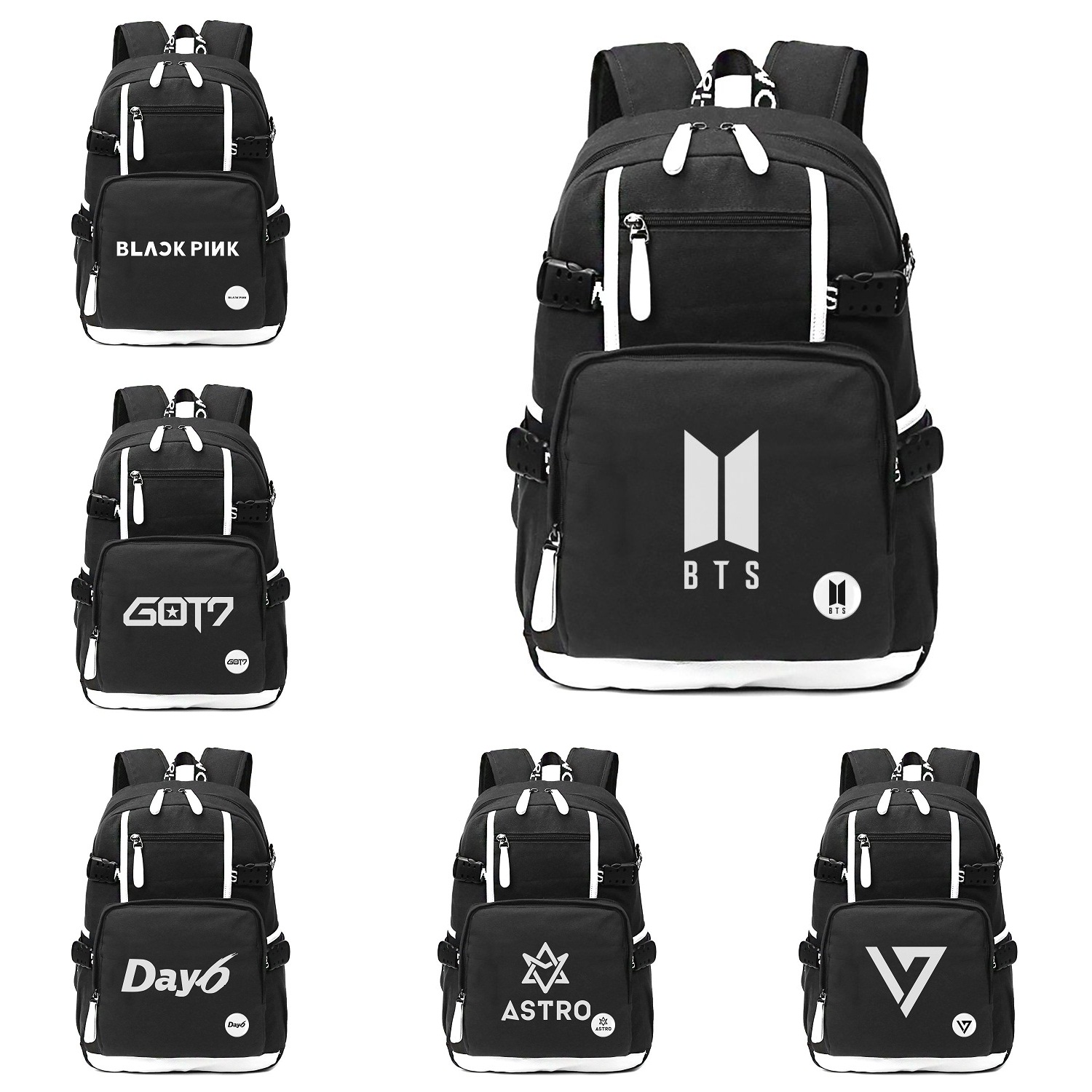 If you're preparing for school or you always need to carry around many things this KPop backpack will be more than helpful. This fashionable item is made of canvas and comes in black and white color. Many spacious pockets will contain all of your belongings without any problem. Inside you will find separate compartment which you can use for a laptop computer. The padding on the shoulder straps make it comfortable to wear. It is a high quality fan made product that is very sturdy and durable. And of course it is very useful which makes it unique. It features a logo of a KPop group you will choose and comes with one pin button with the same logo.
You have plenty options to choose from. The seller prepared different variants for most popular boy and girl groups. If you're a fan of one of them you should definitely grab this KPop backpack. There is a total number of 41 options covering the famous artists such as 2NE1, 2PM, AOA, A-pink, Astro, B.A.P, Blackpink, Big Bang, Block B, BTS (two versions - the old original logo and the new logo from 2017), C.N.Blue, Day6, EXO (two versions - the logo of the group and the artwork from the cover of the fourth studio album The War that was released by SM Entertainment digitally on July 18, 2017 and as a physical copy a day later on July 19, 2017), F(x), GFriend, GOT7 (four different versions including the logo of the final entry of the Flight Log album series - Flight Log: Arrival that came out on March 13, 2017 and was released by JYP Entertainment), Imfact, Infinite, iKON, KARD, Monsta X, NCT 127, Pentagon, Red Velvet, SF9, SHINee (three KPop backpacks including the title of the repackage album 1 of 1 that came out on November 15, 2016, a month after the release of the regular version), Sistar, Seventeen (two versions - the triangle logo and a hand sign logo), Twice, VAV, VIXX and Winner. If you're a fan of any of these KPop groups you won't be having any difficulties when choosing the perfect option for you.

There are also the officially released KPop backpacks that are a part of bigger collections prepared for concerts, fan meetings, showcases and other events. For example a nice black backpack with the yellow logo of Stray Kids was available at their second showcase Unveil Op. 02 : I Am Who that was organized for the fans at the Kyung Hee University in Seoul on 5, August 2018. Another black backpack was released for the concert tour of Taemin titled 1001101. It featured the logo of the tour on front. Another artists from SM Entertainment released a cool backpack for their EXO Planet #5 - EXplOration tour concerts in Seoul. The attendees of the iKON's debut concert Showtime that took place at the Olympic Gymnastics Stadium in Seoul had a chance to get the items related to the official mascot of YG Entertainment - Krunk. Among the items was a sack backpack depicting the Krunk bear and a basketball court. It was made by a company called Lepieton and measures 320 x 380 mm.
If you like this KPop backpack you should definitely thing about getting it for yourself or other fan you happen to know as a gift. It costs only $39.50.
Available From Ebay ▼
Check It Out
Or Amazon ▼
Check It Out