AB6IX Merchandise
AB6IX (known also as Brandnewboys) debuted on May 22, 2019 under Brand New Music. The group is composed of Jeon Woong, Park Woo Jin, Kim Dong Hyun and Lee Dae Hwi. Lin Young Min left the band in June of 2020. Their first extended play was titled B:Complete. The name is short for "Absolute Six" and also an abbreviation of "Above BrandNew Six".
There are several interesting collections of merchandise released so far. That includes those prepared for the showcase of their fourth mini album Mo' Complete: Have a Dream and the items you could get at the 2022 concert Complete With You.
Four members were contestants on the second season of Produce 101 on Mnet. Dae Hwi and Woo Jin managed to finish in the final 11 - in 3rd and 6th position - and debut as Wanna One. Young Min and Dong Hyun were eliminated and finished in 15th and 28th position.
Young Min and Dong Hyun (with two other participants of Produce 101 Jeong Sewoon and Lee Kwang Hyun) are also a part of a project group called YDPP (Youth, Dream, Passion, Purity) created by Starship Entertainment and Brand New Music. They debuted the year before on April 5, 2018. The duo is also active as an AB6IX's subunit MXM that debuted on September 6, 2017 with their EP Unmix.
Jeon Woong trained under YG Entertainment, Woolim Entertainment and JYP Entertainment.
Debut Merchandise
The only AB6IX merchandise have been released so far are the official light stick and slogan. The LED light stick is marked as a Ver. 0.5 that suggests that we should be expecting the "proper" version 1.0 pretty soon. It has a translucent head shaped as logo of AB6IX and a red handle with the name of the group. It comes with a white strap. It is made of ABS and acrylic. The size of the item is 77 x 246 mm.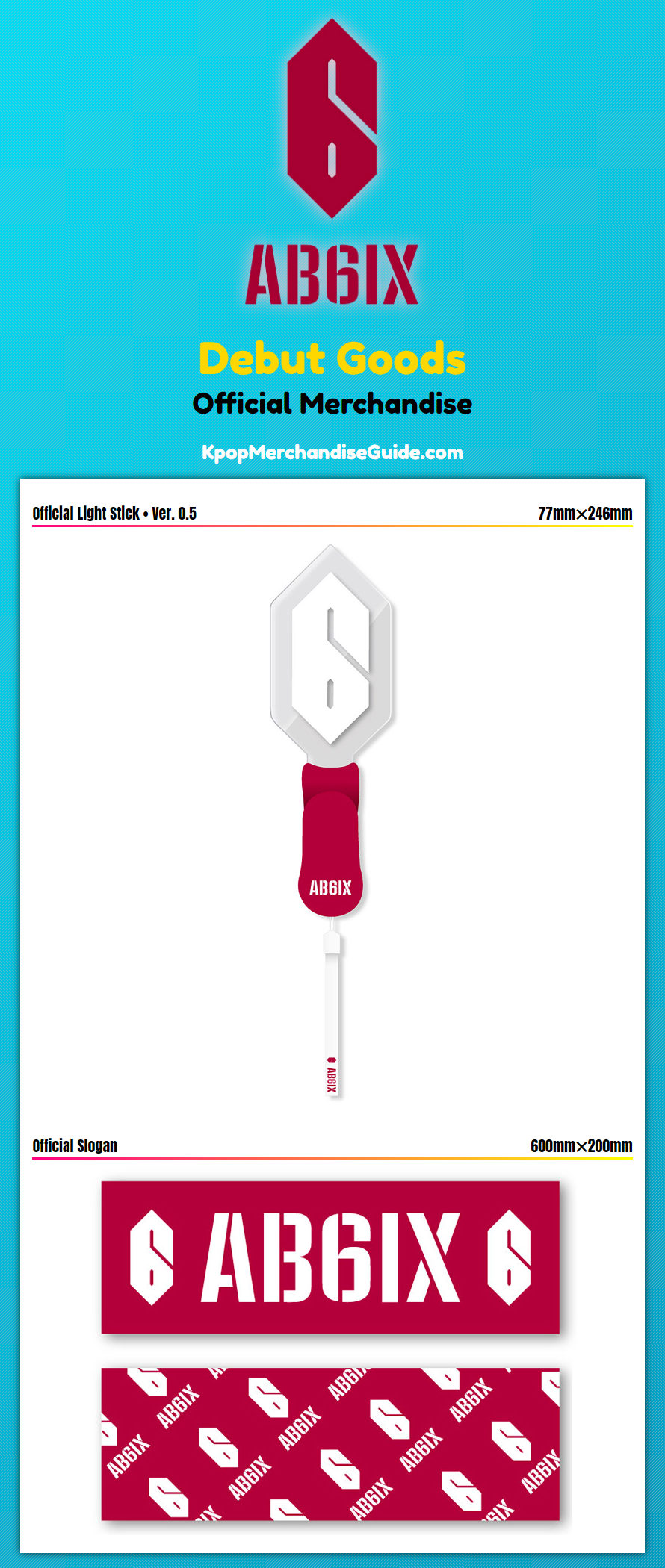 The other collectible is a red slogan with the name and the logo of the group on both sides on a dark red background. It has a standard dimensions of 600 x 200 mm and is made of polyester. Both items are manufactured by Brand New Music and BEATRO Co. Ltd. in South Korea.
Hopefully we will get more AB6IX merchandise in the near future.