KPop Sticky Note Memo Pad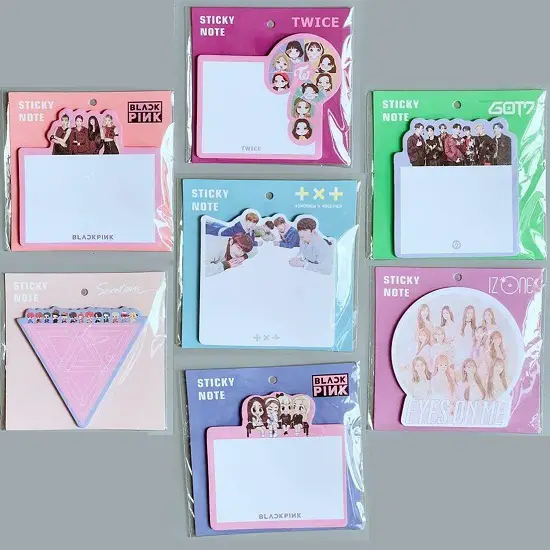 | | |
| --- | --- |
| Price | $3.99 |
| Type | Unofficial |
Available From Ebay ▼
Check It Out
A sticky note is a piece of paper with an adhesive on one side that is designed to attach it to different surface. It is probably most used to mark some documents or a particular page in a book. There is also a room for your comments so you can use it for leaving a short messages to another person (you can stick it on a fridge or other visible place). It can be easily removed from the surface without damaging it and is ready to be used again. The sticky notes - often referred to as post-its or memo pads - is associated with yellow color and a rectangular shape but nowadays come in different sizes and shapes. The post-its were originally manufactured by a company called 3M and advertised as "Press 'n Peel" products but without real success. Nowadays almost everyone uses it and it is an inseparable part of a stationery. It is a very helpful item in home, school or office.
The sticky notes are often included in different collections of KPop merchandise released for a particular event. 4 versions of a square memo pads sized 70 x 70 mm were released as part of goods prepared for Bolbbalgan4's Red Diary album. The line consisted also of other stationery including two notes, set of pens (two variants) and three L-Holders. During the first tour Twiceland: The Opening: Encore Twice prepared for their fans two sets of 9 memo pads - each representing one of the members by depicting them as a cartoon character. During the EXO Planet #4 - The ElyXiOn [dot] concerts a very interesting collectible was available - an acrylic memo board with (80 x 300 mm) that came with a memo pad of a size of 90 x 125 mm. On May 27, 2015 among 9 newly released Gotoon (GOT7 cartoon characters) collectibles a set of four KPop memo-it pads was available for purchase. Seventeen also did not forget about their fans. For a concert in 2018 titled Ideal Cut the group released a set of memo-it pads. There were three variants available - Hip Hop version (4 pieces), Performance version (5 pieces) and Vocal version (5 versions).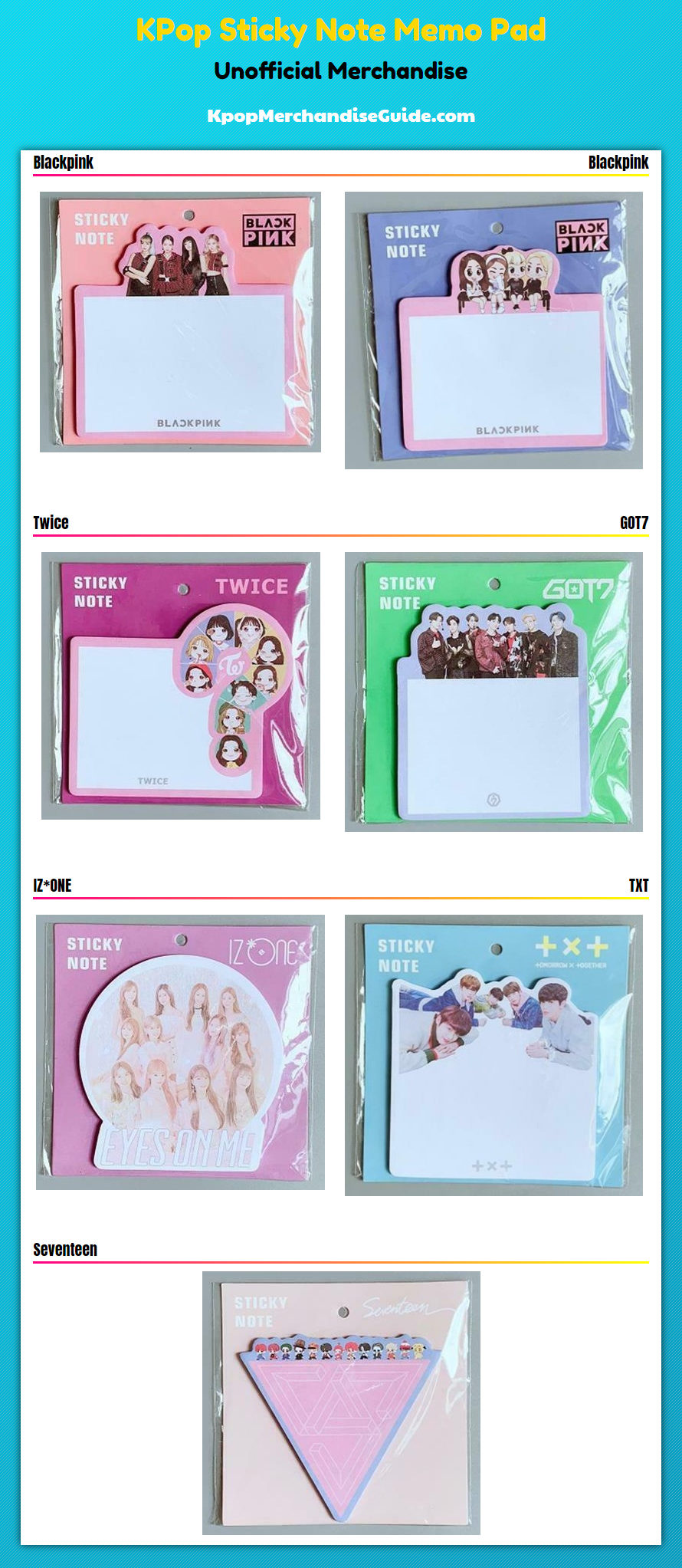 Of course there are many examples of a fan made items that are of the same quality as the official. What you can see here is an unofficial product featuring one of the popular KPop groups. There are seven options to choose from. Two versions are related to Blackpink - a photo version and a cartoon version, both rectangular and in white and pink color. Next we have a Twice variant with a big question mark with the drawings of all members on a right side. Next there is almost a square KPop memo pad with the photo of all GOT7 members on top. The round one is related to IZ*ONE. It feature a faint image of the group and the title of their Asian tour Eyes On Me. If you like the new boy band from Big Hit Entertainment you should definitely choose the TXT version that features a picture of all members. The final option is a triangular Seventeen version that's in a shape of their logo. At the top you will notice the drawing depicting the cartoon characters representing all members.
You can get this KPop sticky note for a very fair price of $3.99. So you can be sure it won't strain your budget. It can be a great alternative to a more expensive officially released items.
Available From Ebay ▼
Check It Out