Weki Meki Merchandise
Finding any of Weki Meki merchandise on the Internet was not an easy task. Fantagio hasn't released many interesting collectibles since the girls debuted. After comprehensive research all I found was a slogan and a keyring from Kiss, Kicks album. But I'm not complaining since the quality of these items seems to be at the highest level. They will definitely please all of the fans.
In addition to the products you can always get the physical editions of the group's albums including their extended plays Weme, Lucky, Hide and Seek, New Rules and I Am Me. They will be a great alternative, especially that they contain many interesting items you will be glad to have in your collection. Here are some infographics I prepared.
Kiss, Kicks Album Goods
The slogan has a standard size of 800 x 200 mm. On one side it has a name of the group and on the other names of all members. It comes in a transparent pouch.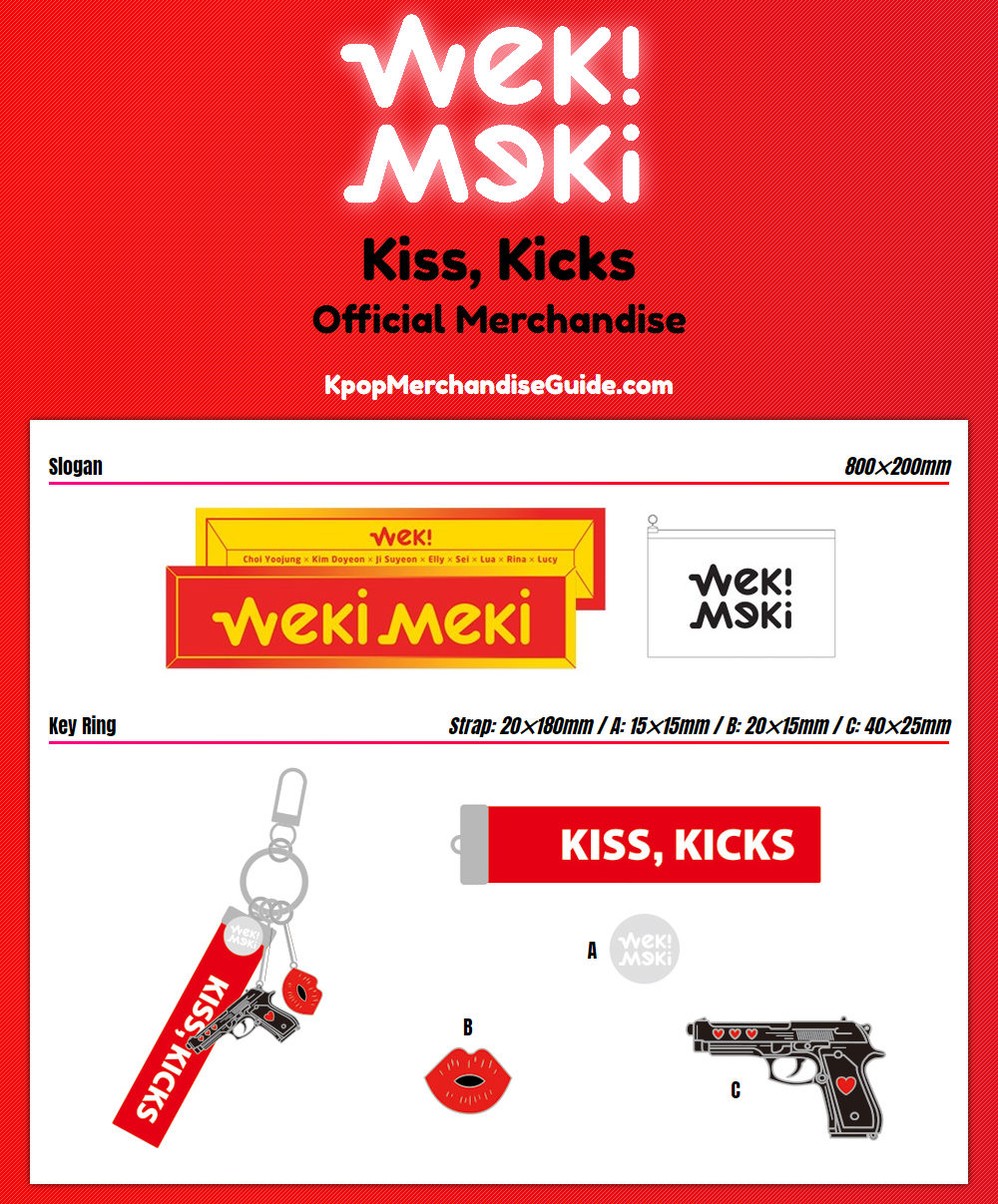 The keyring consists of three elements - made from polyurethane title of the album and small lips and pistol made of metal. It's a very appropriate item considering that the name of Weki Meki fandom is Ki-Ling.
1st Wonderful Moment in Japan Official Goods
There are also an official selection of goods from their showcase in Japan called "1st Wonderful Moment in Japan". It is a standard set of merchandise that you can get at the different Japanese events like fan meetings and showcases. The first item is a set of 3 random trading cards. Then we have a lightstick and a slogan (different type than the one described above). The last item is a set of two random pin badges. These are difficult to get so if you manage to find it grab them while you can.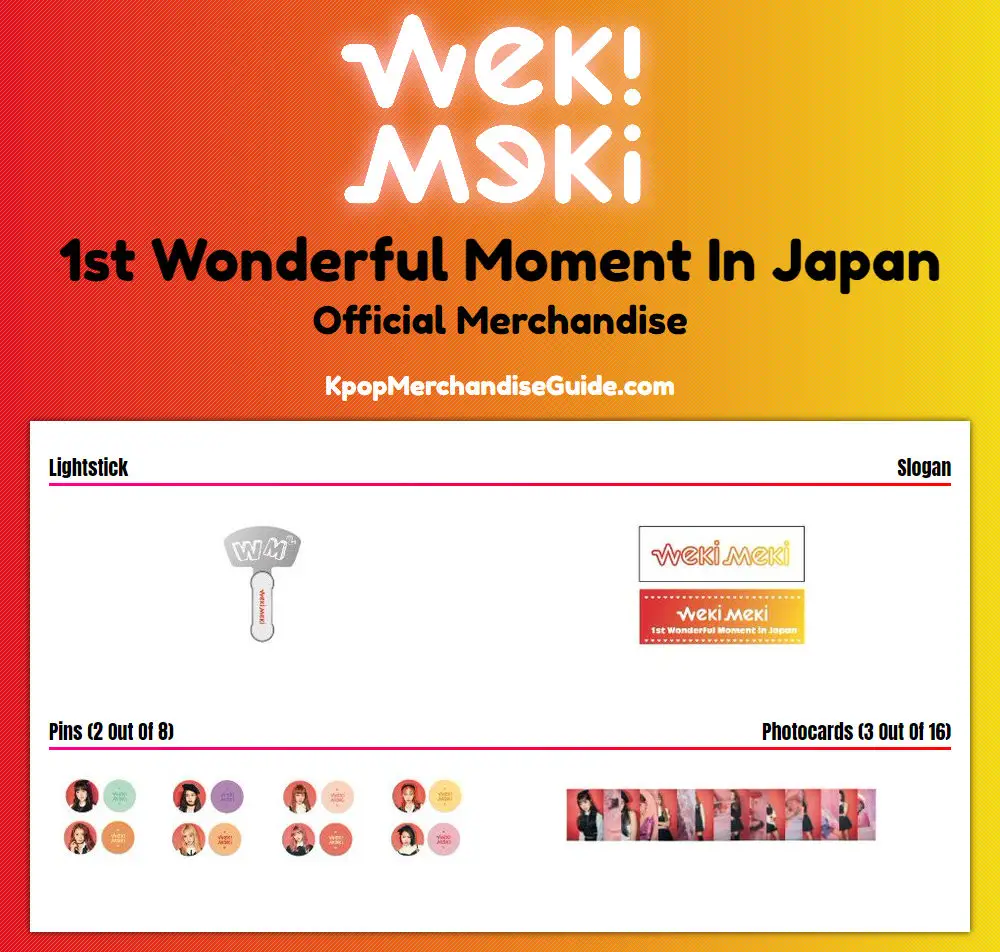 Stay WEME Limited Edition Photobook
In May of 2018 Fantagio started a fundraising campaign on Makestar. The goal was to prepare a special Weki Meki photobook. The company encouraged the fans to actively take part in the creating process like contribution to the naming of the photobook and deciding the concept. Everyone who decided to pledge a certain amount of money will get a photobook, 8 photocards and 8 postcards. A paper toy (digital stamp) is provided as a addition for people from higher tiers. You can get from 1 to 8 paper toys depending on how much you pledged. An autographed poster will be provided to a certain number of people that were the fastest with their pledges. Only 16 randomly chosen people will be send an autographed polaroid photo.

Makestar project reached the goal of 180% of the initial amount so as a bonus a set of photocards and a set post cards will be added.
The project ended in August and almost 800 people will get the goods. As of November the delivery is still in progress. The photobook won't be available anywhere else in the future so it seems it will be a difficult and rare item to collect.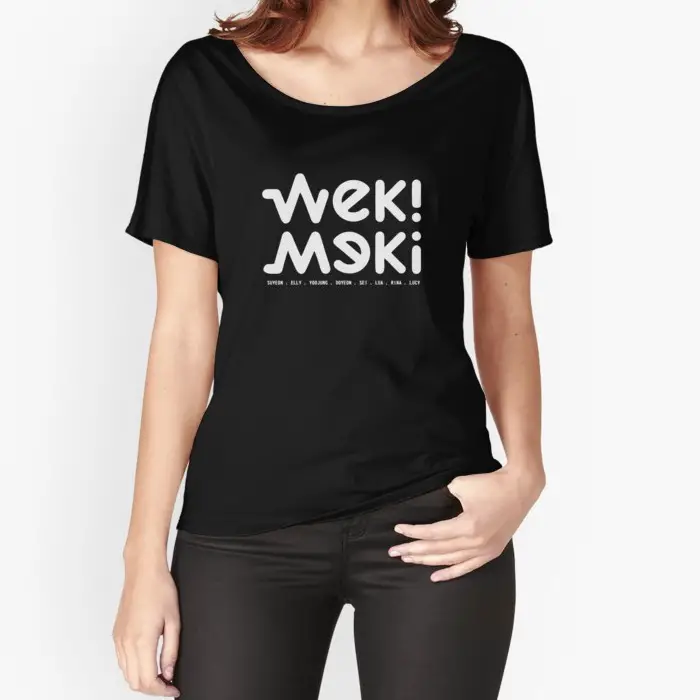 The unofficial goods are also not so impressive. If you're looking for an apparel you should probably check out Redbubble. This is one of the few places when you can find something related with your favorite group. Even Ebay is not much of a help.
The Albums of Weki Meki
The girls released three albums so far - mini-album Weme, mini-album Lucky and single Kiss, Kicks.
Weme: Version A and Limited Edition Version B

Weme came in two versions. Version A that was released in August 2017 and limited edition version B that was released a month later. Version A consists of a 84 pages photobook, 2 random photocards out of 16 available, random profile card out of 8 different versions and a poster. A special poster was added if you pre-ordered the album. Version B is a little bit different than A. It has a 96 pages photobook with new photos, different design of a CD disc and photocards. Instead of profile cards there are polaroids taken by Weki Meki members - unfortunately it's a limited addition, only 600 people will be able to get these. In version B there are two posters guaranteed instead of one.

Lucky: Version Weki, Meki and Lucky
Lucky was released in February 2018 in three different versions - Weki, Meki and Lucky. In a package with the Weki version you will get a 84 pages photobook, 2 different photocards out of 16 available, 1 (of 8) polaroid photo and a poster. Meki has a 68 pages photobook, different 2 photocards, polaroid photocard and a poster. This is the only version that has 2 sheets of stickers. Lucky version is similar to Weki version with a difference of concept. If you're lucky - no pun intended - you can get a whole set of three versions in a limited to 3000 copies packaging.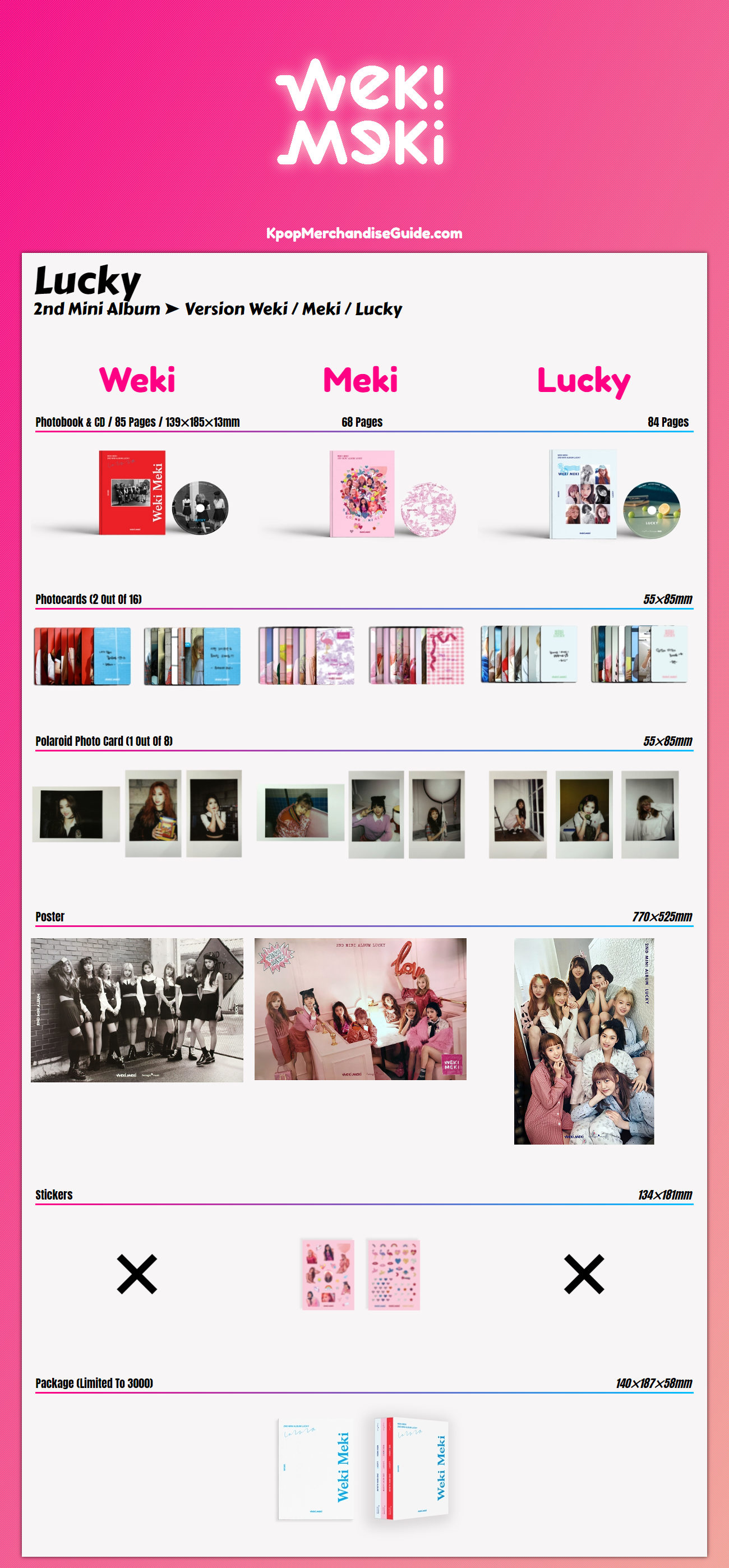 There's also a special Kihno version of Lucky in the existence that you can connect directly to your smartphone. It comes in a red and black box with a set of 12 photocards.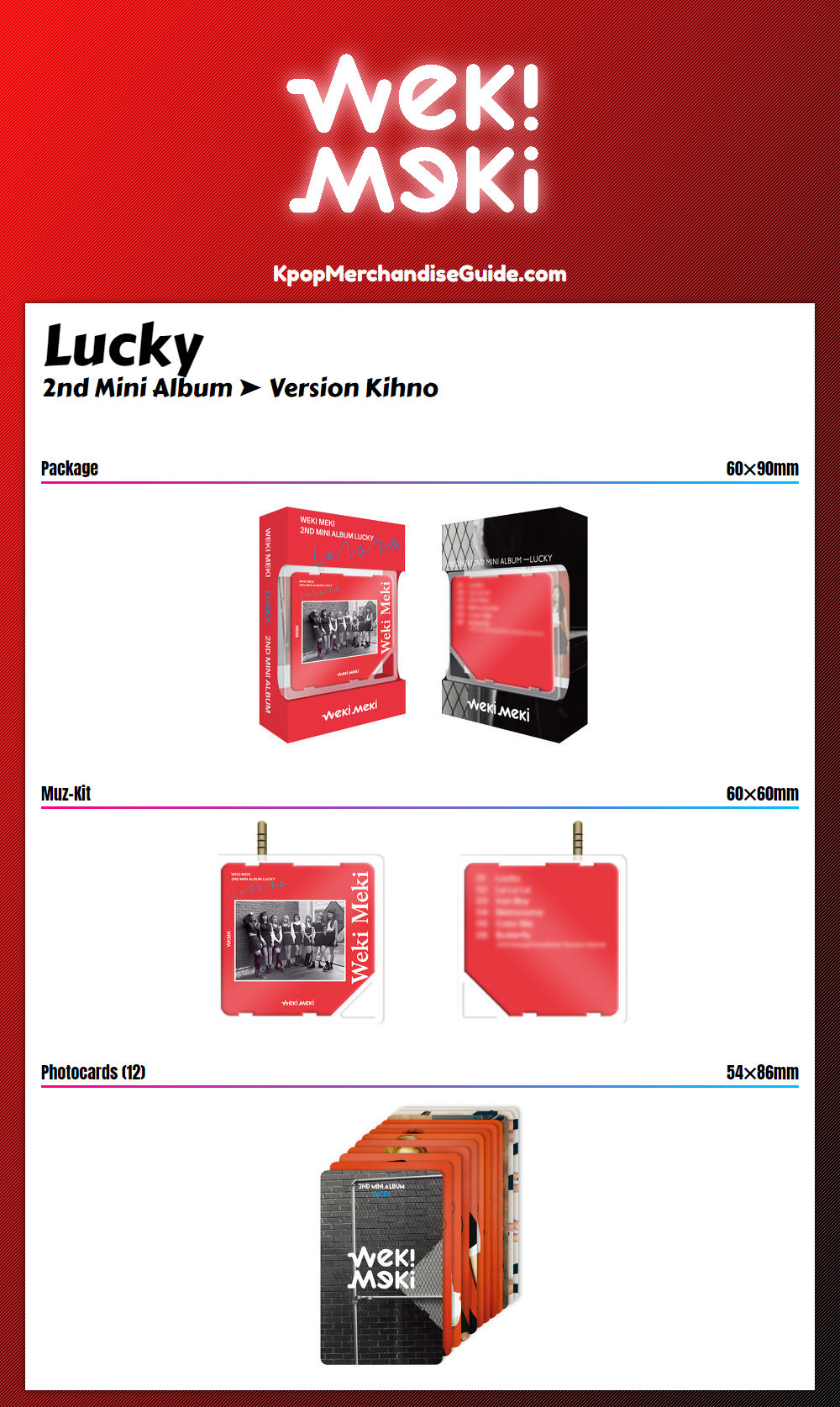 Kiss, Kicks Single Album: Kiss and Kicks Versions
Kiss, Kicks single album comes in two different versions. The first one, Kiss, consists of a photobook (80 pages), rolling postcard, two random photocards chosen randomly from 16 styles. A poster and special Weki Meki ring is a limited offer so you might not have it in your package. Kiss version has a different concept but generally it's an equivalent of the first version.

Weki Meki
Weki Meki was created by Fantagio in 2017. You may know the company thanks to boy bands 5URPRISE and Astro and maybe their drama productions like Cunning Single Lady or Korean version of a Japanese J-Dorama Liar Game. Before the debut the girls were a part of a special program i-Teen that was supposed to prepare the members to become idols. This is the second girl group from Fantagio after Hello Venus debuted in 2012. Weki Meki consists of Elly, Suyeon, Yoojung, Sei, Doyeon, Rina, Lua and Lucy. Yoojung and Doyeon became famous during Mnet's survival TV show Produce 101 when they placed in top 11 and joined I.O.I as a result. Elly and Sei also participated but failed to reach the final.
They debuted on 8 of August 2017 with the extended play Weme and their first music video "I Don't Like Your Girlfriend". Weme was the best selling album of a girl group that debuted in 2017. The group came back two follow up releases in 2018. One was mini-album Lucky with "La La La" as a lead song and the second was a single album Kiss, Kicks with "Crush" MV.
Yoojung was credited as a lyricist for the rap parts of many songs including "Stay With Me", "Pretty Boy", "Crush" and "True Valentine".