Eric Nam Merchandise
Eric Nam was born in the United States but came to South Korea to pursue his singing career. He began as a contestant on Star Audition: Birth of a Great Star 2 TV show where he ended up in the final 5. Eric Nam officially debuted on January 23, 2013 under B2M Entertainment with his first album titled Cloud 9 and the title track Heaven's Door. He's most likely recognizable by the international fans from his appearance as the host of Arirang's show After School Club. In 2018 he visited United States with his Honestly Tour and performed before the fans from his homeland.
If you're a fan of the singer and you would like to own a piece or two of Eric Nam merchandise you can find some cool items on a various shops online. Additionally you can get the physical editions of his records including the full-length albums Before We Begin and There and Back Again released in 2019 and 2022 respectivelly.
I Color U Concert Collection
On February 16 and 17, 2019 the concert titled I Color U took place at the Blue Square iMarket Hall in Seoul. Although he collaborated with many other artists in recent years this will be his first solo concert in almost 4 years when he last performed in the capital of South Korea in 2015. The tickets sale was opened for the public on January 3, 2019.
A collection of 7 Eric Nam merchandise was prepared for the fans who attended the concert. The items were available for purchase on venue or online (with the exception of the phone case which can be bought only online).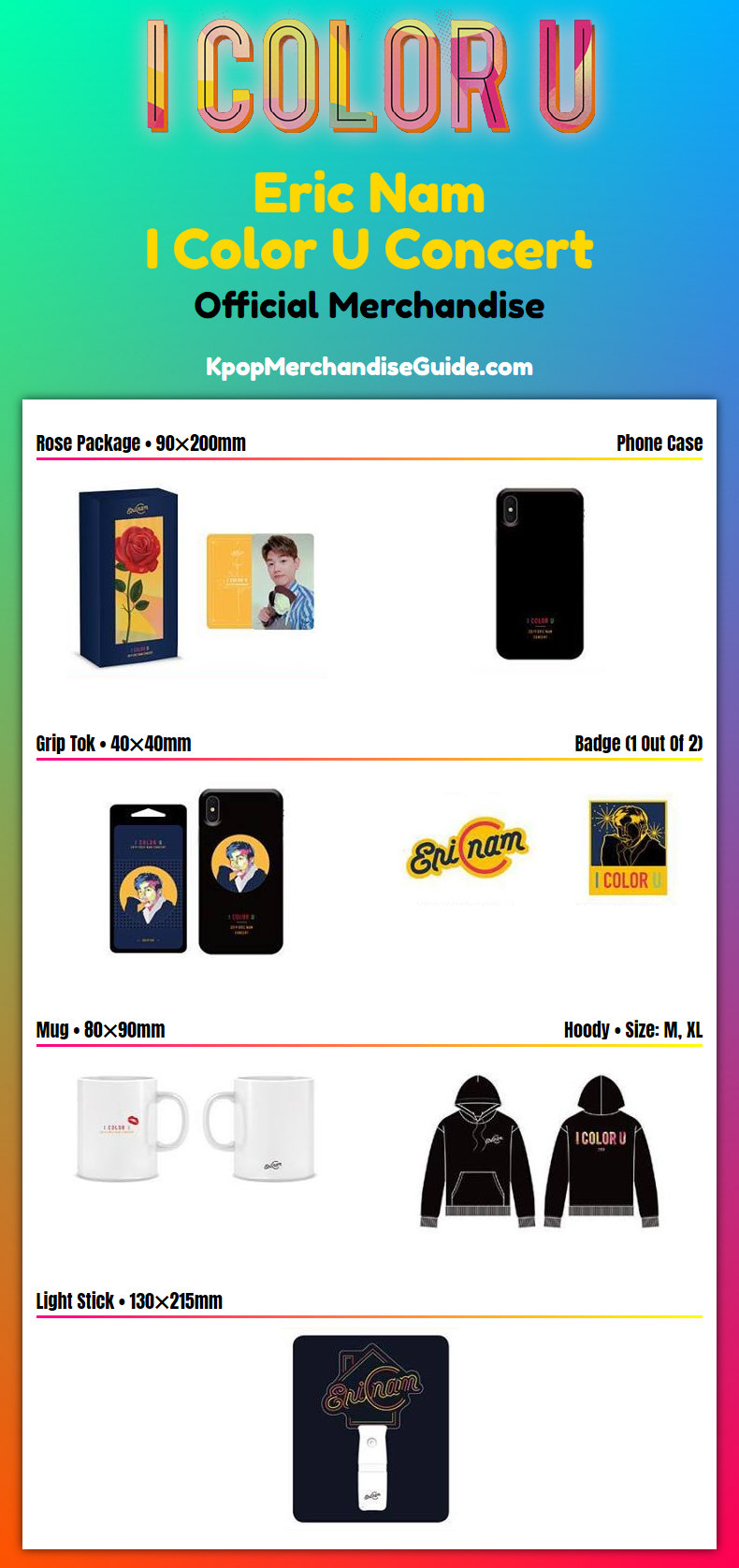 The first one is an official light stick with a head shaped as a house with an Eric Nam logo on it. It is powered by three LR44 batteries and can work in two modes: on and blink. The size of the light stick is 113 x 215 mm. It is made of acrylic and ABS.
The second product in the collection is a rose package consisting of a rose shaped soap and a special photo card. The size of the soap is 90 x 200 mm. Both comes in as box with a transparent window.
Next we have a black phone case that is available for many different models: iPhone 6/6s, iPhone 7/8, iPhone 7+/8+, iPhone X/XS, Samsung Galaxy S8, Samsung Galaxy S9, Samsung Galaxy Note 8 and Samsung Galaxy Note 9. This product can be purchased only on a various stores online.
The metal badge come in two variants - Eric Nam logo on a yellow background version and a silhouette of the soloist himself with the title of the concert "I Color U" version. The sizes of the badges are respectively 35 x 17.5 mm and 22 x 26.75 mm.
Next is a grip tok/popsocket with the face of the artist on a disk. It can be a nice accessory for your smartphone. It is made of PC, TPU, iron and gel tape and is a little bigger (40 x 40 mm) than a standard grip tok.
The last two items are a white ceramic mug with the words "I Color U - 2019 Eric Nam Concert" (80 x 90 mm) and a black hoodie made of cotton with a big concert title at the back available in two sizes: M and L.
Runaway Single Goods
On April 8, 2019 the singer released his digital single Runaway (the first one since Honestly). In conjunction with the release of the single a number of 6 pieces of Eric Nam merchandise showed up on his official website for purchase.

The collection includes three pieces of fashion: black hoodie (Gildan brand) with the title "Runaway" on front, a white tee and a white crewneck. All items are available in five sizes: S, M, L, XL, 2XL.
The other items are a black baseball hat with the word "Runaway" on front and Eric's logo at the back, two logo popsockets (two variants: white and black) and white socks (two variants: pink/blue and orange/pink).