NU'EST Merchandise
NU'EST (which means New Establish Style Tempo) debuted on March 15, 2012 under Pledis Entertainment with their first track Face. The group consisted of Aron, JR, Baekho, Ren and Minhyun. During the second season of TV survival show Produce 101 - in which four members participated - the group gained much popularity. After Minhyun joined Wanna One (he finished the competition on ninth position) the boys from the band rebranded themselves as NU'EST W and continued their activities with four members awaiting Minhyun to return. NU'EST disbanded in March of 2022 after their contract expired.
The group released many collections of NU'EST merchandise throughout their career. The oldest one it dated to 2012. That includes the goods prepared for the fan meetings such as Love Page in 2019 and 2020, as well as those available at their 3-day concert The Black in 2021.
2012 Loen Merchandise
On September 14, 2012 Loen Entertainment released the same collection of merchandise for each of the groups it was associated with including Block B, B2ST, ZE:A, IU and of course NU'EST. The collection consists of 6 different products.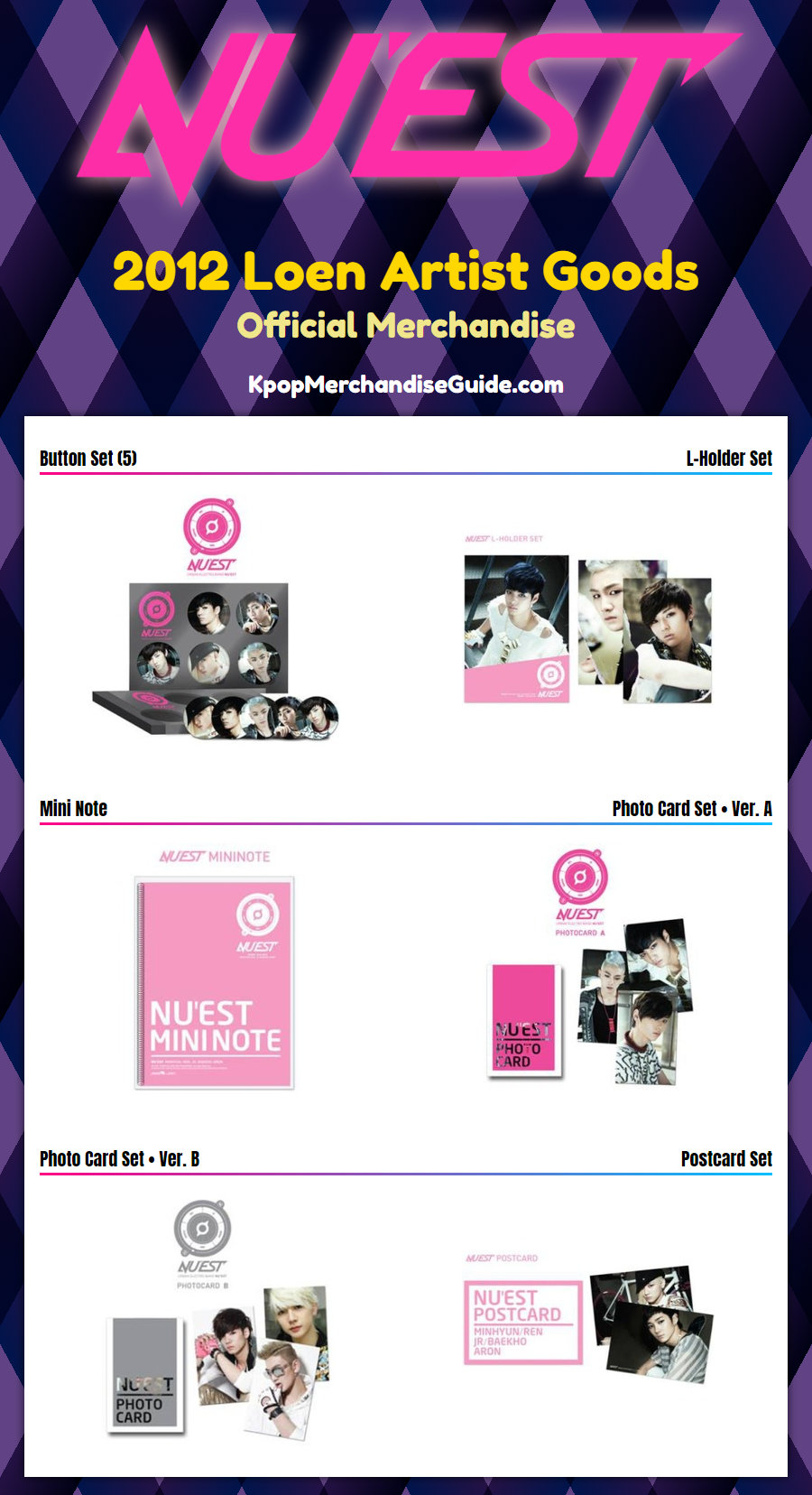 The first one is a mini note that includes 30 pages of photos. The size of the note is 196 x 245 mm. Next we have a button set with the button of each member, set of 5 L-Holders, two versions of photo card sets (A or B) consisting of 15 cards and a set of 10 postcards.
2013 Sleep Talking Goods
During the promotion of Sleep Talking album a collection of items was released. A total number of 11 goods was available for the fans to get at the special showcase that was held on August 22, 2013.

That includes a 48 pages photo note sized 170 x 230 mm with 22 cards in it. Next we have another set of 5 L-Holders (220 x 310 mm) and set of 5 pin buttons (58 x 58 mm). The magnet set includes 5 photos of the silhouettes of each member (110 mm high). The size of the official NU'EST slogan is that we can find here is 630 x 190 mm. It comes in a pouch (247 x 177 mm).
And again we have two new sets of photo cards (A and B versions) consisting of 15 cards (85 x 114 mm).
The set of pencils comes in a white case sized 42 x 220 x 10 mm. It consists of 4 white and 1 pink pencil. The length of each is 190 mm. There is a random member's name written on the pink one.
There are two options of T-shirt available - size M and L. Both come in a slightly different looking tube.
The last item we can find here is a pink tumbler that can contain 270 ml of your favourite beverage. The size of this product is 120 x 80 mm.
2017 Nu'est W Love & Dream Fanmeeting Goods
In 2017 after Minhyun temporarily left the group the four remaining members changed their name to NU'EST W and continued to release music as a unit group. They met with the fans at a special event that took place at the Korea University Hwajeong Gymnasium from 26th and 27th of July 2017. During the fan meeting that was titled Love & Dream the fans from the official NU'EST fan club "Love" had a chance to get three different items.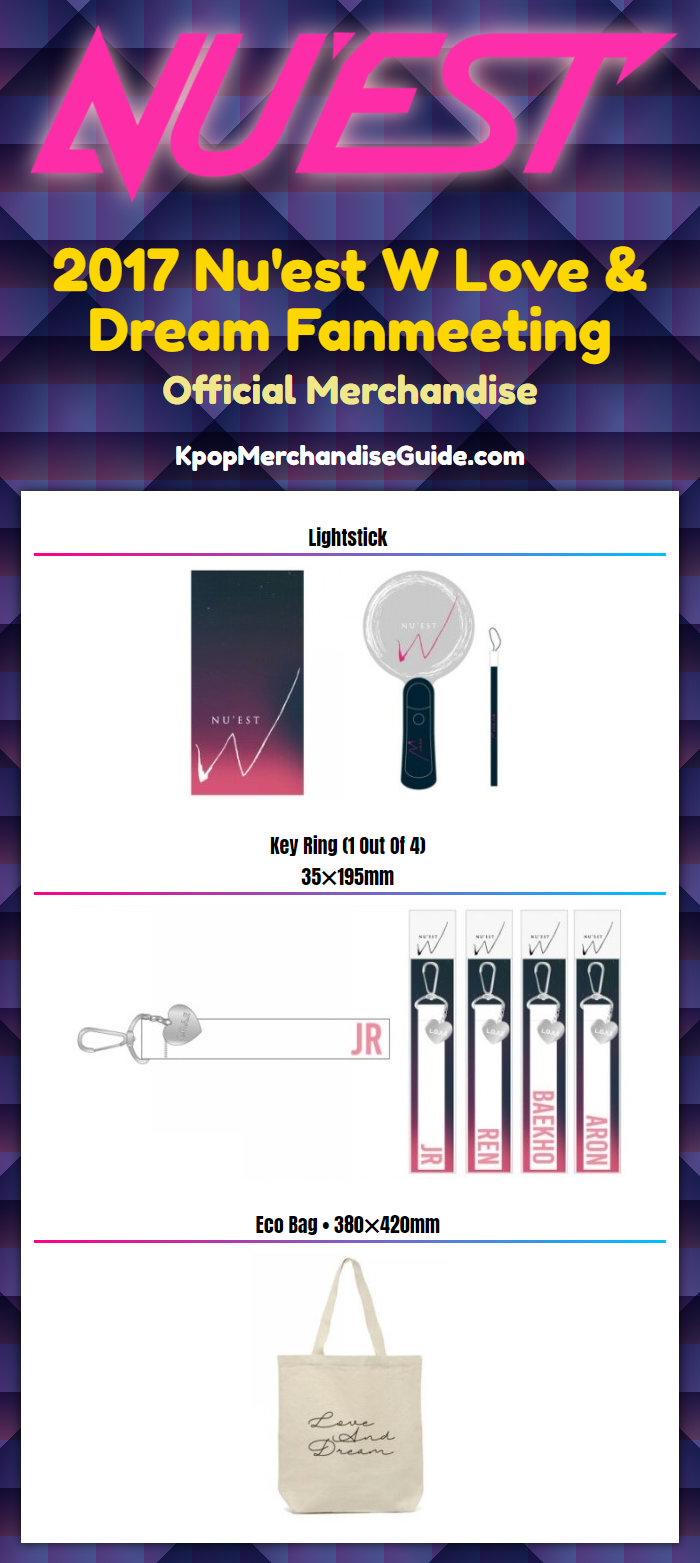 The first one is a light stick that comes with a strap and in a nice box. The second one is a white key ring (35 x 195 mm) with the name of a selected member (JR, Ren, Baekho and Aron) on the strap and a small silver pendant in a shape of heart. The last product is an eco bag with the title of the fan meeting on front (380 x 420 mm).
Double You In Seoul Concert Merchandise
From 16th to 18th of March 2018 NU'EST W held their concert "Double You In Seoul". The event took place at the Olympic Park SK Handball Stadium and gathered the audience of 16 000 people. 17 new pieces of NU'EST merchandise were available for the attendees. In the collection we could find a newly revealed NU'EST W official light stick.

The first item is a slogan with the photo of all four members on one side and the title of the concert on the other. The second is a set of 5 posters (1 group and 4 member posters). Next we have two sets of photo cards - white and black consisting 11 sheets (1 group, 4 single member and 6 cards of two members). The binder can be very useful to keep all your photo cards in one place.
If you need something cool to wear you can get three pieces of fashion - a black hoodie, T-shirt and a cap.
Two variants of image pickets are available - black and white with 4 options in every variant. The picket has a photo of on member on front and his name at the back.
If you like sweets you could get a jar full of special NU'EST W special candies.
Two versions of acrylic mini statues were available at the event. Each contained four statues with a stand. Unfortunately one version was available only for the members of the official NU'EST fan club "Love".
The other items are tumbler, eco bag, set of four decoration tapes and set of 5 L-Holders.
Double You Final Concert Collection
On December 15 and 16, 2018 the boys concluded their Double You concert with the event at the Jamsil Indoor Stadium. Once again another collection of NU'EST merchandise was available for the viewers. This time we 8 different items to collect.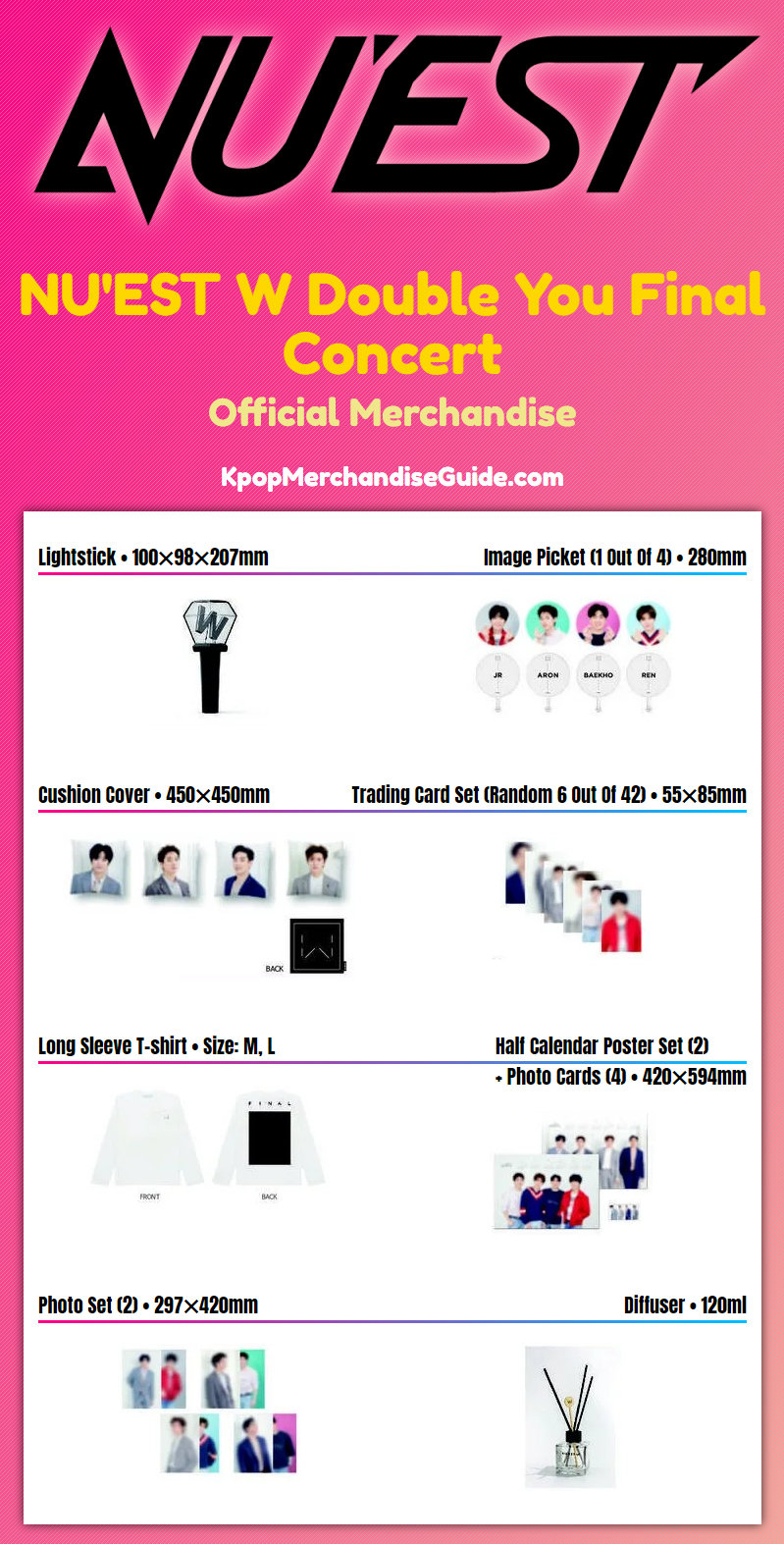 The first one is an official light stick that was revealed earlier this year. The second is an image picket in four variants (280 mm). Next we have a cushion cover with a photo of your bias and a letter "W" at the back. Trading cards are a really interesting memorabilia. In a package you will get 6 photo cards randomly chosen from the collection of 42 cards. The next is a white long sleeve T-shirt made of cotton in two sizes - M and L. The set of 2 calendar posters (420 x 594 mm) comes with 4 photo cards (55 x 85 mm). In the photo set you will get 2 different photos (297 x 427 mm) of the chosen member. There are 4 different sets available.
A special item is a diffuser that can contain 120 ml of fluid.
NU'EST W Official Light Stick
The official NU'EST W light stick is shaped like a heart and has w letter "W" in the middle. It's made of ABS and PC. It requires 3 AAA batteries to work and can operate for 6 hours. In the package you will get two straps (pink and black) and a user manual. The dimensions of the light stick are 100 x 98 x 207 mm. It was manufactured by BEATRO Co., Ltd.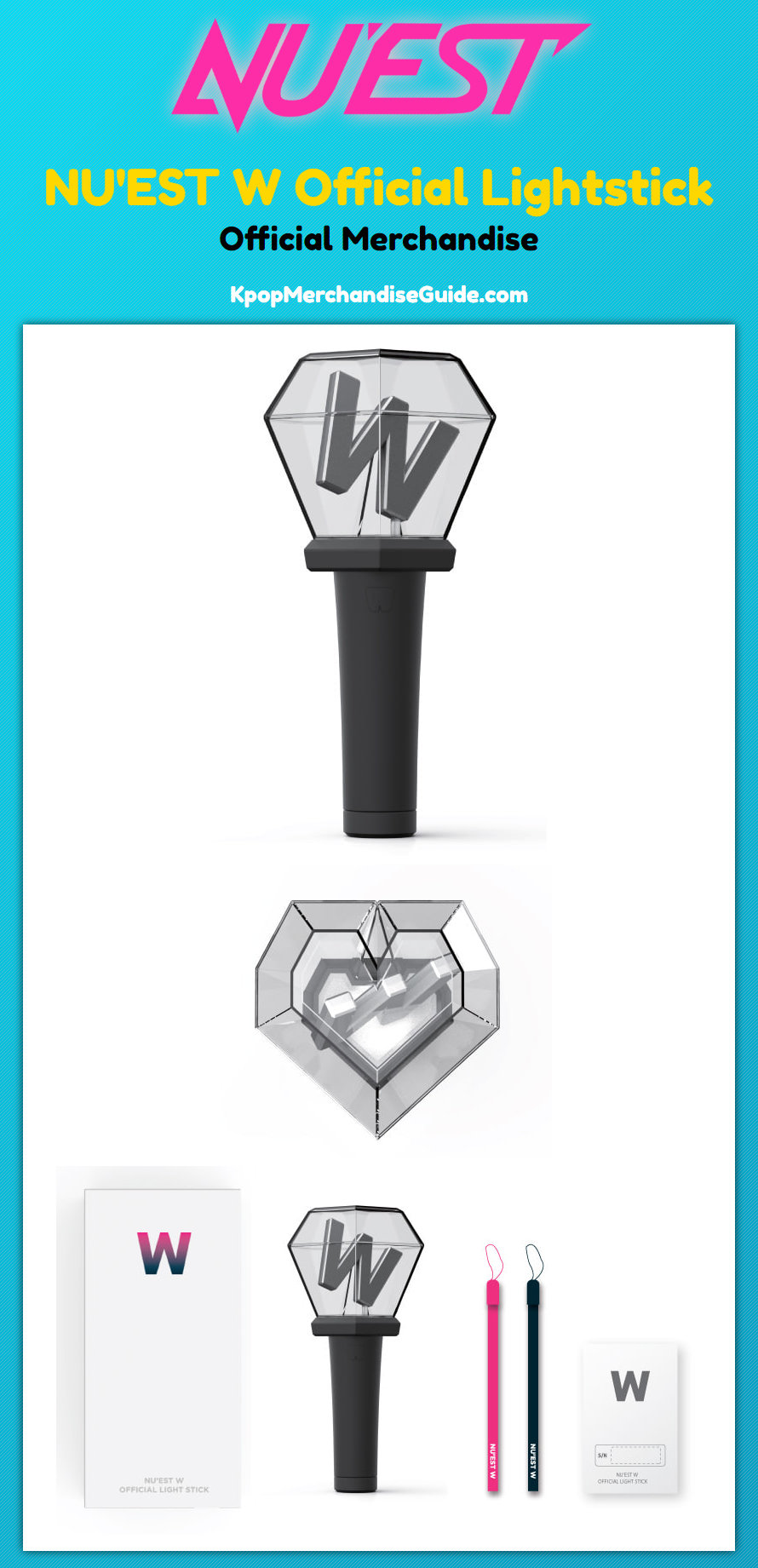 Segno Concert Merchandise
Segno is the first concert since Minhyun has officially rejoined the group. It opened on April 12, 2019 and concluded on April 14, 2019 at the KSPO Dome in Seoul. The members of the official fan club of NU'EST were able to purchase the tickets 4 days before the general public.
12 new products were available to the audience who came to see the group in its full form.
The first one is a completely new light stick that comes in a beautiful tube-like package. And of course we have a black slogan with the group's logo on one side and the members' names on the other. The size of the slogan is (800 x 200 mm).
The image picket (280 x 280 mm) comes in 6 variants - 1 group and 5 pickets of each member. If you want you can get a special transparent PVC cover (307 x 307 mm) for your picket.
Once again we have here a set of 7 trading cards (55 x 84 mm). This time we can collect a total number of 61 different cards (55 x 84 mm). We can put them into a new binder/album (241 x 239 x 35 mm).
If you need a smart pop/grip tok for your smartphone you can get one with NU'EST logo.
The other items in this collection are photo set of 5 photos (version A or B), photo screen made of polyester and aluminium (600 x 1000 mm), a very beautiful silver bangle and two pieces of clothing: black T-shirt in M and L sizes and ball cap made of cotton.
NU'EST Official Light Stick
In 2019 the new light stick of NU'EST was revealed. It can change the colors from white through pink to blue. It can operate for a little time less than the previous one - for 4 hours. It is made of ABS, PC and silicon. It needs 3 AAA batteries to work. In the package you will find also a strap and a manual. The batteries are not included. The size of the light stick is 50 x 50 x 280 mm and it weights 200 g.

NU'EST Official Fan Club L.O.V.E 2nd Gift Membership Kit
The registration for the 2nd generation members of the official NU'EST fan club LOVE opened on September 8, 2017 and ended on 30th. The membership required a fee of 25 000 KRW.

All members of the fan club received a card with a unique ID and a special kit with merchandise: a stationery set containing 64 pages free note (148 x 210 mm) and a black pen (140 x 10 mm) with the fan club logo on top, coin pouch (200 x 150 mm), eco bag (400 x 450 mm), beautiful key ring and two badges.