Ha Sung Woon Merchandise
Ha Sung Woon is a member of a boy band Hotshot under Star Crew Entertainment and a former member of a temporary group Wanna One. He started his career as a main vocalist of Hotshot with their digital single Take a Shot released on October 29, 2014. In 2017 he was a contestant during the second season of a survival TV show Produce 101. He finished the competition on the final, 11th position, and became a member of Wanna One. They released their debut mini album on August 7, 2017. After the group disbanded in January of 2019, Sung Woon debuted as a solo artist with his first extended play titled My Moment on February 28, 2019.
If you are a fan of the vocalist and you're looking for a nice Ha Sung Woon merchandise, there are several official collections you can choose from. They were released for his concerts and fanmeetings. Additionally you can always get the physical editions of his albums including released in 2021 extended play Electrified: Urban Nostalgia, and a special album You from 2022.
My Moment Fanmeeting Merchandise
The artist announced on February 12, 2019 that he will meet with his fans for the first time at the event titled after his debut mini album My Moment. The fanmeeting was held over two days on March 8 and 9, 2019 at the SK Handball Gymnasium of the Olympic Park in Seoul. The artist recently also announced that his official fanclub name will be Ha:Neul.
A selection of 10 different pieces of Ha Sung Woon merchandise was prepared for the fans and was available for purchase at the venue. The collection starts with the official Ha Sung Woon light stick. It is made of acrylic and has a blue handle with a flat cloud-shaped head featuring his official logo. It comes with a hand strap which will certainly be very useful to carry around the fanlight. The size of the item is 124 x 20 x 219 mm.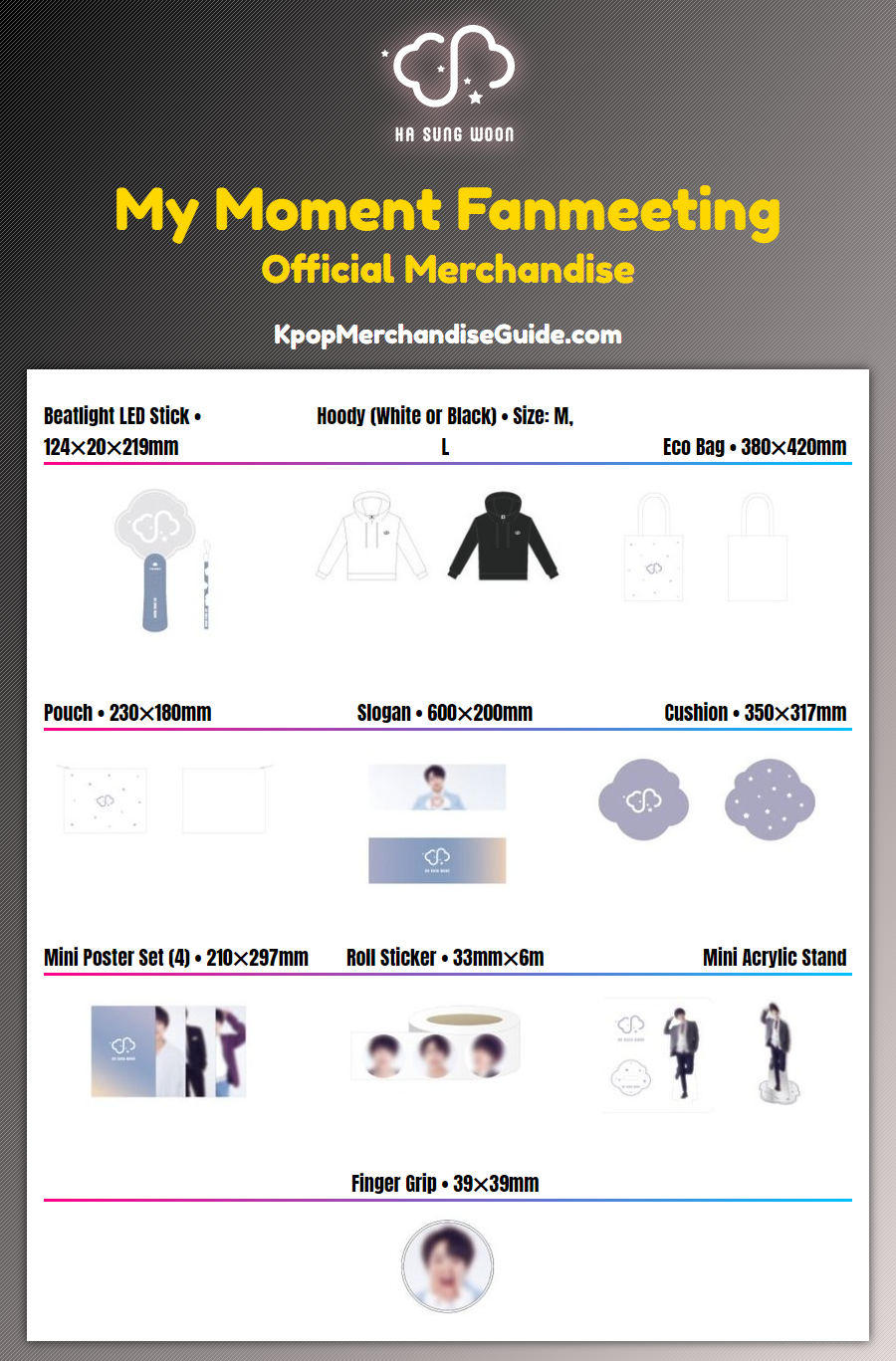 Next we have a promotional cheering slogan. On one side it has a picture of Ha Sung Woon making a heart with his hands, and on the other you can spot his official logo. The item is of a standard size and measures 600 x 200 mm.
The third item is a piece of fashion. It is a hoodie which comes in either white or black color. It has a small logo of the artist on the left side of the chest. 2 different sizes are available - M and L. Additionally you can also get a square white eco bag with the same logo on the front. It measures 380 x 420 mm and will be perfect if you often do shopping. A matching pouch is also available. It is of a size of 230 x 180 mm and features the same design as the bag.
Next we have a purple cushion. The size of the item is 350 x 317 mm and has the official logo printed in white on the front, and many stars in a different size on the back.
The mini poster set consists of 4 different sheets with a single photo of Sung Woon. The size of each poster is 210 x 297 mm. If you like this piece of Ha Sung Woon merchandise, you will definitely be interested in a photo stickers in a form of a roll. The roll is 33 mm wide and 6 m long.
Next there is a stand depicting a silhouette of the artist on a plastic panel looking like his official logo. All parts come in a single acrylic panel of a size of 80 x 80 mm. The stand itself measures roughly 65 mm.
The final piece of merchandise you could get at the My Moment fanmeeting is a simple finger grip (popsocket) for your smartphone. It is in a round shape and features a picture of the vocalist. Its diameter is 39 x 39 mm.
Dive In Color Concert Collection
The first solo concert of Ha Sung Woon took place at the Jamsil Arena in Seoul on July 26 and 27, 2019. The ticket sales were available for the members of the artist's official fanclub on June 28, 2019 and for the general audience on July 1.
A big collection of Ha Sung Woon merchandise was prepared for purchase at the venue and online. It consists of 14 different products. It was the first time when the official light stick of the soloist was introduced. It has a transparent globe featuring a cloud with the artist's logo inside, and a handle with the switch on button. Its dimensions are 100 x 100 x 248 mm.
4 fanlight related items were included in the collection. The first one is a light blue pouch for storing the light stick. It is very sturdy and will protect your precious item very well. The dimensions of the pouch is 116 x 270 x 114 mm. It comes with a long strap. It is followed by a mini keyring that looks exactly like a smaller version of the fanlight. It can produce the light as the item it is based on, and measures 40 x 40 x 96 mm. Next we have a ballpen with a globe at the top. It is white and showcases the words "Ha Sung Woon". Lastly there is a set of 2 badges - a small round one with the cloud logo, and the second depicting the fanlight. The size of the badges is 23.5 x 45 mm and 22 x 22 mm.
Next there is a ticket holder which will be perfect if you want to keep your ticket safe, and in a visible place. The holder measures 115 x 190 mm and has a transparent window on the front.
Next we have 2 pieces of fashion. 2 different T-shirts were available at the event. The first one features a graphic designed personally by Ha Sung Woon. The second one showcases a small design on the left side of the chest. Both T-shirts were prepared in 2 sizes (M and L) and 2 colors (white and black).
The postcard set was also designed by Sung Woon. It contains 10 sheets including 10 with a photo of the vocalist, and a handwritten messages on the back of each sheet. The size of the postcards is 100 x 150 mm. A blue paper frame is included.
There are other 3 Ha Sung Woon merchandise that the artist is the author of - a round cheering photo picket with a picture of him making a heart sign with his arms (300 x 300 mm), an ice tumbler with a straw (88 x 88 x 162 mm) and a beach pouch (190 x 120 x 60 mm).
The final 3 collectibles in this collection are a clear roll tape (30 mm x 7 m), a blue passport case (100 x 140 mm), and a luggage tag (80 x 190 x 7 mm).
The collectibles were manufactured by Beatro Co., Ltd, and officially released by Star Crew Entertainment.
Castle On A Cloud Fan Party Merchandise
On Christmas Day on December 25, 2019, two fanmeetings titled Castle On A Cloud were held. The event referred to as Fan Party took place at the Coex D Hall in Seoul at 3:00 and 7:00 PM KST.
A collection of Ha Sung Woon merchandise was prepared for the attendees. It was available for purchase online, with a scheduled pre-order period. The collection consists of the six items previously released in conjunction with the premiere of the artist's concert Dive In Color, including the official light stick, the pouch, a mini light keyring, a badge set, a ball pen and a clear roll tape. One additional light stick related items was included - a special edition head ("snow ball") made of ABS, PC and silicon. The size of the alternative head is 100 x 100 mm.
The collection begins with a desk calendar for the new year of 2020. It is composed of 2 separate parts, and measures 350 x 190 mm. It comes with a bonus DVD disk in a dark blue envelope. If you like this set, you should probably try to get a diary set. In the package you will find a diary with a dark blue cover and the name Ha Sung Woon on the cover, a matching ring note, and 2 sheets of stickers - one with the photos of the artist and the other with some messages handwritten by him in Korean. Additionally you can also purchase a set of calendar photo cards, with the cards covering each month between January 2020 and January 2021. They are of a standard size you can find in any KPop album - 55 x 85 mm.
Next we have a very special collectible - a mechanical orgel, known also as a music box. It is shaped just like a crystal ball and can rotate. It comes with a wooden stand with a button. It produces the music, and can play Remember You - the song from the mini album My Moment. It also lights up thanks to LED. It runs on batteries but you can plug it through a USB cable. It comes in a beautiful sturdy box, and can be given as a valuable gift to any fan of Ha Sung Woon.
The next item is a coin case. It is round and features the words "Castle On A Cloud" on one side, and the logo of the event on the other. The dimensions of the item are 106 x 106 x 30 mm. It is made of saffiano leather.
The other 2 pieces of Ha Sung Woon merchandise are a tumbler made of stainless steel, PP and Silicon, and a blanket made of Polyester (1400 x 1000 mm).
You can also get a shopping bag with a picture of Sung Woon on the front and on the back. It is made of paper.
All products were manufactured - similarly to the previous collection - by Beatro Co., Ltd, and were licensed by Star Crew Entertainment.