STAYC Stereotype Photo Card Deco Set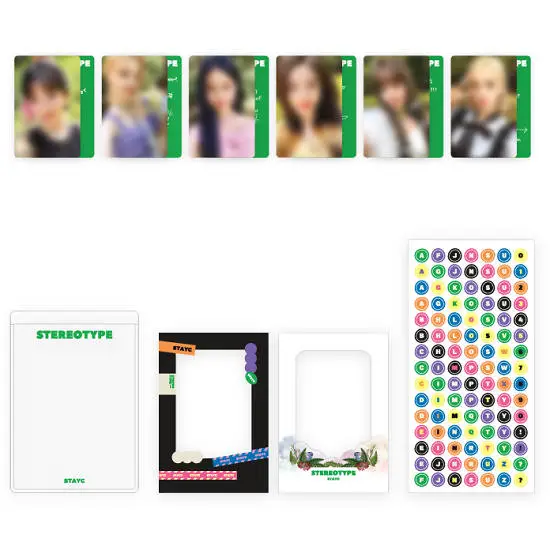 | | |
| --- | --- |
| Price | $13.99 |
| Original Price | ₩9,000 (~$7.56) |
| Type | Official |
Available From Ebay ▼
Check It Out
If you're looking for a perfect gift for someone who is a big fan of STAYC, this wonderful deco set can be a great option. It was prepared among other items in conjunction with the release of the group's first extended play titled Stereotype.
The mini album was released under High Up Entertainment on September 6, 2021. It was the third record of STAYC after their debut Star To A Young Culture and the follow up Staydom, both of which are singles.
Stereotype is composed of four different tracks including ASAP, So What, Love Fool and the remix of the group's debut song So Bad. All tracks were produced by the duo Black Eyed Pilseung alongside Jeon Goon. The release was distributed by Kakao Entertainment.
To commemorate the premiere of the album a special selection of collectibles was prepared for those fans who would like to own something more than just a physical edition of Stereotype. One of the most interesting pieces of merchandise you could get was a deco set composed of several smaller items.
Inside the package you will find a transparent top loader with the logo of the album printed in green at the top along with the logo of the group at the bottom, two different sticker frames (black and white) presenting a different design, one rectangular sheet of circle stickers with alphabet letters, and finally a single photo card depicting one of the members of STAYC including Sumin, Sieun, Isa, Seeun, Yoon and J. The photo card is of a typical size of 85 x 55 mm which you can regularly find in many currently released KPop albums. The translucent top loader measures 76 x 108 mm, the frame stickers are of a size of 71 x 101 mm, while the size of the alphabet stickers is 75 x 150 mm.
There are six different variants of this deco set to choose from. All of them differ from each other by the photo card included inside the package - all other goods are the same. It all depends on you - which member is your favorite and which option you will choose. You will certainly be able to choose your bias.
The deco set was only one of five collectibles prepared for the occasion. The first of the others was a black mini pouch measuring 140 x 110 x 20 mm with the logo of the mini album printed in green on a white background on the front. The second item you would probably like to have in your collection was a set composed of a blue cup with a yellow lid and pink straw, and 6 photo cards featuring each of the members. The cup is of a size of 105 x 178 mm and can contain around 710 ml of the beverage of your choice.
Next we have a beautiful index set composed of a binder showcasing a nice picture of the whole group on the cover. It comes with a multi pouch sleeve of a size of 150 x 220 mm, 3 sleeves with 4 pockets for your photo cards and 2 sheets of stickers with group and individual pictures, and stickers showcasing the names of all members.
The fourth and the last collectible is a simple acrylic key ring composed of two elements - a photo of a selected member of STAYC, and a smaller logo pendant in a rectangular shape. Naturally there are six options to choose from. All of them are made of acrylic and brass.
All five pieces of merchandise were available for pre-order between September 24 and 30, 2021. The shipping was not expected before October 29. All of the items were manufactured by a very well-known and reliable company Copan Global.
Available From Ebay ▼
Check It Out