Twice Official Light Stick Candy Bong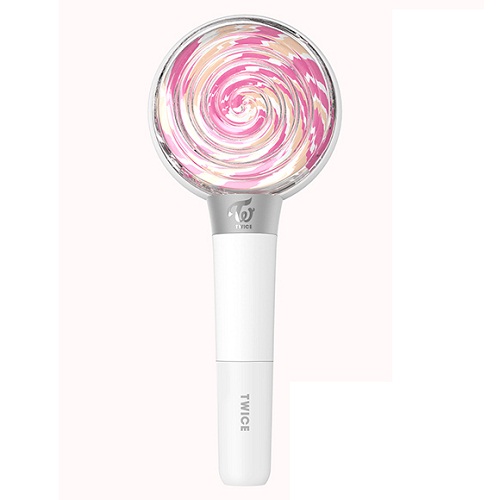 | | |
| --- | --- |
| Release Date | 21 October 2016 |
| Price | $99.90-$220.10 |
| | |
| --- | --- |
| Operating Time | 5 Hours |
| Power | AAA Alkaline Batteries 3EA |
| Content | Light Stick, Cradle, Strap, User Manual |
Available From Ebay ▼
Check It Out
Or Amazon ▼
Check It Out
The first version of the Twice official light stick for their fandom Once - the Candy Bong - was released at a special pop-up store that took place at the Common Ground in Seoul starting on October 21, 2016. At that time it was available exclusively at the store and you could buy only 2 pieces at one time. The regular sale began in mid-November. The concept of the light stick is based on the fifth track from the first mini album of Twice The Story Begins called Candy Boy. It has two functions - beside using it as a standard concert item you can use it also as a mood light since it comes with a special cradle. You can connect it to your Android/iPhone device through a Twice App via Bluetooth (version 4.1). You can pair it with your smartphone according to the venue the concert takes place. The maximum operating range is 10 m. It works with the IOS 8 system or above and Android 4.4 or above.

The Candy Bong requires - as many other light sticks - three AAA batteries. You can also use it without the batteries by connecting it to the cradle and a power supply on your wall via a USB cable. It is also advised to replace the batteries before the concert when the power level is less than 50%. You can check the levels with the Twice app. The light stick can work in 3 modes: on, blink and flash. The app enables other modes variations: Always, Party, Therapy, Twice, Candle and Colory.
The Twice app also provides the options to change colors, brightness and can turn on and off the notifications when you receive a new message. The light stick can literally notify you after you receive a new sms.
The size of the light stick is 105 x 250 mm. In the package you will also find a cradle, a strap and a user manual.
Available From Ebay ▼
Check It Out
Or Amazon ▼
Check It Out