Converse Men's Run Star Hike High Top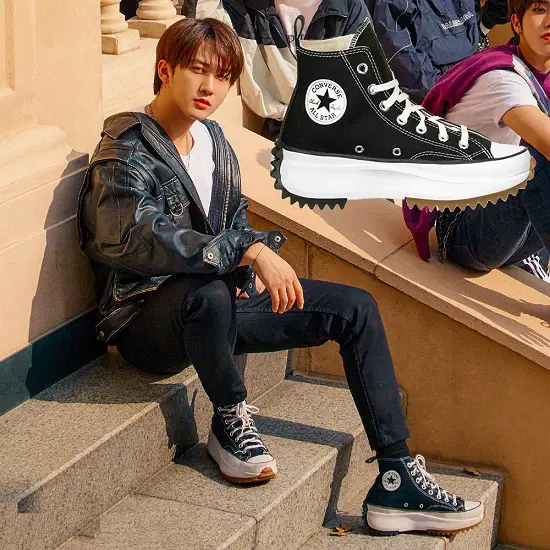 If you're looking for a particular model of Converse shoes the members of Stray Kids are usually wearing, this item will be perfect for you. This is a Men's Run Star Hike High Top model that will make your day.
You could spot the shoes on the promotional photos for Unlock: Go Live In Life. Changbin was the one who had them on his feet, along with a leather jacket and black jeans. Although none of the boys never endorsed them, you can almost think of the item as almost the official merchandise.
Unlock: Go Live In Life was the first online concert of Stray Kids, held on November 22, 2020. It was streamed online through Beyond Live platform. During the event the members performed for the first time the Korean version of the song All In, which was later released as a digital single.
The footwear have a black body made of Canvas and white shoelaces. The high sole is made of white, brown and black elements. On the side of each of the shoes you can spot a highly recognizable logo of the brand with a black star on a white background. A white star is also placed on the back.
This is one of the most popular models of the brand among the KPop artists. You will probably find many other artists beside Changbin who were wearing them at one point in the past. And if you would like to change your style to one that is more similar to those of your favourite idols, this is something you should consider to get.
You can acquire the shoes right now for a very reasonable price taking into account that it is a high quality, durable product. The price is a little bit more than $100.
Available From Ebay ▼
Check It Out
Or Amazon ▼
Check It Out