Stray Kids Posters And Stickers Set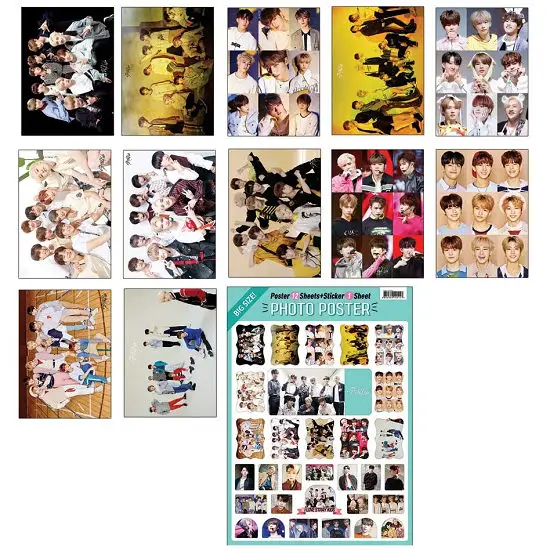 These Stray Kids posters and stickers come in a set. In the package you will find 12 different posters of a size of A3 (11.8 x 16.5 inch or 30 x 42 cm) and 1 sheet of stickers in the same size. The photos feature all members of Stray Kids including I.N, Bang Chan, Changbin, Lee Know, Han, Hyunjin, Seungmin, Felix and even Woojin who left the group due to personal reason in October of 2019. On the sticker sheet you will find 31 different stickers with all members. Please notice that some of the Stray Kids posters are upgraded as time goes by so they can differ from the pictures you are looking currently at in this post. Nevertheless this is a high quality product made in South Korea. You will definitely be happy with the purchase.
This is a fan made item so if you prefer something original from JYP Entertainment you can get for example a set of 6 Stray Kids posters from the second showcase Unveil Op. 02 : I Am Who collection. The event was organized to support the second mini album of the group and was held on 5, August 2018 at the Grand Peace Palace of Kyung Hee University in Seoul. The set consists of 1 group, 3 unit and 2 single member sheets. The two posters with a single member are chosen randomly out of 9 variants.

If you like this item you can get it from either Amazon or Ebay. There are also other options to choose from if you are a fan of other KPop groups like Big Bang, Blackpink, BTS, Day6, EXO, GOT7, iKON, ITZY, IZ*ONE, Monsta X, NCT, Red Velvet, Seventeen, SHINee, The Boyz, Twice, TXT and Winner. You can easily choose the variant you want from the listing on Amazon.
This set of Stray Kids posters and stickers costs only $18.88-$19.99 which is a very good price for such a high quality item. And if you are interested in these kind of collectibles you should definitely check out this postcard and sticker set which be a perfect addition to your collection of Stray Kids related goods.
Available From Ebay ▼
Check It Out
Or Amazon ▼
Check It Out