Stray Kids I Am Who Hoodie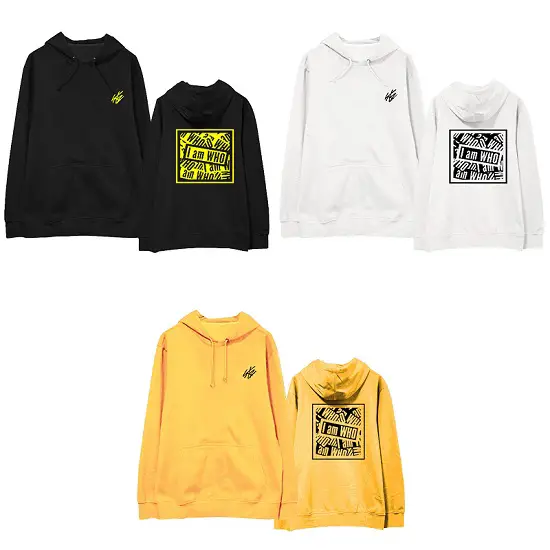 | | |
| --- | --- |
| Price | $23.98 |
| Type | Unofficial |
Available from Amazon ▼
Check It Out
What you're looking at right now ia a Stray Kids I Am Who hoodie with a logo of the group's second mini album. It has a small logo of the boy band on front (in either yellow, black or white depending on the chosen color) and a big square logo on the back. It is made of a soft and skin-friendly cotton. The item is available in six different colors including black, grey, pink, red, white and yellow. You can get it in 5 sizes so it will be relatively easy to find a piece that will fit you perfectly. The options are S (length: 64 cm, bust: 104 cm, shoulder: 50 cm, height: 158-168 cm), M (length: 64 cm, bust: 110 cm, shoulder: 51 cm, height: 168-172 cm), L (length: 69 cm, bust: 114 cm, shoulder: 52 cm, height: 172-178 cm), XL (length: 70 cm, bust: 118 cm, shoulder: 52 cm, height: 178-182 cm), 2XL (length: 73 cm, bust: 122 cm, shoulder: 56 cm, height: 182-186 cm). You should definitely consider getting an I Am Who hoodie in a size bigger than what you're used to since the measurements are based on Asian sizes. They are usually smaller than those in the United States.
I Am Who is the second extended play of Stray Kids that was released as a physical copy and a digital download on August 6, 2018 by JYP Entertainment and iRiver. It is available in two different versions - "I Am" and "WHO" (both with a slightly different cover). The album was preceded by I Am Not and followed by I Am You. It consists of 8 songs: WHO?, My Pace, Voices, Question, Insomnia, M.I.A., Awkward Silence and Mixtape #2. All of them was written and composed by the members themselves, mainly by 3Racha composed of Changbin, Jisung and Bang Chan. The EP peaked at the third position on the Gaon's South Korean Albums chart.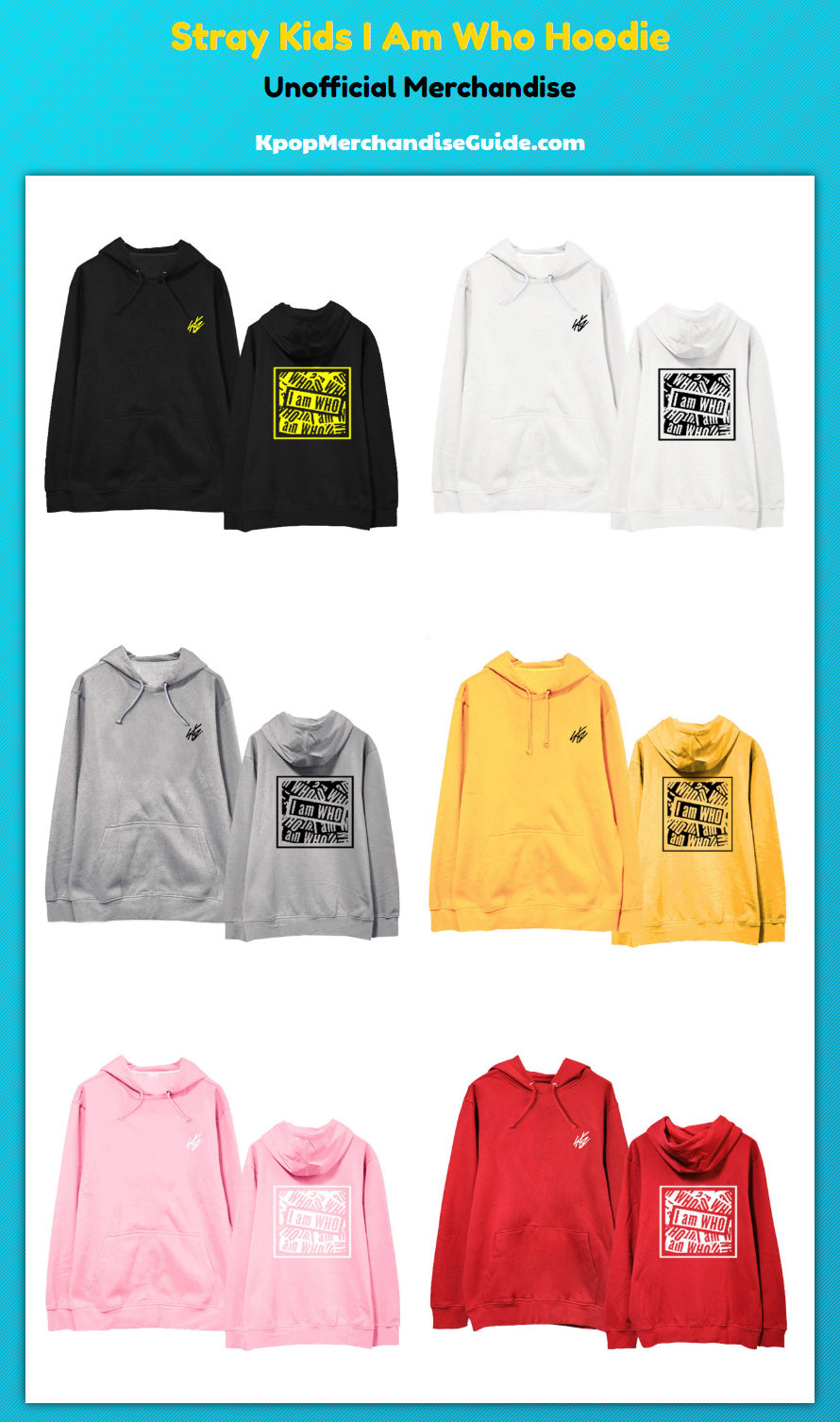 In a conjunction with the release of the album a special showcase was held at the Kyung Hee University in Seoul on 5, August 2018. At the event titled Unveil Op. 02 : I Am Who the fans had a chance to get a collection of merchandise including a black T-shirt with the same logo as on this I Am Who hoodie. The other items that were available at the showcase were an acrylic light stick, a black bucket hat, a backpack, a strap key ring, a set of 6 posters (including 1 group, 3 unit an 2 solo sheets), a bandanna, a bracelet, black and white socks with the logo of Stray Kids, a set of 13 postcards, a set of 10 randomly chosen polaroid photocards sized 95 x 70 mm, a set of 10 bookmarks, a set of 10 removal stickers, a lucky envelope with a content of 2 photocards, 3 stickers and 1 postcard.
If you like the design of this I Am Who hoodie you can get it from Amazon for a good price of $23.98.
Available from Amazon ▼
Check It Out