Skzoo
Skzoo are a cartoon characters serving as an avatars of the members of Stray Kids. The project was launched with the release of a teaser on December 23, 2020, and with a special version of God's Menu on February 2, 2021. Skzoo is similar to the project titled BT21 of BTS which began in 2017.
The names of the Skzoo characters are Wolf Chan (represents Bang Chan), Leebit (Lee Know), Dwaekki (Changbin), Jiniret (Hyunjin), Han Quokka (Han), BbokAri (Felix), PuppyM (Seungmin), and FoxI.Ny (I.N). The names originated from the jokes which had being told among the fans.
A substantial selection of Skzoo merchandise has been inspired by the characters. The first items released for the fans were adorable plushies. Each of the toys look like a certain animal - Wolf Chan is - as the name suggests - a wolf, Leebit is a rabbit while Dwaekki is a hybrid of pig and rabbit, Jiniret is a ferret, Han Quokka is a quokka, BbokAri looks like a chick, PuppyM is - which is pretty obvious - a puppy, and finally FoxI.Ny is a cute desert fox. All of the Skzoo plush dolls are wearing a black sweatshirt with an "SKZ" logo on the front. Please notice that you can take them off.
The Skzoo product measures approximately 135 x 215 mm. It is made of Polyester and weights around 100 g. This is an official collectible made in China by Soundwave under the license from JYP Entertainment.
The Skzoo plushies were available for pre-order between February 2 and 14, 2021, and were accompanied by PVC figures. The figures depict each of the characters in a black outfit and are available under the name "God's Menu Version". They are of a size of 79 x 43 mm and are packed individually in a black box with a transparent window on the front and an illustration of all Skzoo characters and their names on the back. Each of the toys comes with a black round stand.
A special Skzoo mini face keyring has also been released. All characters are available. Each of them is of a little bit different size but weights approximately 30 g.
#Lovestay SKZ-X Fan Meeting Skzoo Goods
A selection of Skzoo merchandise was released for the Stray Kids' fanmeeting titled #Lovestay SKZ-X. The event was held on February 20, 2021 and streamed online through the official account of the group on Naver's V Live. It was inspired by a concept of detectives and mysteries.
The Skzoo collectibles were available alongside a regular line of merchandise composed of 22 different items. You had a chance to get a set of pin buttons, each of them is related to a single Skzoo character and composed of 3 pieces - large circle with a photo of a chosen member of Stray Kids, a square with an illustration of the corresponding character, and a small circle with the character's name. They measure 44 mm, 37 mm and 25 mm respectively. They are made of aluminum and paper.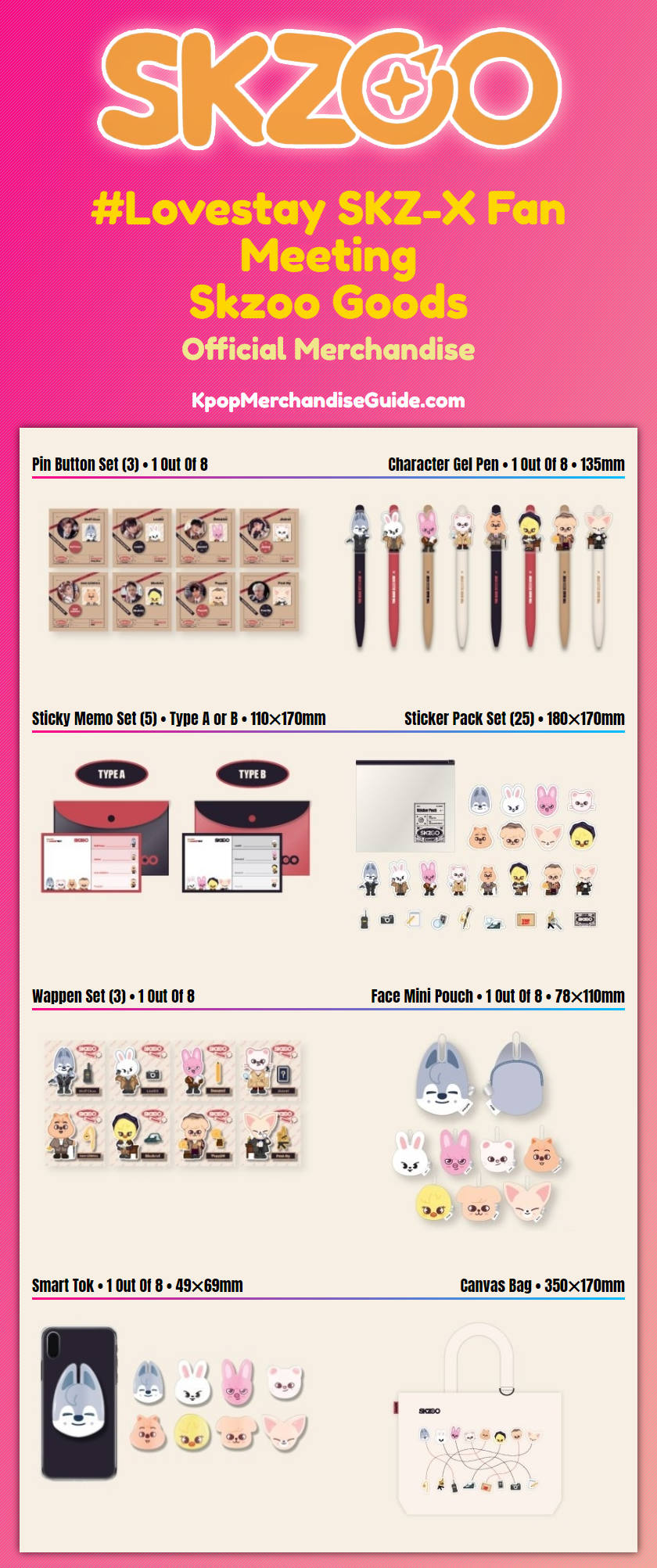 The second item created for the fanmeeting was a gel pen with a Skzoo character wearing a detective clothes at the top. The pen is made of acrylic and plastic and has a length of 135 mm. There are four colors in which the items are available - black, yellow, brown and white.
The third Skzoo product is a sticky memo set. You can get it in two types - A or B. Both come in a PVC pouch of a dimensions of 110 x 170 mm. Inside the package you will find four different pads - a single large of a size of 70 x 80 mm, and four smaller, each with a single Skzoo character on it and measuring 70 x 20 mm. All four are composed of 30 pages.
The fourth collectible is a sticker pack consisting of 25 different colorful graphic stickers. They measure around 55 x 41 mm and are made of paper. They come in a PVC pouch of a size of 180 x 170 mm.
Next we have a set of wappens related to a chosen Skzoo character. Inside the package you will find three pieces - 1 metal badge featuring a silhouette of a selected character, an embroidered accessory, and a name tag.
The next item which was manufactured for the #Lovestay SKZ-X fanmeeting was a lovely mini pouch depicting a face of a single Skzoo animal. They are made of Polyester are of a size of 78 x 110 mm. The last two Skzoo collectibles were grip toks (popsockets) made of acrylic and measuring 49 x 69 mm, similar in design for the pouches, and a canvas bag with a strap of a length of 170 mm, showcasing all characters on the front along with the logo of the product. It is made of Cotton and metal.
Skzoo Detective Outfit
Several months later, a completely new outfit for the previously released Skzoo plush toys showed up on various KPop stores. There are eight variants to choose from, each is different and is designated to a particular toy. It is composed of several pieces of apparel - top, bottom and outerwear on a hanger, with shoes in a shoe box. All is carefully packed in a rectangular sturdy cardboard box which at a first glance looks like a suitcase. Inside the box you will also find a tag with an illustration of a chosen Skzoo character.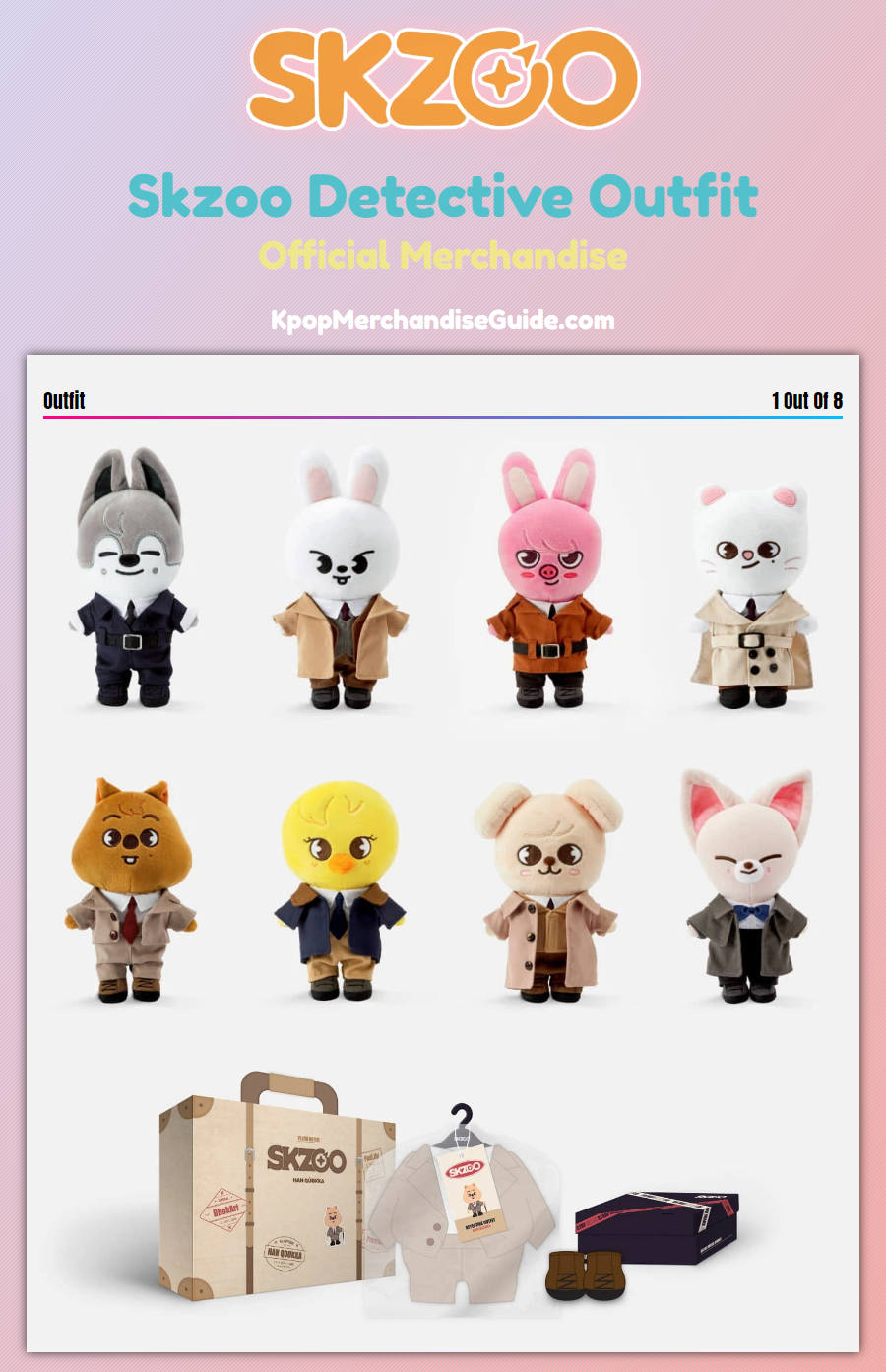 The detective outfit was manufactured by Soundwave. It was available for pre-order for two weeks between June 9 and 24, 2021.
Mixtape: Oh Skzoo Merchandise
A special song Mixtape: Oh was released by Stray Kids on June 26, 2021 as a digital single. It was co-composed by 3Racha consisting of Bang Chan, Changbin and Han. In conjunction with the release a special line of Skzoo collectibles was prepared for the fans.
You could pre-order it between July 13 and 21, 2021. The selection consisted of six Skzoo-related items including previously released original version of the stuffed animals, and mini face keyrings.
Four new items were introduced. The first one is another outfit - this time it was a whole body pajama. It was available in two different colors - white and navy, and features a pattern incorporating the logo of the newly released single. It is made of a very soft material composed of Cotton and measures 150 x 200 mm.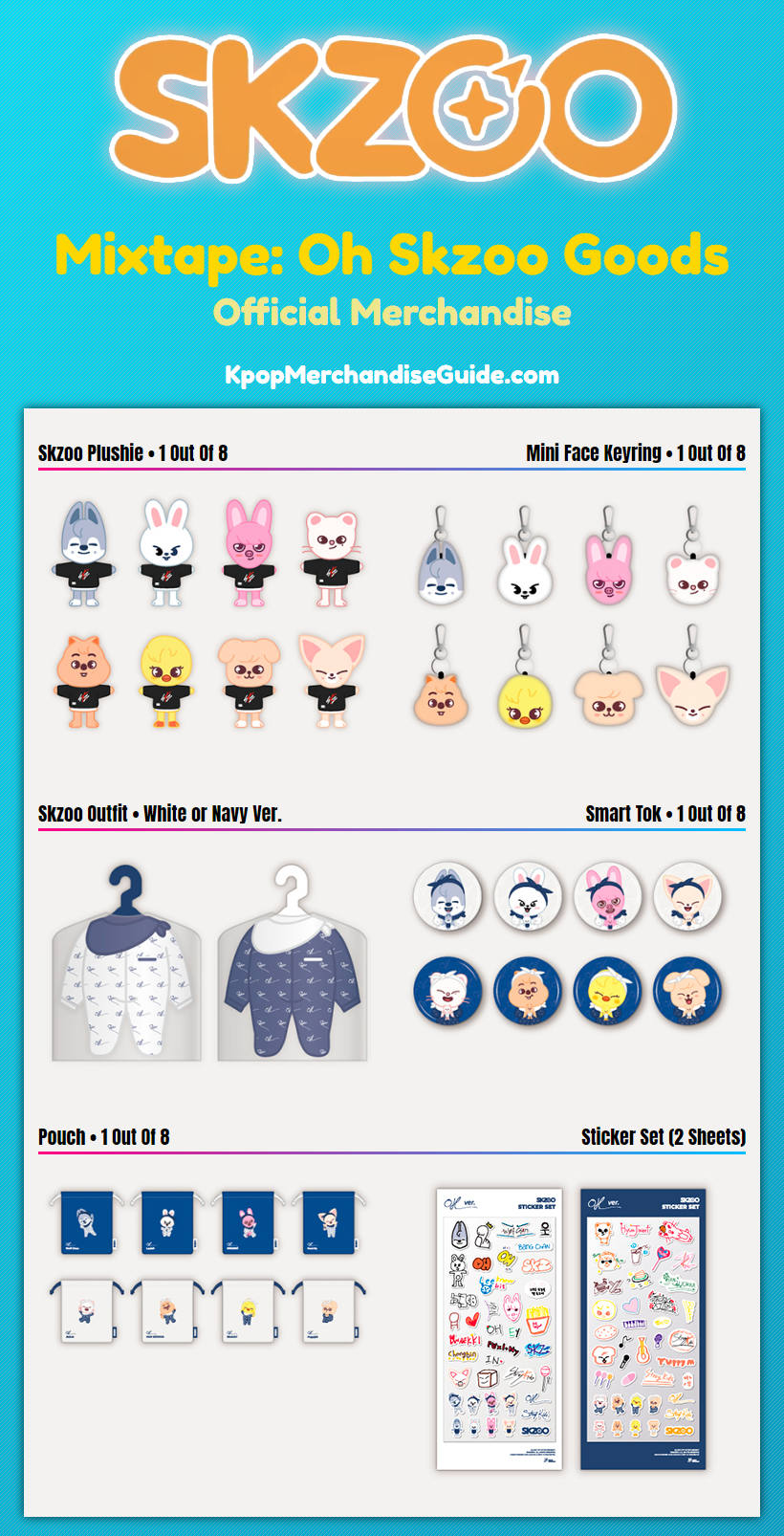 The second Skzoo collectible is a grip tok which - depending on the chosen variant - showcases the character in white outfit on a white background or navy outfit on a navy background. It is made of acrylic and its diameter is 60 mm. It will be a very nice addition to your collection of KPop and Skzoo smartphone accessories.
The third item is a Skzoo pouch which you can get in either navy or white color. Wolf Chan, Leebit, Dwaekki and FoxI.Ny are available in navy, while Jiniret, Han Quokka, BbokAri and PuppyM are featured in white. On the pouches you will find a silhouette of a Skzoo character and its name. Each of them is of a size of 145 x 175 mm and is made of Cotton.
The last Skzoo items in this collection are two sheets of epoxy stickers. Both sheets are composed of many graphic and logo stickers and come in a set. They measure 90 x 180 mm.
Another collection of Skzoo items showed up at a special pop-up store titled The Victory, that operated between May 15 and June 15, 2022. It was located at The Hyundai department store in Seoul.