Stray Kids Logo Long Sleeve T-shirt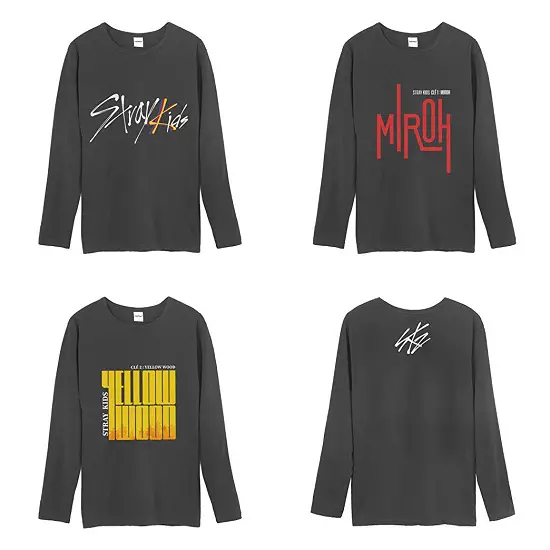 | | |
| --- | --- |
| Price | $17.50 |
| Type | Unofficial |
Available from Amazon ▼
Check It Out
If you are a fan of the group from JYP Entertainment this Stray Kids long sleeve T-shirt will be a perfect to wear in both warm and a little bit colder weather. This is a high quality item made of a cotton and lycra. It will be very comfortable to wear. The T-shirt is available in several different variants. The first one has a logo of Stray Kids on front and the name of a member of your choice with a number representing the year of his birth. You can choose one of nine options - Bang Chan (the number 97), Changbin (99), Felix (00), Han (00), Hyunjin (00), I.N (01), Lee Know (98), Seungmin (00) and Woojin (97). The second variant has a logo of the first special album of Stray Kids titled Clé 2: Yellow Wood on front and a small logo of the KPop boyband on the back. The album was released on June 19, 2019 and consists of 7 songs including Road Not Taken, Side Effects and TMT along with four Mixtape tracks. The album peaked at the second position on the Gaon chart and is the last release featuring Woojin before he left the group in October 2019. The third variant of the Stray Kids long sleeve T-shirt has the logo of the group's fourth mini album titled Clé 1: Miroh that came out on March 25, 2019 and was distributed by Iriver. Three versions of the EP were released - two normal and one limited version. Instead of the name of a particular member and a number you will find on the back a small logo of Stray Kids. All three variants of the T-shirt come in two different colors - black or grey.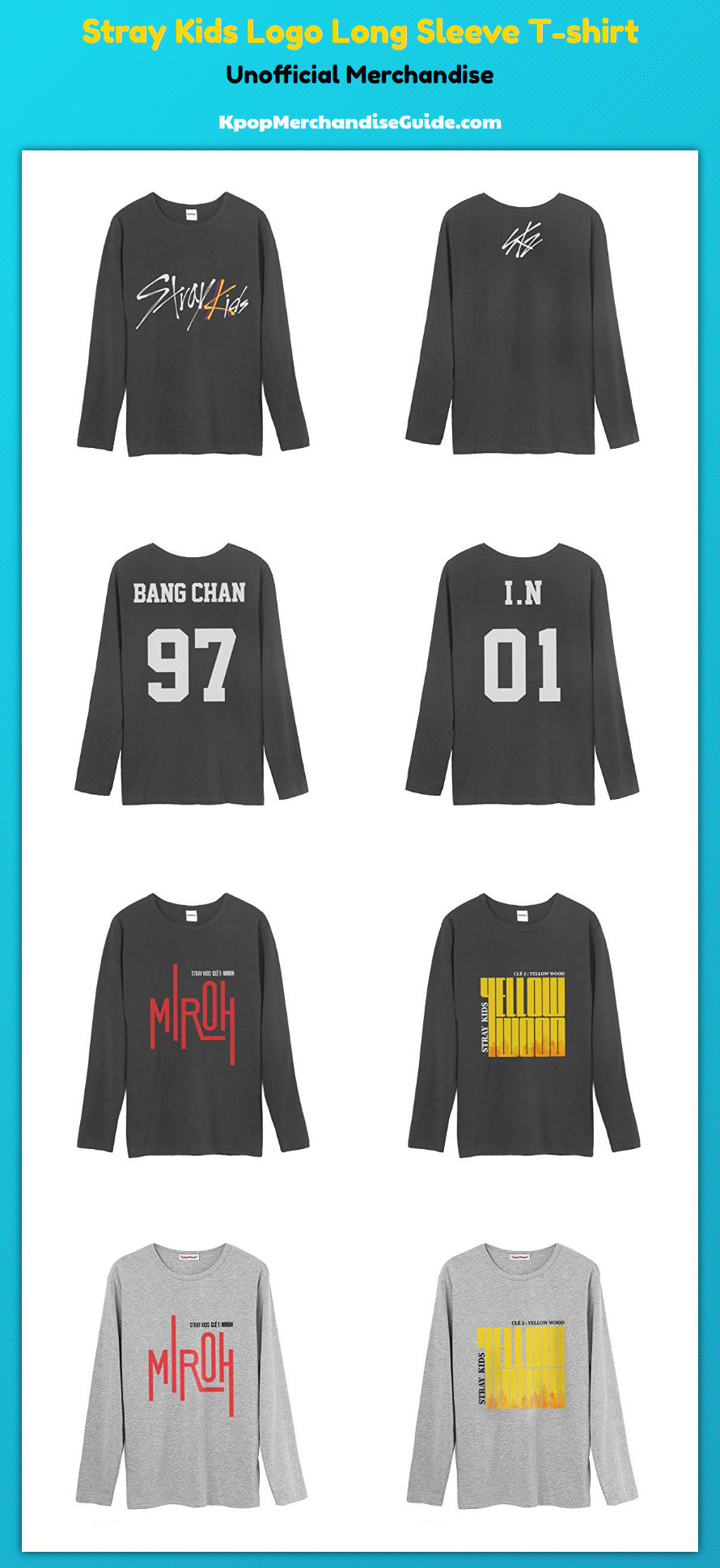 This is of course an unofficial item but made with a lot of care. It is made of a high quality fabric and will last for quite some time. If you prefer something that is officially released by JYP Entertainment you will have to find one of T-shirts (only short sleeve since there're no original long sleeve items) available at different events held by the group. The first one was available at the Unveil Op. 01 : I Am Not showcase that took place at the Jang Chung Arena in Seoul on 25, March 2018. The T-shirt featured a small logo of Stray Kids on front and the big one on the back. It came in one free size. You could get the next one at the second showcase Unveil Op. 02 : I Am that was held Grand Peace Palace at the Kyung Hee University in Seoul in August of 2018. It had I Am Who square yellow logo on the back. It also was available in free size.
If you like this Stray Kids long sleeve T-shirt you can get a piece for just $17.50. It will certainly be an item that you'll be pleased with.
Available from Amazon ▼
Check It Out