Converse Unisex Chuck Taylor All Star Season Hi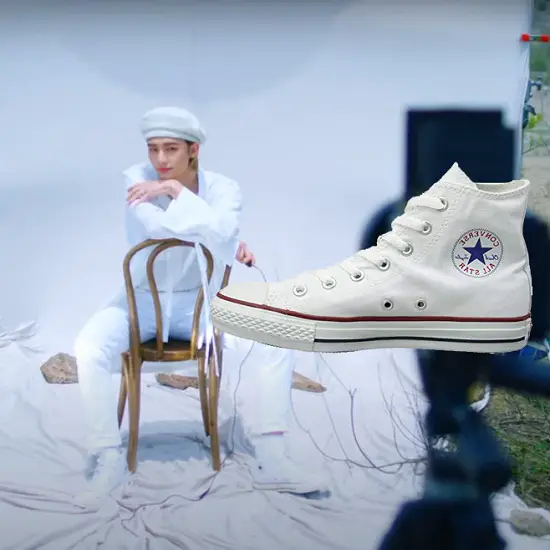 | | |
| --- | --- |
| Price | $108.46 |
| Type | Official |
Available from Amazon ▼
Check It Out
There are several models of Converse the members of Stray Kids were wearing throughout the years. One of the most interesting is probably this Unisex Chuck Taylor All Star Season Hi. If you're looking for something that will help you to relate to your idols, this piece of footwear will be perfect.
You could spot the shoes be worn by Hyunjin in a special video Go Live: Unveil published on Youtube. He had also a matching outfit and a white beret. In a picture you're currently looking at he's photographed sitting in a chair on a light background.
The model is in one color with white Canvas body and shoelaces, and white rubber sole. You can immediately spot a red and blue lines, which give it a distinctive look. On one side of each shoe you will notice the official logo of the brand with a dark blue star printed on a white background. I assume everyone who likes Stray Kids recognize it. On the back there is the name of the model and the brand.
The product is of a high quality and is made of a durable materials. It will certainly serve you for years to come. This is a unisex item so it can be used by both women and men. The variety of sizes will help you with making the best choice.
If you're looking for adjusting your style so it can reflect the style of your KPop idols, the shoes will be the best item to choose. You can get it now for a reasonable price of around $100.
Available from Amazon ▼
Check It Out