KPop Acrylic Standee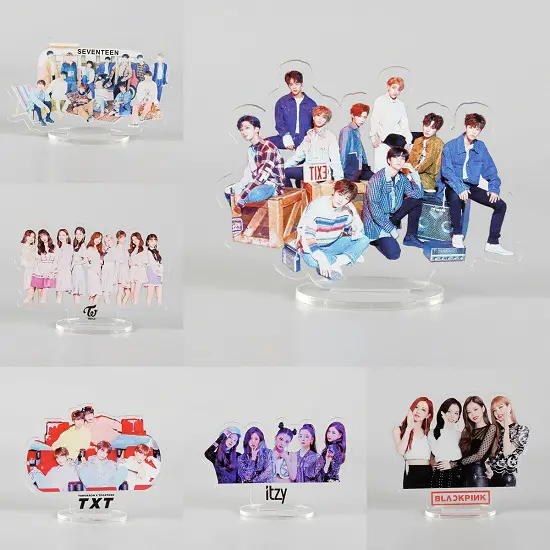 | | |
| --- | --- |
| Price | $3.99 |
| Type | Unofficial |
Available From Ebay ▼
Check It Out
If you're looking for a nice stand featuring your favourite KPop group to put on your desk you've come to a right place. This acrylic standee will be perfect for you. It comes in different variants and shapes. You can choose one of seven groups: GOT7, Seventeen, Stray Kids, Twice, ITZY, Blackpink and TXT. They are transparent and feature a photo of a chosen group and their name (logo) at the bottom or at the top (only Twice, Seventeen, Blackpink, ITZY and TXT). It is made of a durable thick panels of acrylic. You can be sure it will survive the contact with the floor when you accidently drop it. It is very sturdy and will last for a very long period of time.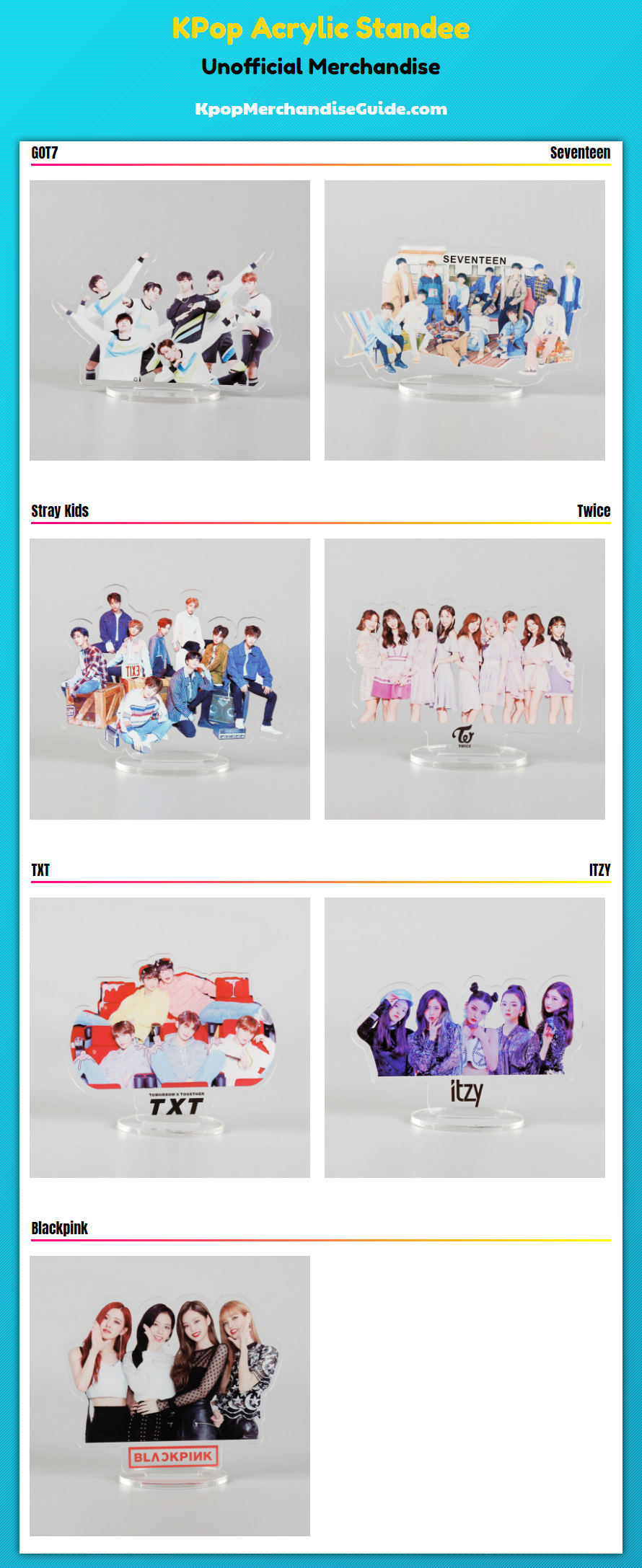 There are many fan made KPop acrylic standees like this one on the market. They come in different sizes with the height ranging from 90 to 210 mm. And there are of course the official stands released by the companies managing the groups. It is one of the most popular collectible so it's added to many collections created for a particular event. For instance you could find 5 different stands as part of the selection prepared by SM Entertainment for the first concert of Red Velvet titled Red Room. Each featured a silhouette of a single member on a round pink stand with the title of the concert. Two sets of six stands with the photos of Astro members was available at The 1st Astro Aroha Festival fan meeting. It was a special edition item prepared only for the members of the official fanclub of Astro called AROHA. 9 different variants of a photo stand was available for purchase for anyone who attended the EXO Planet #3 – The Exo'rdium [dot] encore concerts in Seoul on May 27 and 28, 2017. Two panels with the acrylic mini statues of all four members of NU'EST W were part of a collection we could get at the Double You In Seoul Concert in 2018. The first option was available for the general public and the second only for the members of L.O.V.E - the official fandom of NU'EST. Another acrylic mini statues were present at four concerts in Seoul of the Seventeen's Ideal Cut tour. We could find a statue representing each of 13 members of the group which was 130 mm high.
If you like one of the KPop groups available in the listing you should definitely think about purchasing the item. You can get it from a trustworthy seller based in China who deals in other merchandise such as posters, photocards, eco bags and key chains. The standee costs only $2.65 which is a very affordable price for such a treat.
Available From Ebay ▼
Check It Out