Twice University Fashion Club Trading Photo Cards Set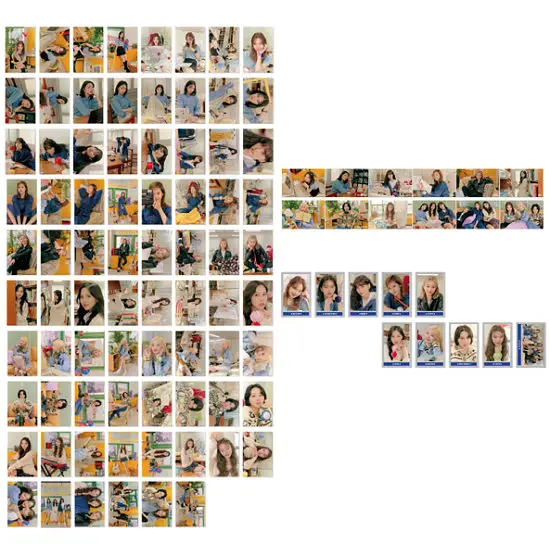 This item is part of the merchandise collection prepared for the announced finale concerts of the Twicelights World Tour titled Twice University Fashion Club, that were scheduled for March 7 and 8, 2020. It was eventually canceled but the collection was released online for the fans of Twice.
The Twice trading cards set is composed of 5 different sheets, 4 normal selected randomly out of 78 sheets, and 1 special photo card added randomly out of 22 sheets. The special cards were split into 2 lots - the first one consists of 12 variants (3 unit plus 9 solo cards), while the second lot consists of 10 variants (1 group plus 9 solo cards). All of them feature some beautiful photos.

All Twice trading photo cards measure 58 x 88 mm and are made of paper. They were manufactured by Copan Global and are the official collectibles from JYP Entertainment.
Beside the set, the collection of Twice University Fashion Club merchandise consists of sweat pants, a foot mat, a fashion masks, 2 cardigans, a Miguin bowl, a canvas bag, a Dubu mini keyring, a newsboy cap in 2 sizes, stickers, 3 variants of a grip tok, the official light stick Candy Bong Z and a 2000 mAh powerbank, a CD player with stickers, a stadium jumper with the logo of the event on the back, a white T-shirt, a 100 pages Twicezine magazine, a photo card binder book, an image picket (9 options), a set of lenticular photo cards, the university kit (9 options), a Lovely badge (9 options), a set of photo and sticker, a set of 3 wappen stickers (3 options).
You can get this trading cards for a very reasonable price considering it's the official collectible. Collecting all 100 photo cards can be a very fun thing to do.
Available From Ebay ▼
Check It Out
Or Amazon ▼
Check It Out