Kep1er Dazzling Girls In London Photobook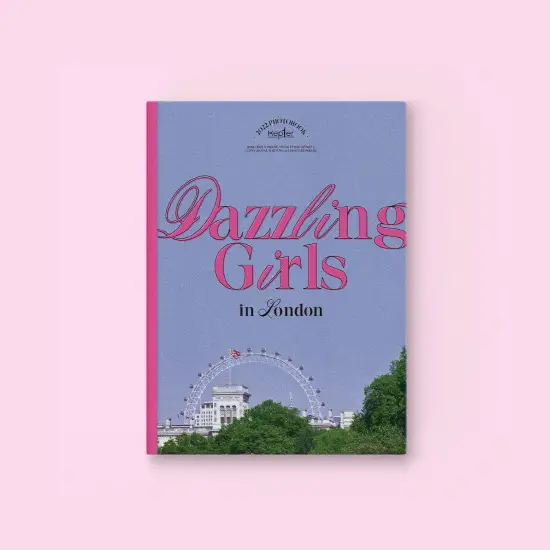 Dazzling Girls In London is the first photobook of Kep1er. It is a great collectible for any fan of the girl group officially released by Wake One and Swing Entertainment.
The photobook features a panoramic picture of London on the cover, along with the title printed in dark pink. It measures 185 x 252 mm and contains a total number of 236 pages full of photos of all members including Yeseo, Hikaru, Xiaoting, Dayeon, Yujin, Chaehyun, Huening Bahiyyih, Youngeun and Mashiro.
It comes with several other interesting collectibles. That includes an envelope of a size of 245 x 180 mm, a single sheet of stamp stickers measuring 110 x 140 mm, a set of 9 mini posters sized 175 x 240 mm, a set of 2Cut films in a set of 3, 9 photo cards of a standard size of 55 x 85 mm, and lastly a luggage tag of a dimensions of 50 x 280 mm.
It is the official product manufactured by a South Korean company Copan Global, which is known for the items they made for a variety of KPop artists.
To commemorate the release of the photobook, a collection of merchandise was prepared. In addition to the photobook you could also acquire a set composed of a mini L-Holder and 9 photo cards (either version A or B), an acrylic keyring composed of 2 pendants with a selection of 9 photos, a set of 14 postcards in a blue envelope of a size of 150 x 110 mm, and finally a set consisting of 3 ID cards featuring 3 girls from a selected unit (A, B or C), and a mini PVC pouch.
This wonderful photobook can be yours for a very nice price. It is a perfect gift for any Kep1er fan out there. You can be sure anyone will be extremely pleased having it in their collection.
Available From Ebay ▼
Check It Out
Or Amazon ▼
Check It Out