Enhypen Ggu Ggu Package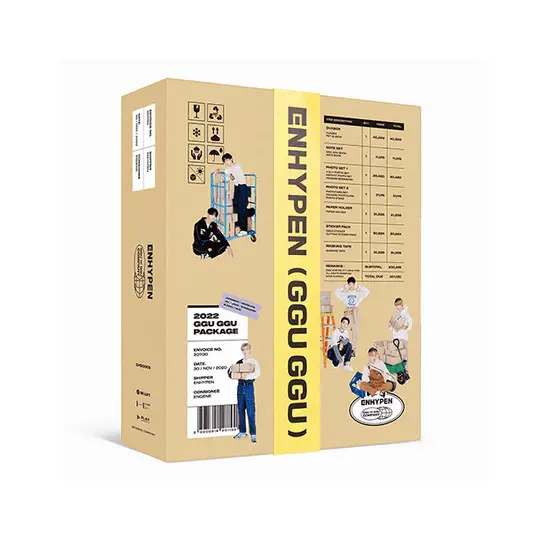 Ggu Ggu Package is a rather large piece of merchandise released in 2022 for the fans of Enhypen. It is the second that kind of collectible after the previous edition which premiered the year before in 2021.
The package consists of a outbox of a dimensions of 186.5 x 230 x 56 mm. It features the official logo of Enhypen, the title of the collectible, and pictures of all members of the group including Sunoo, Jake, Jay, Ni-ki, Heeseung, Jungwon and Sunghoon.
Inside the box you will find a large number of items that will definitely be right up your alley. That includes the single-sided 42 pages Ggu Ggu book of a size of 130 x 185 mm, and a 36 pages notebook with yellow cover measuring 130 x 185 mm.
Next we have a photo set composed of many pieces. That includes the 4Cut photo set consisting of 7 individual member sheets and 2 unit sheets of a dimensions of 50 x 150 mm and 152 x 102 mm respectively, and a Polaroid photo set of 14 unique sheets measuring 72 x 86 mm.
It is followed by a single bookmark featuring the silhouette of a randomly chosen member of Enhypen and his profile (50 x 100 mm), a set of seven photo cards of a rather typical size of 54 x 86 mm, a random special photo card depicting a single member selected randomly out of 7 variants, a photo stand of a size of 130 x 185 mm with all members sitting on a chair, and a paper holder measuring 130 x 185 mm.
Lastly we have a set of 10 sheets of deco stickers of a size of 105 x 155 mm, a pack of 7 die-cut stickers with the drawings depicting each of the members, and a roll of masking tape of a dimensions of 20mm x 10m.
This is the official piece of merchandise from Belift Lab and Hybe. It was made in South Korea and distributed by Weverse Company Inc. You will definitely be proud to have it in your collection.
Available From Ebay ▼
Check It Out
Or Amazon ▼
Check It Out