Twice Twaii's Shop Lenticular Photo Card Sets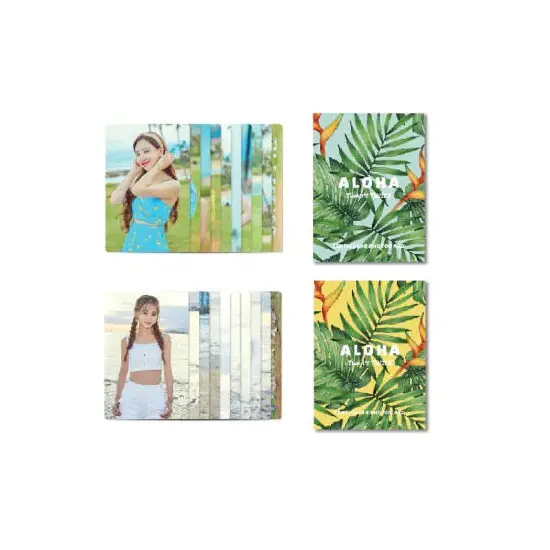 The lenticular photo card set is another of collectibles available at the 2019 pop-up store Twaii's Shop. It comes in two different variants and will definitely be a great addition to your Twice collection.
Twaii's Shop is a temporary store of the group that operated between August 3 and 25, 2019 at the Dong-young Building in Sinsa-dong, Gangnam-gu in Seoul. It was opened everyday between 11:00 and 21:00 (Sunday to Thursday) and between 11:00 and 22:00 (Friday to Saturday). A similar store functioned also in Japan. In October that year the third one opened in Singapore and you could visit it from October 12 to October 14.
The set consists of 10 different lenticular photo cards including 1 group and 9 individual member sheets. They are of a slightly larger size than the typical format (55 x 85 mm) and measure 58 x 88 mm. They are made of paper and PET. You can get one of two different variants - A or B, each with unique pictures.
This is the official piece of Twice merchandise from JYP Entertainment, manufactured by Copan Global. The company prepared also some other products that were available at the store.
As a visitor you could acquire some interesting items related to the official light stick of the KPop band including the keyring, a wireless charger, a special cover and a pouch, a handheld fan, four different badges, a circle grip tok, an earphone keyring, a passport case, and a cushion.
Other cool items you could become the owner of are bookmarks, stickers, cup holders, earphone cover cases, the new photobook from Dahyun, photo card binders, trading cards, image pickets, cashbee cards, a beach towel, clutch bags, shirts, tumbler, eco bags, pin brooches, additional badges, a gel candle, waterball phone holders, meshbag, and new editions of the Twicezine and Monograph.
You can get this wonderful set for a very affordable price from both Amazon and Ebay. You definitely won't be disappointed.
Available From Ebay ▼
Check It Out
Or Amazon ▼
Check It Out