GOT7 Goods Gift Box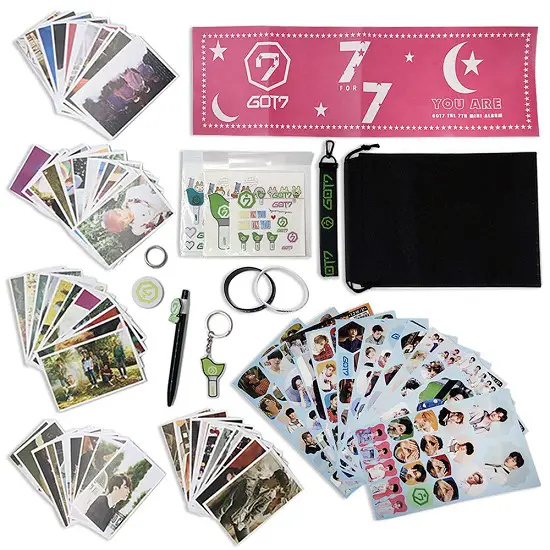 | | |
| --- | --- |
| Price | $24.99 |
| Type | Unofficial |
Available from Amazon ▼
Check It Out
If you're looking for a perfect gift for any fan of GOT7 this will be a perfect solution to your problem. What you can see here is a pack of various merchandise related to the group from JYP Entertainment. All these are unofficial but made with a lot of care by the devoted fans. You will find here only a high quality objects which will satisfy your highest demands.
Inside the package you will get a set of 60 photocards, two silicone wrist bands (white and black), a black pen with GOT7 logo on top, a lanyard which is approximately 180 mm long, a dark red banner commemorating the release of the seventh mini album 7 for 7 and featuring the title of the lead track You Are, three sheets of 3D stickers featuring the official light stick each in a separate plastic package, the title of the eight extended play Eyes On You and multiple different logos, one phone stand that will be a nice accessory for your smartphone, one silver ring, 12 sheets of stickers, one key ring with the fanlight as a pendant and finally a stamp with the logo of GOT7. All comes in a black pouch. This can be a realy great present for anyone. The seller of this set offers a similar packages for other KPop artists such as Blackpink, Twice, Seventeen and EXO. If you like any of the groups you should definitely check the seller's shop to find out more about it.

The lomo photocards feature the photos from their official photoshoots. They have a white border. All members are here included - JB, Jinyoung, Mark, Jackson, BamBam, Youngjae and Yugyeom. You will find even more photos on the stickers. Each sheet consists of at least 14 of them.
If you like this package of GOT7 goods you will probably be interested in another one that was released for BTS. The BTS package follows the same pattern and include a bunch of cool items including a wallet, 54 pieces of photocards, a lanyard, 7 cartoon PVC stickers, a ballpoint pen, a cartoon keychain, an acrylic stand, an acrylic key chain, a tearable masking tape, a set of 8 transparent cards, a notebook and an iRing.
You can get this wonderful GOT7 set for only $19.99. It is a very good price for such a nice package of a high quality products. This gift will certainly make the person you will give it to very happy. Of course you can order one just for yourself. It will be a great addition to your collection of South Korean music related goods.
Available from Amazon ▼
Check It Out