GOT7 Keep Spinning Hoodie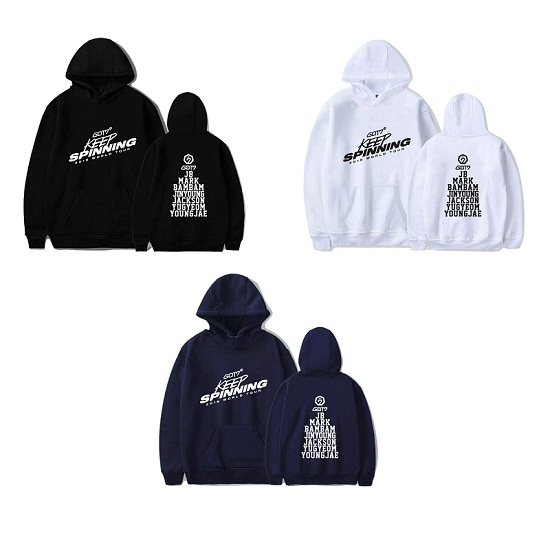 This GOT7 hoodie will be a great treat for every fan of the boy group from JYP Entertainment. It features the title of the Keep Spinning world tour on front and the name of the group with a list of all members on the back including Jackson, JB, Jinyoung, Mark, Bambam, Yugyeom and Youngjae. This GOT7 hoodie comes in six different colors: black, dark blue, grey, red, pink and white. It is made of a comfortable and skin-friendly cotton. If you're worrying about the size you don't have to since it's available in a range of sizes from S to 2XL: S (length: 25.19 inch, chest: 40.94 inch, shoulder: 19.69 inch, sleeve: 22.83 inch), M (length: 25.19 inch, chest: 43.30 inch, shoulder: 20.07 inch, sleeve: 24.01 inch), L (length: 27.16 inch, chest: 44.88 inch, shoulder: 20.47 inch, sleeve: 24.80 inch), XL (length: 28.55 inch, chest: 46.45 inch, shoulder: 20.47 inch, sleeve: 24.80 inch), 2XL (length: 28.74 inch, chest: 48.03 inch, shoulder: 22.04 inch, sleeve: 25.59 inch). Please notice these are Asian sizes so you should probably thing about getting a larger than you usually wear. The GOT7 hoodie will be a nice addition to your collection of KPop apparel that you are going to proudly wear.
Keep Spinning is the third world tour of GOT7 that was organized to support their ninth mini album titled Spinning Top: Between Security & Insecurity that was released on May 20, 2019. The tour began with two concerts in Seoul on June 15-16, 2019 that were held at the KSPO Dome. The group is expected to perform on five continents including North America (Newark, Dallas, Inglewood, Oakland in the United States and Toronto in Canada), Latin America (Mexico City in Mexico and Santiago in Chile), Oceania (Sydney and Melbourne in Australia), Europe (Amsterdam in Netherlands, London in England, Berlin in Germany, Madrid in Spain and Paris in France) and Asia (Manila in Philippines, Bangkok in Thailand, Singapore in Singapore, Macau in China, Kuala Lumpur in Malaysia, Taipei in Taiwan). Two shows was scheduled in Hong Kong (on August 31, 2019 and on September 1, 2019) but these were canceled due to some safety concerns.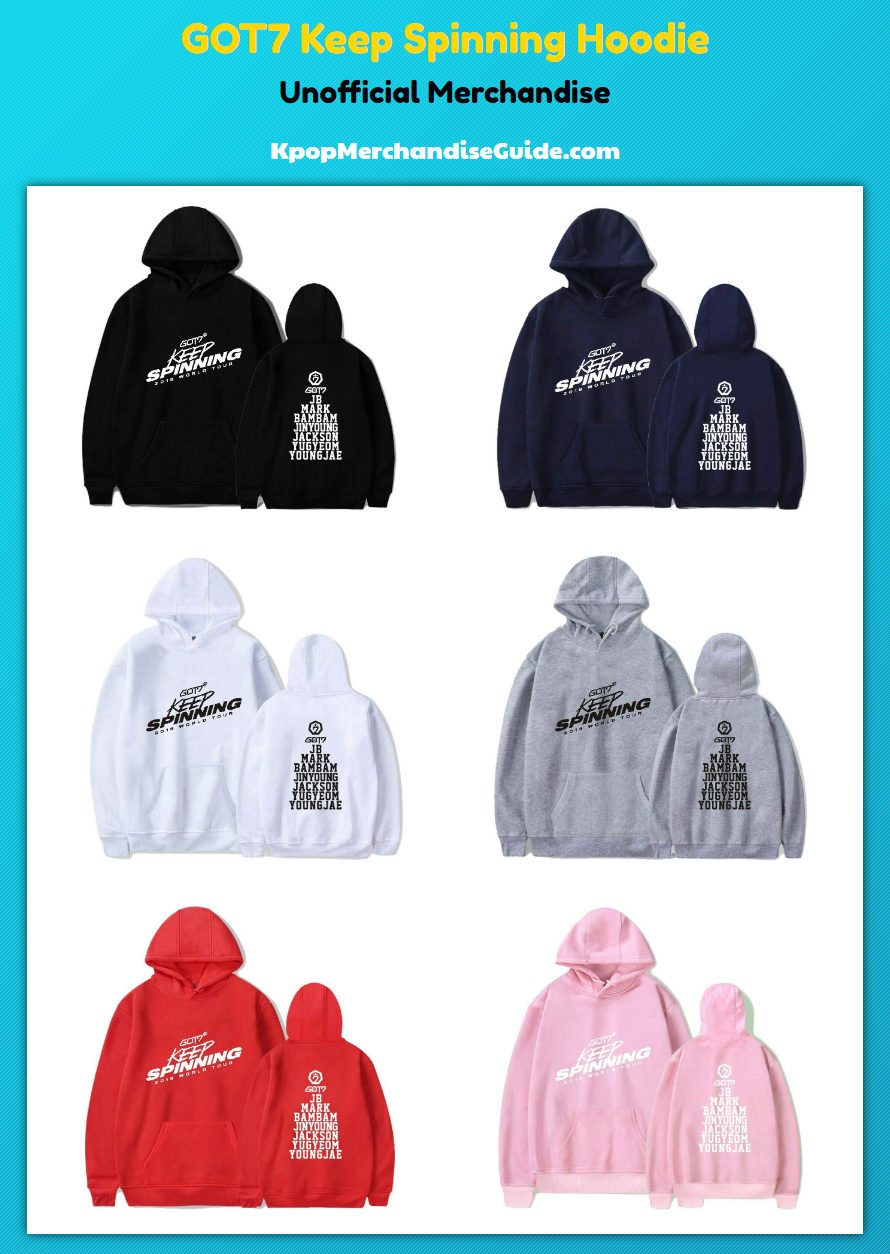 This is a fan made item. If you prefer the original GOT7 hoodie from the Keep Spinning world tour you can try to find it on various e-commerce websites on the Internet. The official tour hoodie differs a little bit comparing to this one. Instead of the logo of the event on front it is featured on the back. It also comes only in one, free size and one color - black. If you're interested there's a big amount of other merchandise released for the tour including the cover for the official light stick of the group, a sitting mat with a pouch, a mood stand, a grip tok, a snowball pen, Eclipse suncatcher, Spinning Top necklace, Eclipse piercing, a candle, a set of glass and coaster, commemorative slogan, along with the hoodie you can get three variants of T-shirt (version A, B or C), a bucket hat, slippers in a pouch. 60 pages photobook, two versions of the image picket (14 pieces in total), 7 premium posters, 7 film photos, 2 rolls of a masking tape in a set, a set of 5 randomly chosen trading cards, 5 photos in a set (1 set for each member), 7 voice keyrings, seven Gotoon badges made of brass and finally a set of 15 sheets of light stick deco stickers. All collectibles were manufactured by Copan Global company under the license from JYP Entertainment.
If you like this GOT7 hoodie you can visit the shop and purchase a piece for just $16.19-$21.99 which is a very affordable price for such piece of fashion.
Available From Ebay ▼
Check It Out
Or Amazon ▼
Check It Out