KPop Donut Hoodie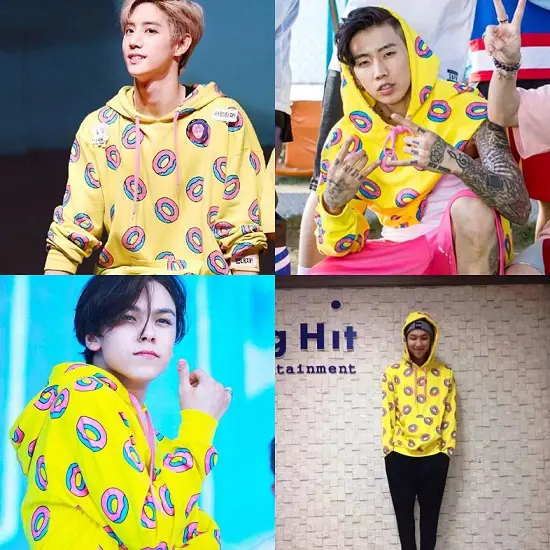 | | |
| --- | --- |
| Price | $21.88 |
| Type | Unofficial |
Available from Amazon ▼
Check It Out
It is very possible you are familiar with this KPop donut hoodie from the photos uploaded on the Internet showcasing Jay Park and other KPop artists wearing it. The item comes in a yellow color with pink and blue donuts on it. You can get the donut hoodie in seven sizes including XS, S, M, L, XL, 2XL and 3XL. This is a very popular item among the KPop idols. Many of them have been wearing it in recent years including Mark from GOT7, Jungkook and RM (formely Rap Monster) from BTS, Vernon from Seventeen, Ilhoon from BTOB and Lay from EXO. The KPop donut hoodie was the most prominently used in the music video for the Jay Park's song My Last which was the eleventh digital single of the artist that eventually was included on the his third full album Worldwide. It was also seen in GOT7's Just Right music video released for the third extended play of the same title that came out on July 13, 2015. This KPop donut hoodie is one of the most recognizable piece of fashion among the KPop fans regardless of what group or soloist they like and are following. It can be a very nice item to wear casually or at home since it is made of a very soft and pleasant cotton. It will also be a really easy to wash.

As I mentioned earlier there are seven sizes to choose from so you will certainly find something for you. Here are some details: XS (length: 65 cm / 25.6 inch, bust: 92 cm / 36.2 inch), S (length: 67 cm / 26.4 inch, bust: 98 cm / 38.6 inch), M (length: 69 cm / 27.2 inch, bust: 104 cm / 40.9 inch), L (length: 71 cm / 28.0 inch, bust: 110 cm / 43.3 inch), XL (length: 73 cm / 28.7 inch, bust: 116 cm / 45.7 inch), 2XL (length: 75 cm / 29.5 inch, bust: 122 cm / 48.0 inch), 3XL (length: 77 cm / 30.3 inch, bust: 128 cm / 50.4 inch). If you have any questions regarding the sizes you can send a personal message to the seller to find out more about this KPop donut hoodie.
If you're fond of any idols mentioned before you should definitely consider purchasing the item. It can also be a nice gift for a friend of yours or a member of your family who is a fan of Jay Park, Mark or any other idol. You can get it for only $21.88 from a person on Amazon.
Available from Amazon ▼
Check It Out