KPop Popsockets (Grip Tok)
If you need a KPop popsocket as the next accessory for your smartphone, you can easily get one on a various online shops since many KPop companies started to manufacture and include these little devices in their official merchandise collections. They are often advertised as grip tok or grip holder.
The popsockets are usually circular and you can attach them to the back side of your smartphone and reposition or remove them completely when needed. They need to be "popped" twice to use them. The size of this device is 40 x 40 mm and it's made of PC and TPU. They help to hold your smartphone steady and minimize the possibility of dropping it by accident. What is more you will be most likely able to start using it with only one hand instead of two. For example it will make taking selfies more easy.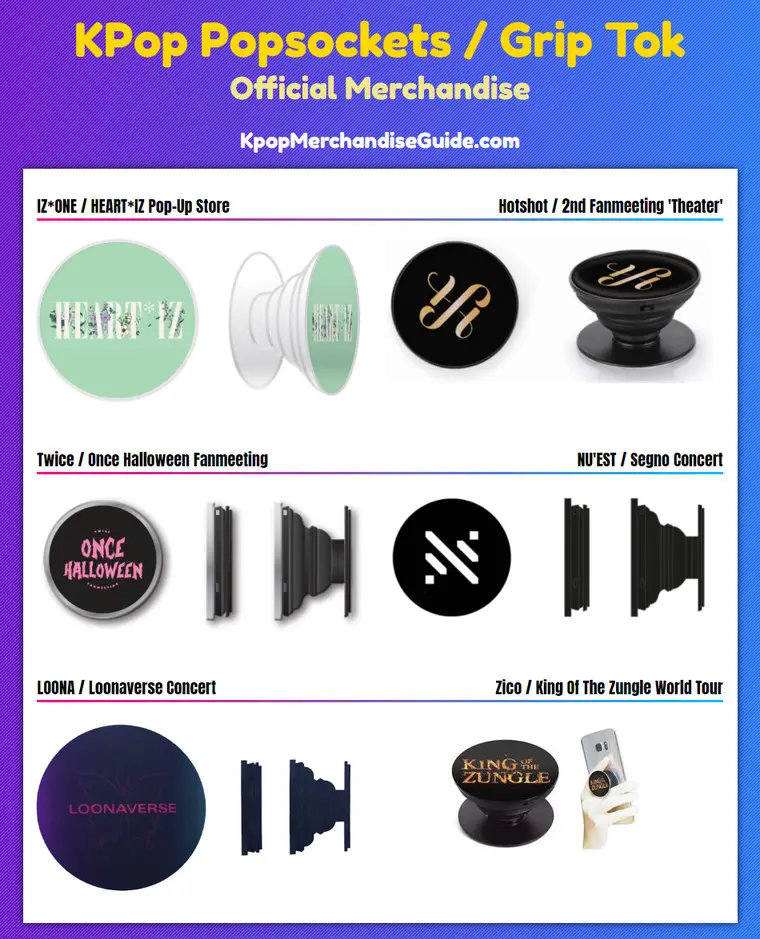 It can also work as a stand and set your smartphone in a fixed position - if you want to watch the newest music videos of your favourite groups for example. Some of the popsockets come with a car mounts so you can use the navigation when you're driving. Other people are using popsockets to wrap their earphones' wire around them to prevent it from tangling up.
The adhesive of a popsocket makes it reusable so you can keep using it with other phone cases and devices. It can be used with different surfaces but silicone cases and cases with rough surfaces are not recommended.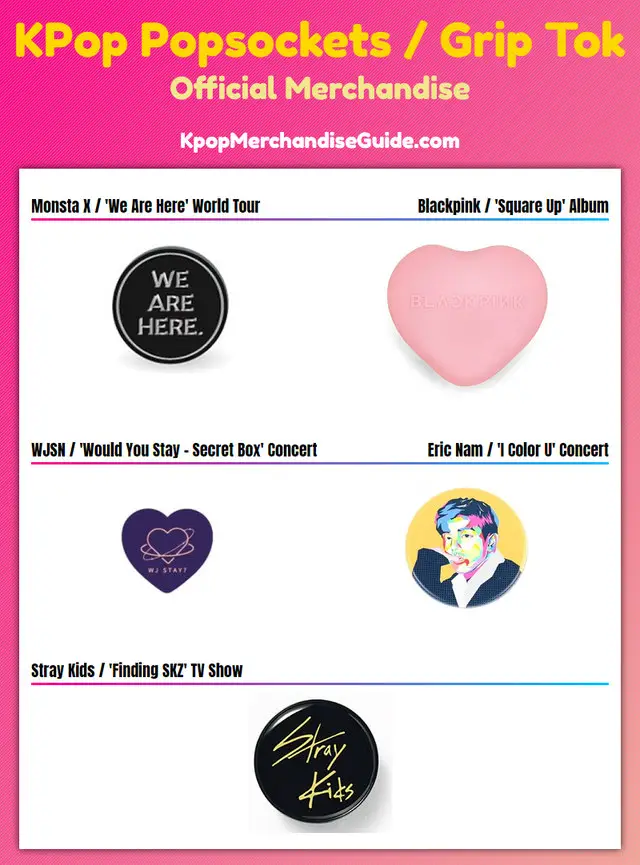 If you're clumsy but nature this is the product you should definitely consider to get. And the bigger your smartphone is the more you should think about buying one. Some consider it a must have smartphone accessory.
The official KPop popsockets has been released in many collections of merchandise during the last months. The companies like SM Entertainment, YG Entertainment, JYP Entertainment, Starship Entertainment, Pledis Entertainment and Off the Record decided to make this device available to the fans.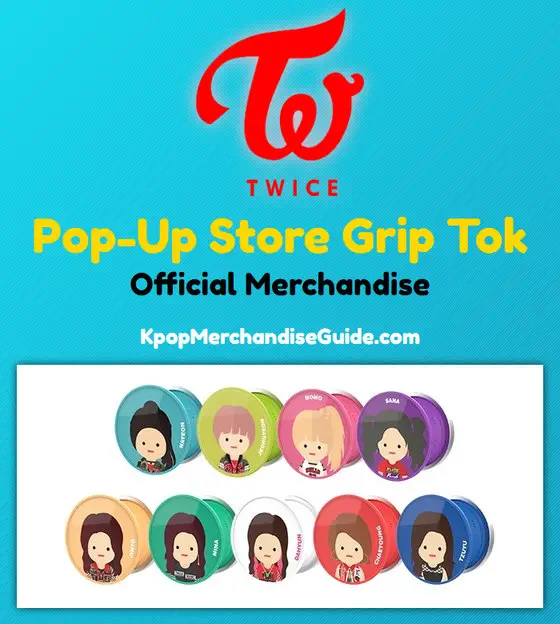 The typical round KPop popsockets were released for IZ*ONE (HEART*IZ Pop-Up Store and COLOR*IZ Show Con collections), Hotshot (2nd Fanmeeting "Theater"), Twice ("Once Halloween" Fanmeeting (1) and Twice Pop-UP Store (cartoon character for every member)), NU'EST (Segno Concert), Loona (Loonaverse Concert), Zico ("King Of The Zungle" World Tour), Monsta X ("We Are Here" World Tour and 2019 Fan Con The Game: MX Kingdom with MONBEBE), Blackpink (Square Up Album), WJSN ("Would You Stay - Secret Box" Concert), Eric Nam ("I Color U" Concert) and Stray Kids ("Finding SKZ" TV Show).
The popsockets released by Starship Entertainment for WJSN (Cosmic Girls) and by YG Entertainment for Blackpink are in a unique shape - they look like heart not a typical circle.
SM Entertainment Popsockets
The company released many KPop grip toks for their groups. There are devices with the photos of TVXQ - for both Changmin and U-Know Yunho - from their album "New Chapter No. 1: The Chance of Love", 18 grip toks for all NCT members' photos on a white background from their album "NCT 2018 Empathy", 4 for each member of SHINee from their sixth album "The Story of Light".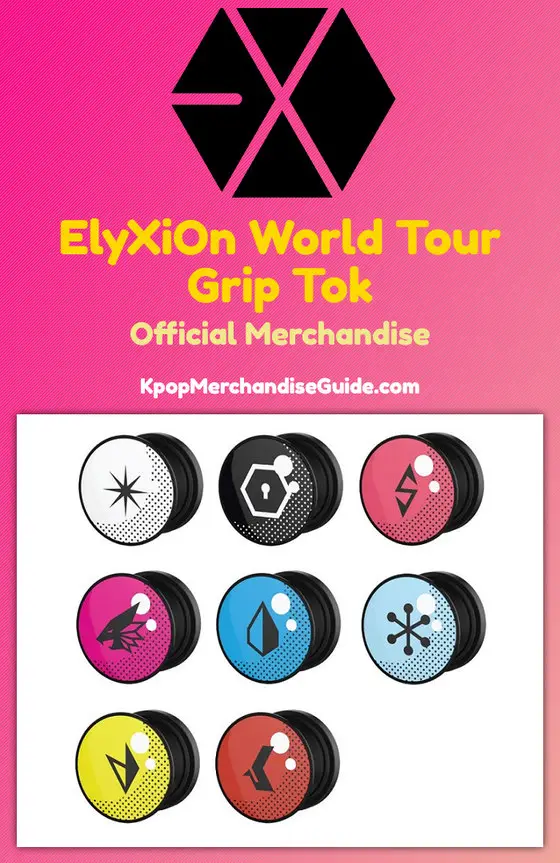 There are three types of EXO popsockets (for each member) - logo version from their concert Elyxion, photo version from the album "Don't Mess Up My Tempo" and photo version from EXO CBX's second album "Blooming Days".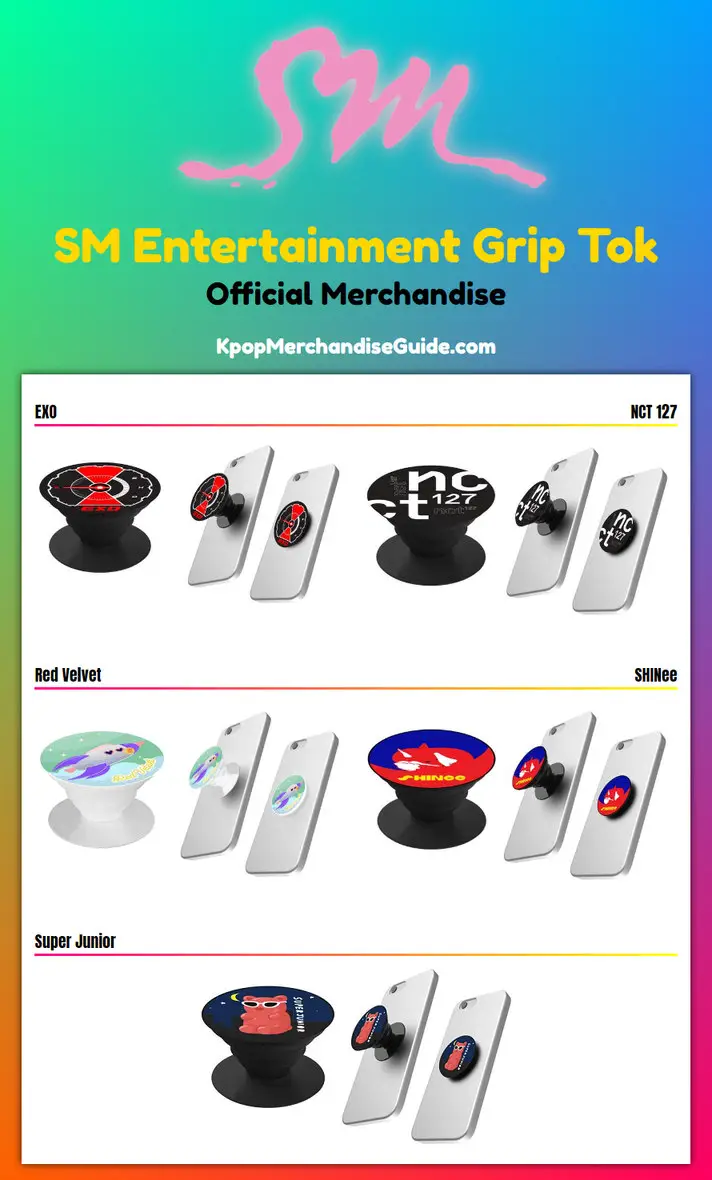 There's also a collection that consists of a cartoon KPop popsockets of SM Entertainment artists including EXO, NCT 127 (two versions - black and white), Red Velvet, SHINee and Super Junior. They are intended to be sold separately.
All of these are an official merchandise certified by SM Entertainment.