Stray Kids Shoes
Although there are not many pairs of Stray Kids shoes endorsed by the group, there are plenty of examples of footwear the members have been wearing during various activities. If you're looking for something to wear that will help you to relate to your favorite group, this article will definitely help you with that.
Stray Kids are known for their love for shoes and apparent good taste in everything they wear. They are also considered as a fashion icons by many of their fans, who often want to imitate their style and showcase the most interesting apparel. The official collections of merchandise can be a great source of fashion items. They are usually released for various events such as concerts. Unfortunately they do not consist of any Stray Kids shoes. The only option is to carefully observe the members during their live performances and in their music videos to spot the exact footwear models and brands they are using.
There is a really large number of Stray Kids shoes the boys had a chance to feature in the videos they have been releasing. One of the most popular brands among the members is Converse. They can be spotted wearing the shoes on many different occasions. That includes many different models stylish enough so you could purchase them as a gift for yourself or someone else.
Converse Shoes
The most popular model is Run Star Hike often used in the past by I.N, Han, Changbin and Hyunjin. Although the shoes are not officially endorsed by Stray Kids, they gained much attention among the fans, who - influenced by their idols - were eager to acquire them. They are a platform shoes with a black body and a white sole with brown elements. They feature the classic black star on a white round circle logo on the side. At the back you will find a white star. The shoes are made of a very durable canvas and have reinforced toe cap. They also have cushioned footbed and padded collar and tongue. They will provide a great traction and durability, and the most wonderful outdoor performance. You could notice the model for example during the second episode of the second season of a TV variety show Finding Stray Kids.

The members of the group were also spotted wearing other models of Converse including Chuck Taylor All Star, a unisex high top shoes available in black and white, featured numerous times on the official Instagram accounts of the members. The second example are a very unique striped Chuck 70 Archive Restructured High Top shoes visible in the performance video for God's Menu, TOP and Easy. The third example are black Chuck Taylor All Star CX with white shoelaces and a very original red sole you could find in the same video.
During the live television talk show After School Club on June 30, 2020, I.N was wearing a white Chuck Taylor Signature Chuck 70 model. The Stray Kids shoes features a word "Chuck" printed in black. A month later, on August 3, 2020 on a Korean quiz television show titled Idol on Quiz, Hyunjin had on his feet Hacked Fashion Chuck 70 model featuring a checkered design with some brown and yellow details. The same month Han was photographed for Singles magazine wearing the shoes which present a zebra pattern - Archive Print Chuck 70. The last example you should know about is a model called Breaking Down Barriers "Celtics" which was posted by I.N on his Instagram account. The shoes are green with a white sole and a matching shoelaces.
Nike Shoes
The members of Stray Kids are also the connoisseurs of Nike sneakers. They have been photographed numerous times during their promotional photo shoots wearing the products of the brand. Since the promotional materials require an elegant yet sporty look, these Stray Kids shoes will be especially useful.
The first example is an all white model Nike Air Force 1 '07 with the well-known logo of the brand on the side. Bangchan was wearing the shoes on the promotional teaser images for the group's first full-length album Go Live which was released on June 17, 2020 under JYP Entertainment. He completed his stylish look with a white attire and some matching jewelry.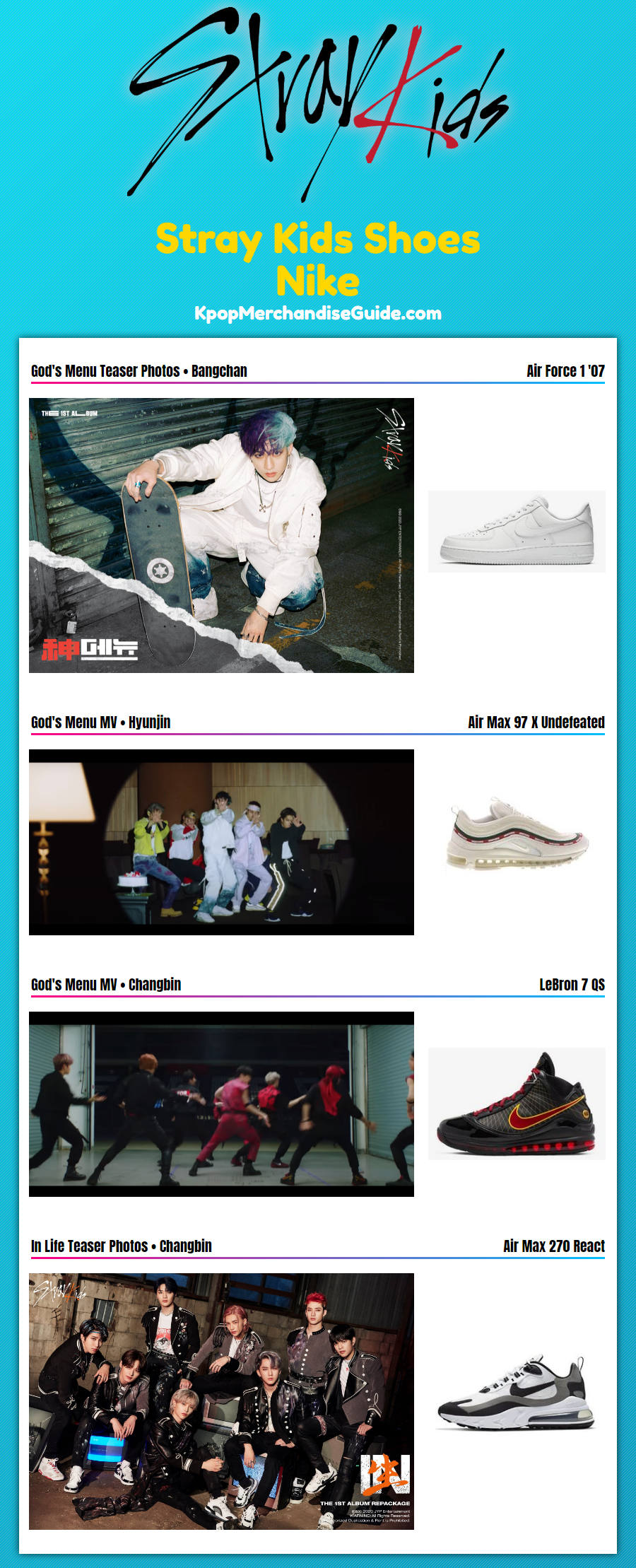 The second example comes from the music video for God's Menu, where Hyunjin had on his feet the Air Max 97 X Undefeated. The shoes present a sleek design in white with some black and red details making it a very attractive item for any fan of the group. God's Menu is the lead single of the studio album mentioned above. Changbin is a member of the boy band who was wearing a Nike shoes in the music video. He had a very cool looking black sneakers called LeBron 7 QS, inspired by the basketball player LeBron James. He chose the variant with the red logo and red shoelaces, which looks great with his black and red top and red hat.
Another example of a Nike footwear was featured in the promotional photos for the repackage album In Life by Changbin. The chosen Stray Kids shoes were Air Max 270 showcasing a simple design incorporating a white color and different shades of grey.
The other models of Nike shoes you could notice in various practice videos and music show performances were Air Barrage Low Rucker Park, Air Max 95 Essential and Air Mac EVO.
Other Brands
The members have been also using various models of Jordan shoes including Aerospace 720 (by Seungmin in the Japanese version of the music video for TOP), Jordan Mac 200 (once again by him in the promotional photo shoot for Go Life), Air Jordan 6 and Jordan 13 Retro Flint (by Bangchan and Han respectively at Music Bank on June 26, 2020), and Air Jordan 5 Retro 'Top 5' (by Bangchan in one of the Stray Kids Twitter updates).

Not only the casual Stray Kids shoes were worn by the members, but also those more sophisticated and elegant. There are several brands they were photographed in, including a very known Dior. In the December of 2020 issue of Dazed Korea, Hyunjin showed up in a white shirt with the logo of the brand on the front, and a very interesting model of Dior shoes named B27 Low-Top Sneaker. The pair feature a gray, white, black and brown tones in a very elegant design. Although the shoes are not the most affordable (they go for a price ranging around $1,000), they are definitely worth getting. In the same issue Felix worn the other Dior pair, a very similar B27 High-Top Sneaker model. These are all white, and come for a slightly higher price.
The other luxury brand featured by one of the Stray Kids members was Valentino. The model called Bounce Oversized Runner was showcased by Han during the group's performance on MCountdown on September 17, 2020. It is a very nice model with a main color black, white sole and red details which are very on point.
There are of course other brands of which you can find some interesting Stray Kids shoes, that includes Reebok, Gucci, Vans, Adidas, MLB, Fila and Louis Vuitton. There are many pictures online you can rely on when finding some new interesting models.