BTS BT21 Graphic T-shirt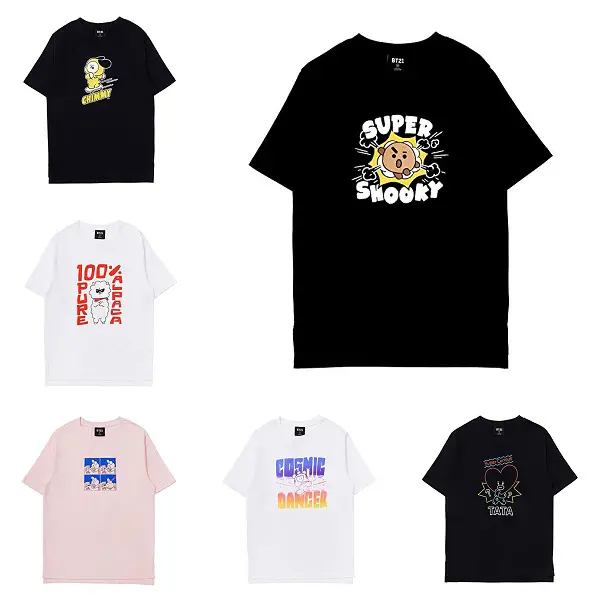 | | |
| --- | --- |
| Price | $29.95 |
| Type | Official |
Available from Amazon ▼
Check It Out
If you are a fan of BTS and you like the cartoon characters from BT21 project you will definitely like these graphic T-shirt. This piece of fashion comes in seven different designs. Each of them features one of the characters - Mang with words "Cosmic Danger", Shooky with "Super Shooky", Chimmy on a white skateboard, Tata in neon colors with words "Super Curious", Rj looking very chic with words "100% Pure Alpaca", Cooky reading a book (with a small appearance of Shooky) and Koya sleeping on a bed telling you "Good Night". It is available in three colors (depending on the chosen character) - black, white and pink. The BT21 T-shirt is made of cotton and will be perfect for both girls and boys. You can get one of four sizes: small, medium, large and extra large. This BT21 T-shirt was manufactured in April of 2018. It is an official collectible licensed under Big Hit Entertainment. It was made with care of a high quality materials.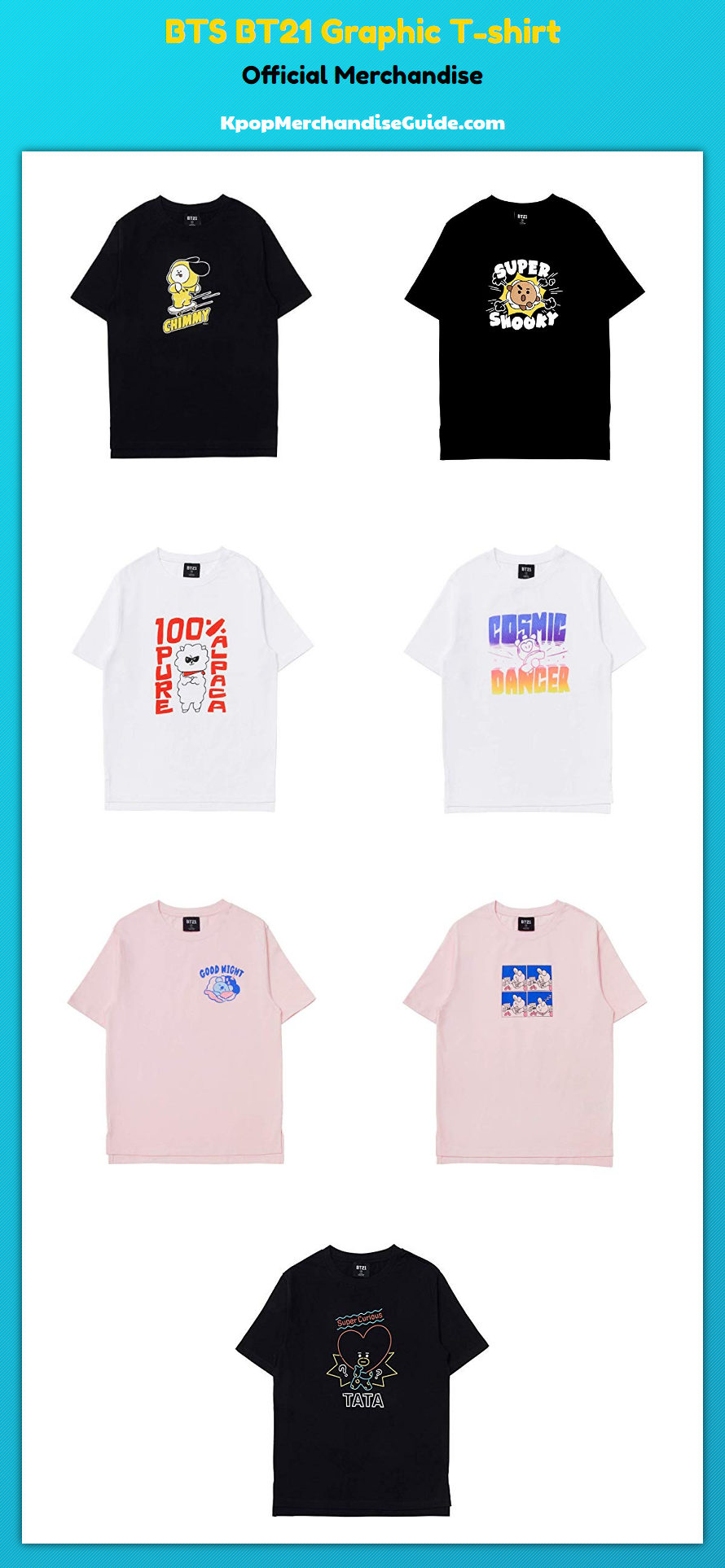 BT21 is a collaboration project between Big Hit and Line Friends that resulted in creation of the new characters for the messaging app Line. The cartoon characters were designed personally by the members of BTS and are related to each one of them: Tata is a heart shaped alien which was designed by V, Mang is a small pony and was drawn by J-Hope, Chimmy is a yellow puppy that's associated with Jimin, Jin created RJ - a white alpaca with a red scarf, Koya is a small blue koala that was created by RM, Jungkook designed Cooky - a pink rabbit and Suga's creation is Shooky - a round brown cookie. The last one is named Van and he was created by the designers from LINE Friends. Over the last years many various merchandise showed up for the fans to purchase including BT21 T-shirts, hoodies, sweatshirts and backpacks, plush dolls, smartphone accessories, keychains, wallets and other collectibles. You will definitely find something for you. Additionally many devoted fans decided to create their own unofficial merchandise related to BT21 that are available on various online e-commerce sites.
You can get this BT21 T-shirt for just $29.95. We can agree it is a fair price for such a nice original item that will please every fan of BTS even if she/he is really demanding. It is available from Amazon but you can also find it on different KPop stores online.
Available from Amazon ▼
Check It Out