BT21 Merchandise
BT21 is a project brought to life by a collaboration between BTS and a very popular messaging app Line. It was created to eventually release a big amount of BT21 merchandise. Line was launched in 2011 and is owned by Naver Corporation. Both parties began their cooperation in 2017. Big Hit Entertainment is not the first brand Line Friends Corporation is working with.
Before the first collection of BT21 merchandise was released, Line already worked with such brands as LAMY, Brompton, and L'Occitane, among others. Originally, it had 11 original cartoon characters which were used as stickers for the messaging application by more than 200 million active users online. That included characters like Choco, Brown and Cony.
After BTS got involved in the project, another eight characters were created to use as stickers and as a reference to create BT21 merchandise.
The members of BTS were heavily involved in the creation process of the characters which were designed based on their drawings. Each of the characters represents a single member of the group and was basically designed by the member. You can spot these cute cartoon characters on practically every BT21 collectible.
The eight unique characters you'll be interested in are Tata (inspired by V), Mang (created by J-Hope), Chimmy (design by Jimin), RJ (created by Jin), Koya (drawn by RM), Cooky (inspired by Jungkkok), and Shooky (designed by Suga). The last character is a nice fellow called Van who is a guardian of the whole group and the official fandom of the band ARMY. Van is the only sticker not designed by the members of BTS, but rather by the designers from Line Friends.
The first line of BT21 merchandise came out in 2017 when Line Friends had 91 stores in 11 markets all around the world. That includes a very famous store BoonTheShop in South Korea, a flagship store at 1515 Broadway in New York, and other locations in Japan, Taiwan, Hong Kong, and Thailand.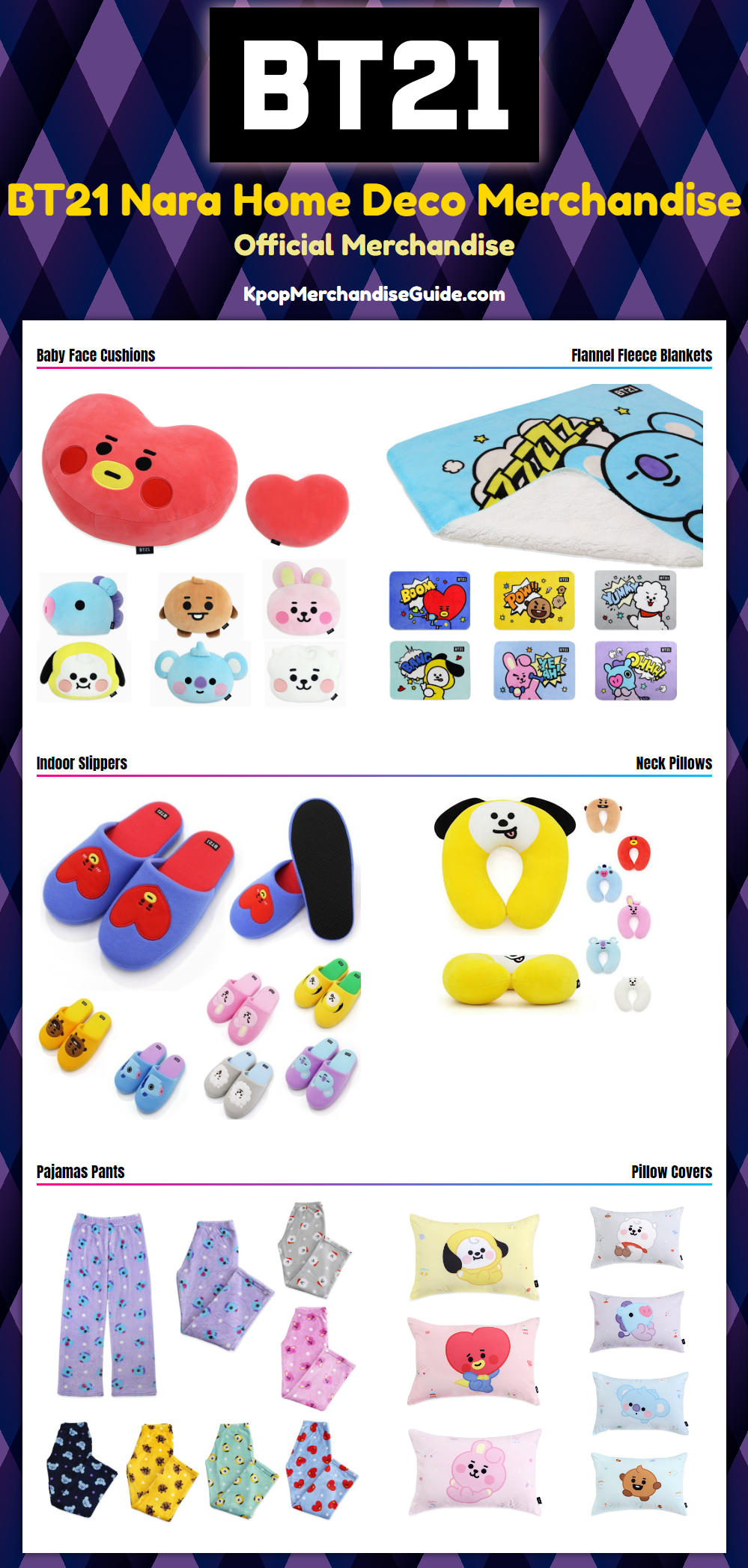 The first BT21 merchandise was officially released on October 13, 2017, but were unfortunately spoiled by RM before that date during his livestream on V Live. He was asked by the fans about the plushies in his room, among which you could spot a new BT21 toy.
If you're looking for something nice for a gift for a person who is a big BTS fan, something unique that you will certainly know the person is going to love, BT21 merchandise can be a very good solution. There are plenty of high-quality collectibles so you can be sure you'll be able to find something perfect. They come in a range of prices starting with a very affordable items, and those more expensive that will certainly please even the most demanding fans. There is really no need to become feeling pressured to spend a big amount. You can just stick to a budget you are comfortable with.
There is a large variety of BT21 merchandise you can find online - apparel, shoes, phone accessories, stationary, jewelry including earrings and bracelets, and more everyday products. If you are preparing a gift for someone who owns a home, you can get a plush toys to put on the bed, or coasters to put on the table under the mugs. They will make a wonderful practical items, especially if they are for someone who just bought or rented their home and is in the process of decorating. Anyone who owns a smartphone would be interested in receiving a nice phone accessory that is a part of BT21 merchandise collection.
Looking for something to decorate your or someone else's room, you will probably be interested in the Nara Home Deco collection. There is a large number of items you can use to decorate your place with including flannel fleece blanket, standing cushions, face cushions, body pillows, cotton bedding sheets, and pillow covers. The collection also includes something you can wear - indoor slippers and pajama pants.
If she or he owns a laptop or PC computer you could get the person a nice and useful accessory to improve their working space. There are several excellent options to choose from including mouse pads, keyboards, and USB hubs, most of them are the fruit of a collaboration between BT21 And Royche.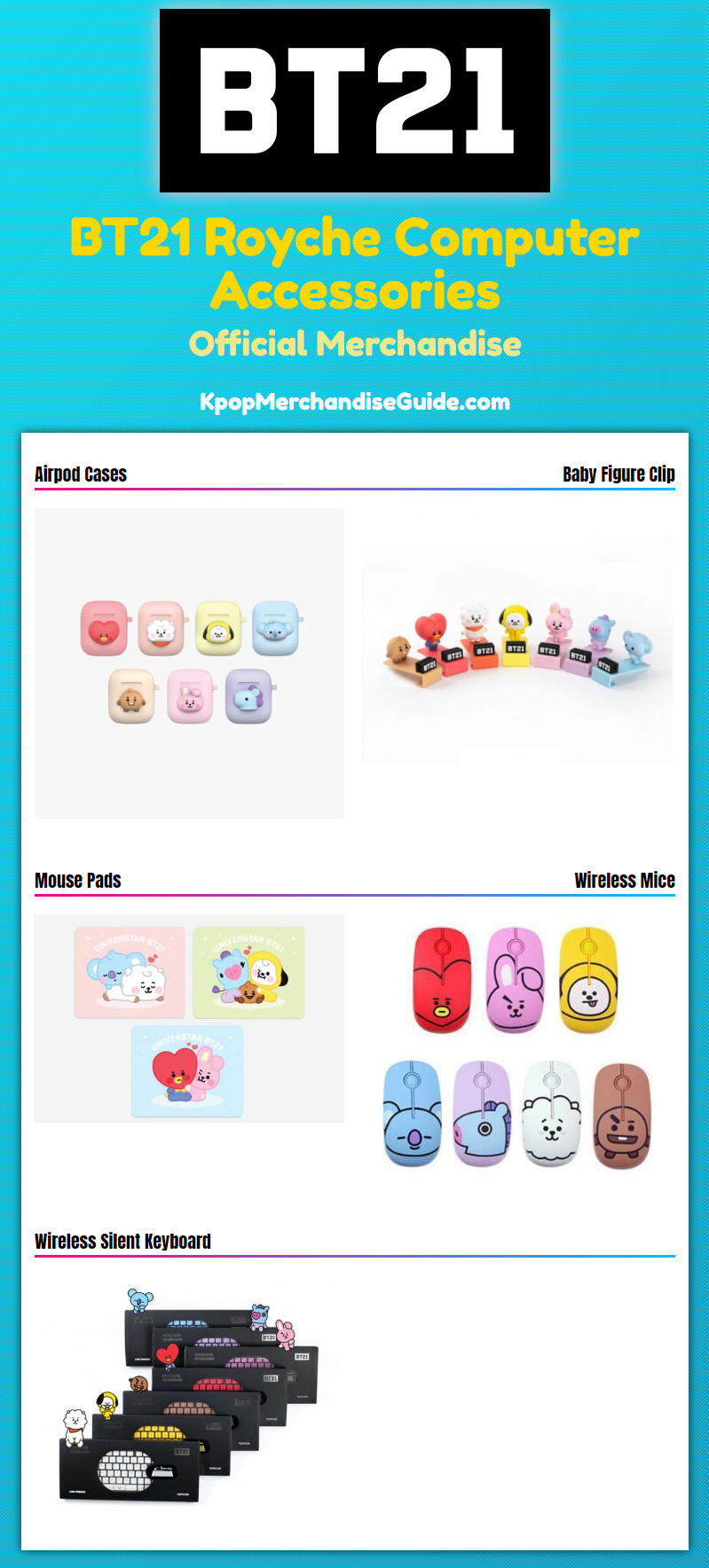 There are many different mouse pads released by the company. One of the most interesting are three almost square depicting a baby representation of the BT21 characters. There are three to choose from - the first one is blue and features Tata and Cooky, the second one is pink and shows an illustration of sleeping Koya and RJ, while the third one, green, showcases Mang, Shooky and Chimmy. Additionally you can also get a very wide rectangular mouse pad with all seven characters visible on a pink background. It measures 780 x 300 x 4 mm and is made of rubber.
Another useful piece of BT21 merchandise is a retro keyboard. There are seven options to choose from - each of the eight characters is represented. A single keycap figure is also included. Its dimensions are 391 x 135 x 41 mm and it is made of ABS. You can connect it to your computer wirelessly.
One final product is needed to complete your workspace - a wireless mouse available in 7 options. Each of the mice showcases an illustration of the chosen BT21 character. This piece of merchandise measures 64 x 113 x 31 mm and will look nicely on your desk, especially on a mousepad.
Royche manufactured many more computer-related collectibles including Airpod cases, power banks (which are also a hand warmer), monitor stands, monitor figures, earphones and memo boards.
As you can see there are plenty of quality and affordable pieces of BT21 merchandise. If you would like to make a gift or buy something for yourself the options you can choose from are infinite. Regardless if it's a piece of clothing or a piece of electronics you will most likely found yourself happy with the purchase.