BTS Fila Collection
After the collaboration between BTS and Puma ended, the group began their partnership with Fila and became officially its ambassadors on October 1, 2019. The members began endorsing the BTS Fila products the next year in South Korea, but also in North and South America, Europe and Asia. At the same time they become the models for the brand. The two parties work together under the slogan: "One World, One Fila".
The first BTS Fila collection was launched in March of 2020. It was called White Series and included several items you would probably love to wear - as the name suggests - in white: T-shirts, sweatshirts, hoodies and shoes. All of them feature a highly recognizable classic logo of Fila in a place you can immediately see it. The selection was available only in Indonesia via an e-commerce website Tokopedia and in selected traditional stores.
The same month a large BTS Fila collection was released. It was launched on March 13, 2020 and was titled Voyager. The galaxy themed collection incorporated in its designs the zodiac signs of the members and their official color - purple. Several promotional photos taken during the photoshoot and videos showed up for Voyager, with the members wearing numerous BTS Fila items including sweatshirts, T-shirts, hoodies and shoes.
A month later, in April of 2020 new BTS Fila collections where released - Originals SS20 and Con Amore. J-Hope, RM, Suga, V and Jin modeled for the first collection, while Jimin and Jungkook became the models of the second one. Among the items you could find a range of very colorful T-shirts.
On April 10, 2020 a new selection of products was launched. It was inspired by the Love Yourself series of albums of BTS composed of Her, Tear and Answer released between 2017 and 2018. The new BTS Fila collection was designed based on two periods of the artistic career of the group - Idol and DNA. Several high-quality items were manufactured - T-shirts, bandanas and shoes. You could also get other BTS merchandise including bags, wristbands, stickers, phone cases and slippers. All items feature a logo of Fila and will be a perfect addition to your KPop collection.

A week later, on April 16, 2020, a collection named Paradise was announced on the official Instagram account of the brand. The BTS Fila selection was prepared for the Summer season and included several different T-shirts, sweatpants and shoes comfortable to wear during a little bit warmer days, suited for vacation.
Soon after an exclusive collection showed up on the Urban Outfitters website. The BTS Fila collection included hoodies, graphic t-shirts, backpacks, bucket hats, baseball hats and crossbody bags, all incorporating the galaxy theme and the purple color. The items were available for prices ranging between $30 to $70.
Next we had a BTS Fila collection called Go Beyond prepared for a little bit colder times, including pullovers, sweatshirts, hoodies, sneakers and tennis shoes. Several promotional video spots were prepared for the endorsement, in which all the members including J-Hope, Jin, Suga, Jin, V, RM and Jungkook took part. Some additional behind-the-scenes videos for Go Beyond where also released.
Project 7 was another BTS Fila collection released for the fans. It was launched on September 24, 2020 and was promoted by the sentence "In the battles of every day, strengthening ourselves to protect". It was a collaboration prepared especially for the Fall/Winter season and included jackets and trousers. It was available for South Korean, as well for the international fans. Project 7 was accompanied by the Fila Winter collection consisting of a little bit more casual and sporty jackets.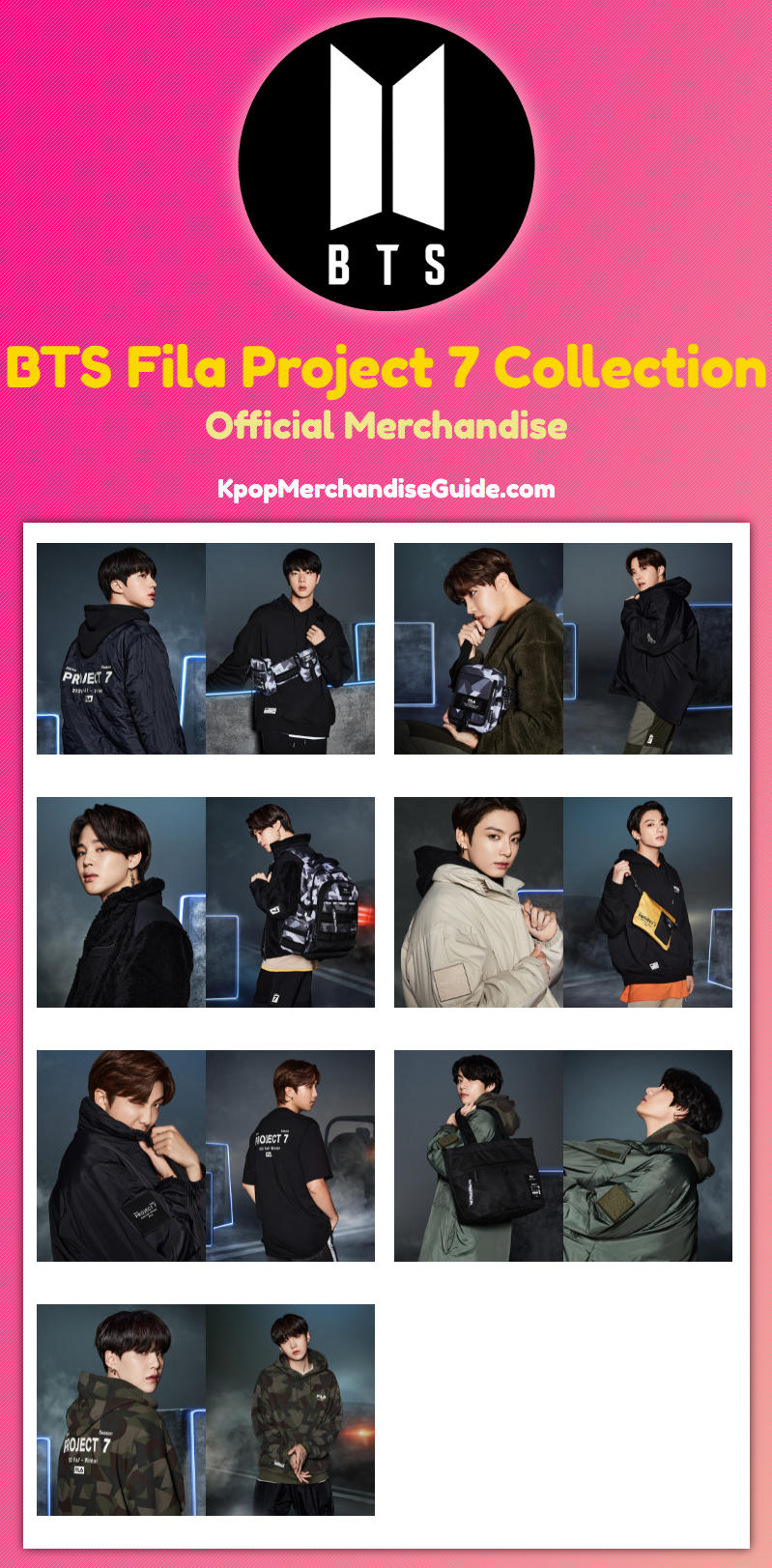 For the next collection of BTS Fila items we had to wait until the next year. On January 21, 2021, the members started the promotions of a new Back To School collection. The group endorsed several different styles of backpacks you could proudly take to school if you are a big fan of BTS. Several promotional advertisements were uploaded on YouTube, each featuring a single member.
In February 11, 2021, BTS announced a new collection titled Now On. It was split into two categories - day time and night time. The fashion was available for pre-order on February 21, 2021. Each purchase from Now On collection was sent with a set of photo cards (day time or night time depending on the items purchased).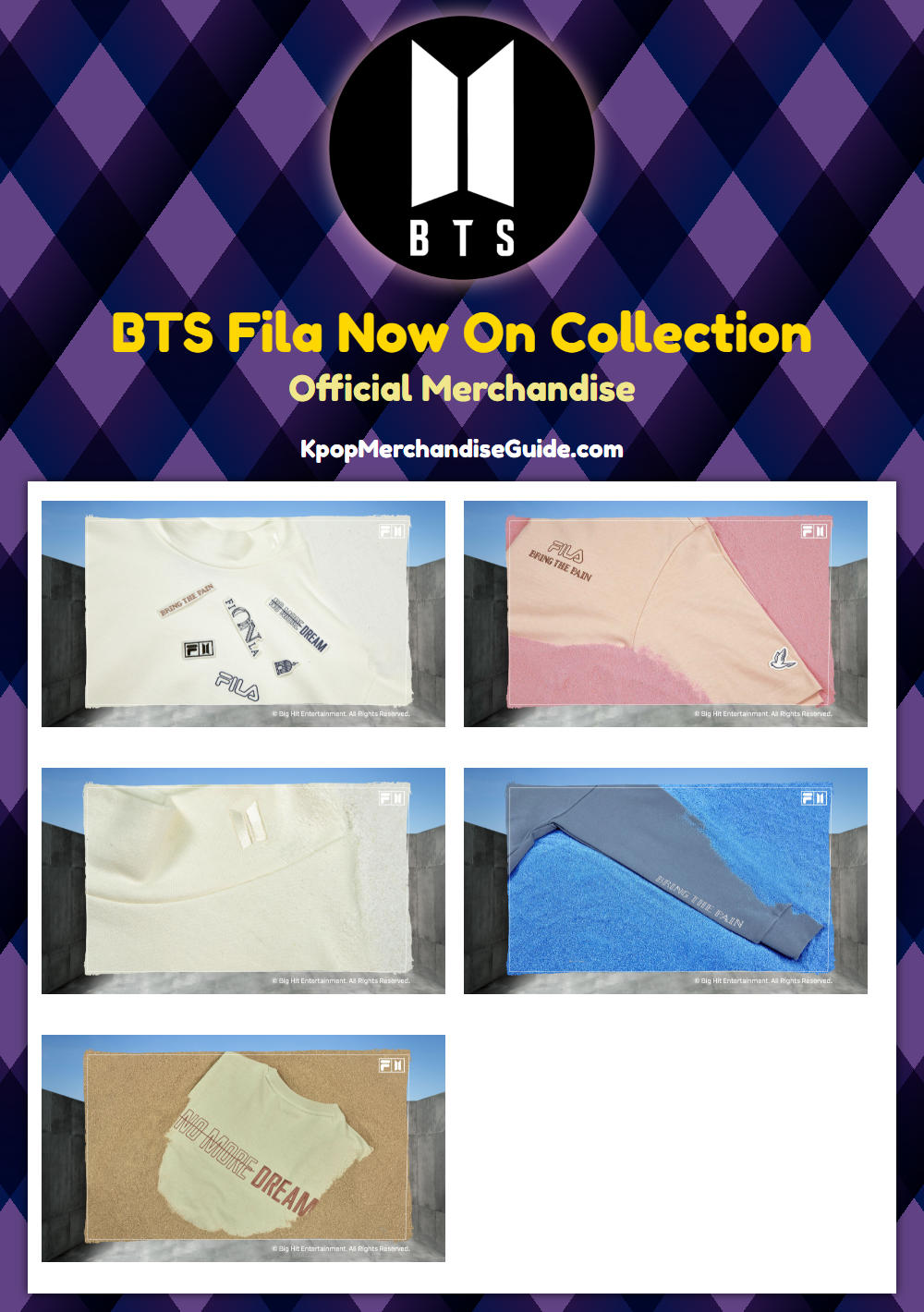 A spring BTS Fila collection titled Reverse x Rebirth was announced on February 25, 2021. It was made especially to encourage you to leave everything in the past and to look into the future. Among the products you could find sweatshirts, zip-up hoodies and jackets.
An extension of the Project 7 titled Back To Nature had its official premiere on March 17, 2021. It consisted of several light weighted kinds of Fila apparel like T-shirts, hoodies, bucket hats and baseball hats. All prepared for the Spring season.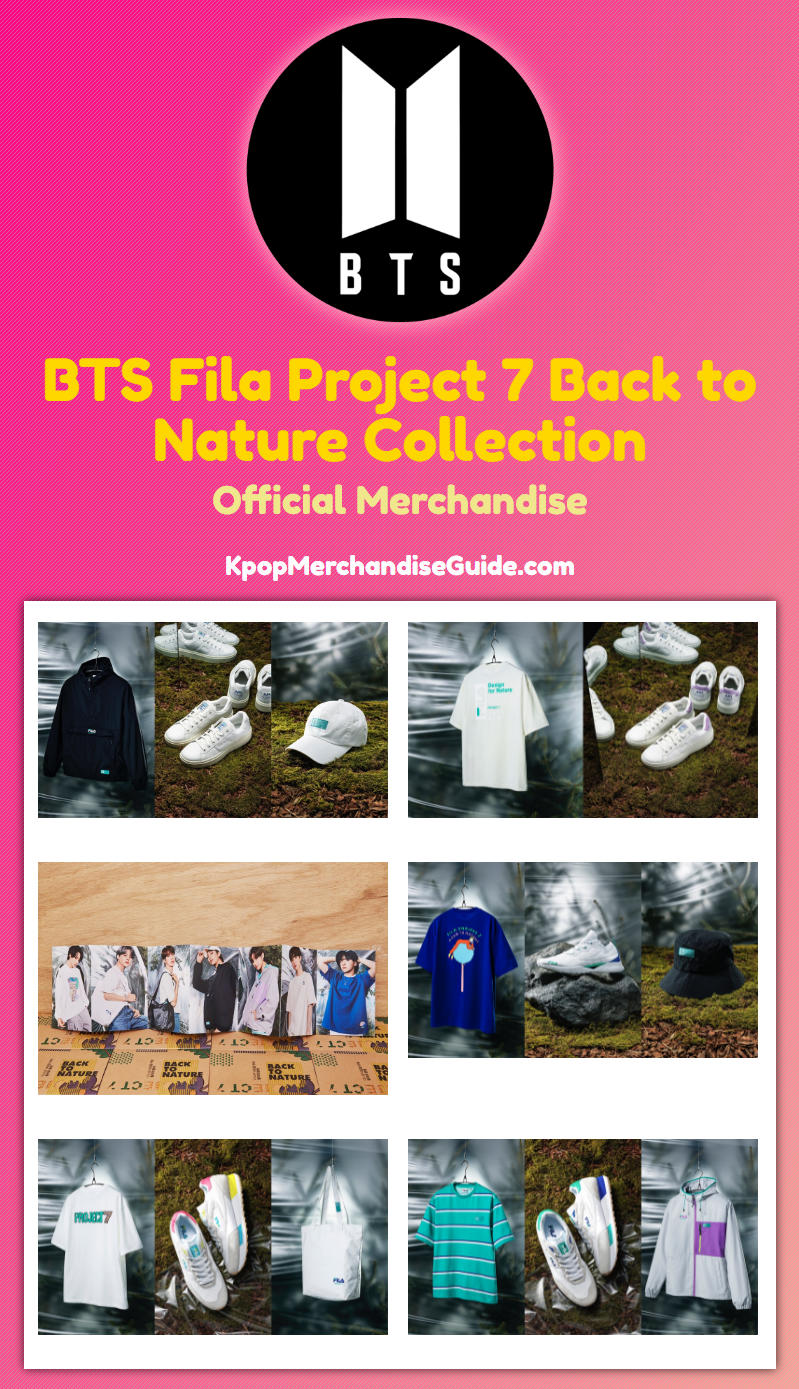 On April 21, 2021 the members began promoting a new BTS Fila collection titled Runner's Instinct: Neuron. During the promotions a new line of footwear Fila Neurons was introduced. The shoes were available in different sizes, styles and colors, and will satisfy even the most demanding customers.
The Summer collection intended for the Summer season of 2021 had its premiere on May 18, 2021. Several short sleeve t-shirts were prepared, featuring the logo of Fila either on the front, on the back or in other places.
The Autumn BTS Fila selection of apparel premiered on August 11, 2021 and included several matching sets of sneakers, trousers and hoodies, so you can conveniently buy it without worrying that you will have to find your own style by yourself.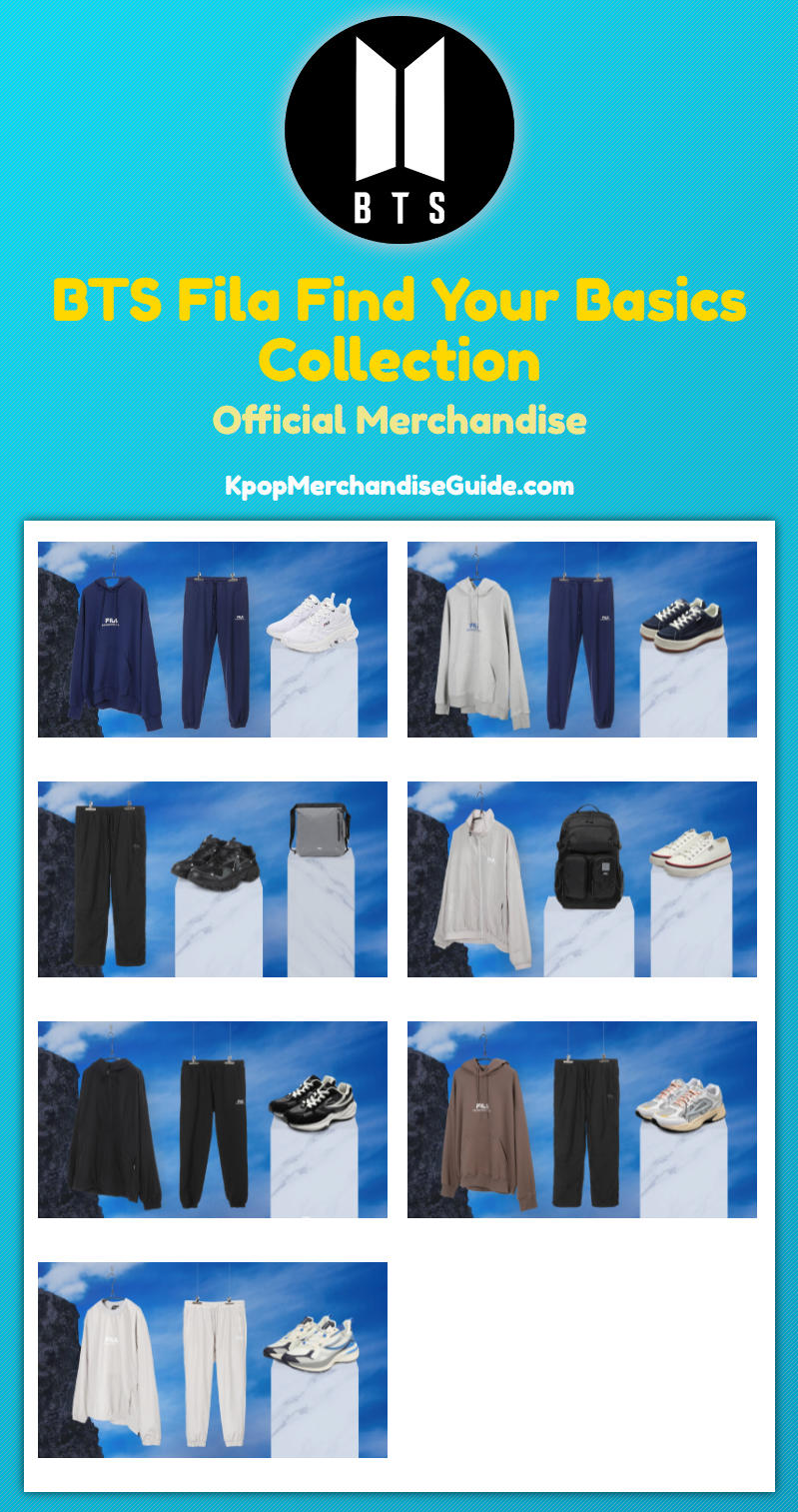 On September 13, 2021, the brand announced that it will be releasing a BTS Fila collection related to a hit song of the group Dynamite. The single came out on August 21, 2020, and was later included on the fifth full-length album of BTS titled Be released on November 20, 2020. Several long sleeve T-shirts were manufactured, all colorful with interesting graphic designs on the front, incorporating the title of the song in many different ways.
The next BTS Fila fashion collection was prepared for those who enjoy spending time in the nature, who like camping and hiking. The collection includes many comfortable and useful at the same time pieces of apparel that are meant to wear during some outdoor activities. This Fila collection is called Explore Now.