BT21 Plushies
Finding a nice item for a gift for a person you care about can be a difficult task. If the person is a big BTS fan, BT21 plushies can be a great solution. They will be perfect for different occasions such as birthdays, Christmas and all kinds of anniversaries. Kids, teenagers and older fans will be pleased with that kind of present. The BT21 plushies can come in a large variety of sizes, colors and shapes. If you're at the crossroads and have no idea what exactly to get, hopefully this guide is going to help you a lot. The process is going to be a lot easier if the person for whom you are buying the stuffed animal already has their favorite BT21 character.
BT21 is a collaboration between BTS and Line Friends was created to make several interesting characters for a very popular messaging app called Line owned by a corporation giant Naver. The users have a chance to use the application as their primary messaging app since 2011. The collaboration between two parties began in September of 2017.
The characters (based off which the plushies you're reading about were created) were drawn and ultimately designed by the members of BTS. There is a total number of eight unique characters you can choose from, all with cute names reflecting their personalities. The first one is called Tata (it was created by V). It is a red alien which looks like a heart. The second one was design by J-Hope and named Mang. It looks like a small pony. Jimin is responsible for the creation of Chimmy. It is a cute little puppy with a funny face and black ears. RJ was created based off the Jin's drawing. It is a white alpaca wearing a red scarf. Next we have Koya which is a blue koala designed by RM. The maknae, Jungkook, inspired the creation of a pink rabbit called Cooky. The last character created by the member of BTS was named Shooky. It is a round brown cookie and is the smallest out of all characters. One additional character was created by the designers of Line Friends. It is often not included in the official collections of BT21 plushies.
Aside from the plush toys there is endless amount of merchandise prepared for the fans. That includes all kinds of fashion, keychains, phone cases, pajamas, notebooks, pillows, slippers, hand mirrors, bottles, backpacks, stickers, cotton candy dolls, DIY items and popsockets. The variety of items you can choose from will make your head ache.
Let's see what kind of BT21 plushies you can get online at this moment. The first collection is a classical one with the characters looking exactly as they appear on the original drawings and concept art. They have circle Line Friends tag attached to the ear. They are approximately 6 in to 6 1/2 inches tall. Please notice that Van is included in the collection.
As mentioned before BT21 plushies are often prepared for a special occasion. A good example is this vacation themed selection. The collection includes all 7 BT21 characters (without Van). The majority of them is wearing a snorkeling mask (except Shooky, Mang and Koya). Shooky has his tiny companion on a leash and a lifeguard ring in his right hand. Mang is wearing a purple and yellow dad's hat and a pink shorts. Koya is having a lot of fun with his beach ball. Tata, Mang, Chimmy, Cooky and Koya are 150 mm tall while RJ and Shooky measure respectively 170 mm and 100 mm. It is a limited edition collection so you have to hurry up before it will get sold out.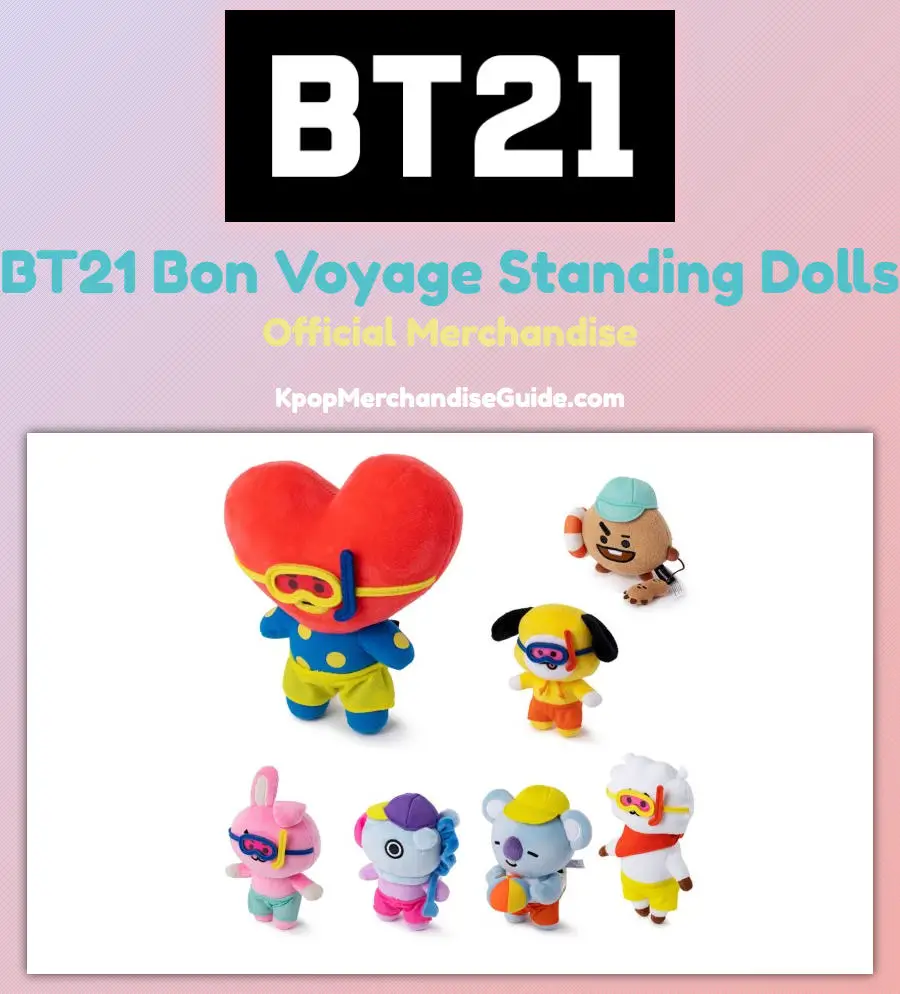 Next we have two collections released for the Christmas season. The first one came out in 2019 and does not include Van. All of the BT21 plushies are wearing a Christmas related outfits. Koya, Cooky and Chimmy have a traditional red Santa Claus costume on them. RJ and Mang are cosplaying Rudolph wearing a brown cape with a red bow tie. Shooky has his small companion with him and is wearing a red hat. Tata looks almost like a Christmas tree with his green cape and green hat with a yellow star. All those BT21 plushies were manufactured by Line Friends Corp. and are approximately 150 mm tall.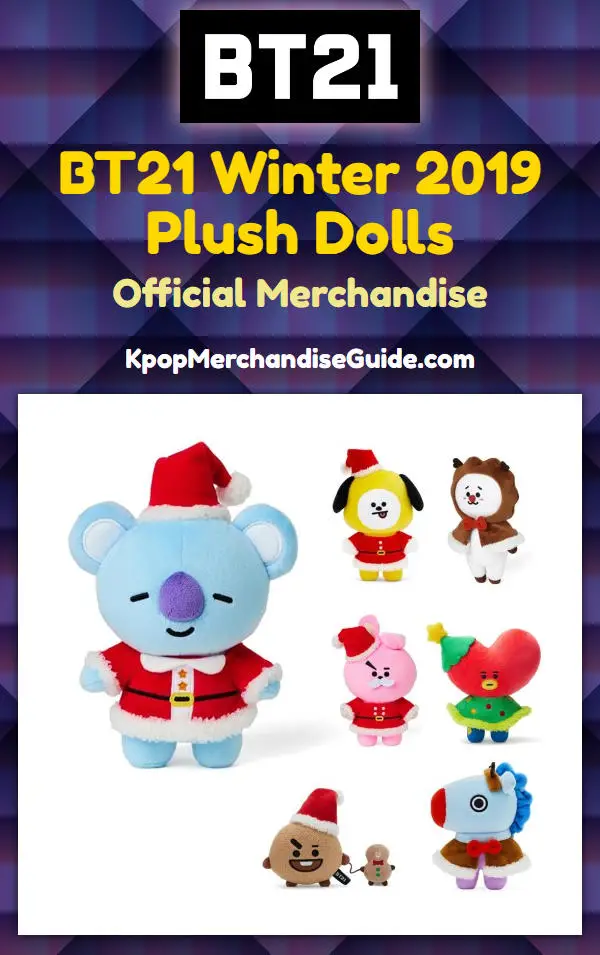 A year later, in 2020 another collection was released. This time a little bit different aesthetically. All BT21 characters look like a white snowmen. Koya has his pink hat on his head, Cooky and Tata seem like they are wearing an all-body suit, Mang has a pink muffler and a white earmuffs on him, while Chimmy and RJ are wearing a stylish capes - a yellow and red respectively. A total weight of each of the plushies is around 360 g. The dimensions of each of them are 190 x 220 x 110 mm. This is also a limited edition collection so you can have some difficulties in getting it online.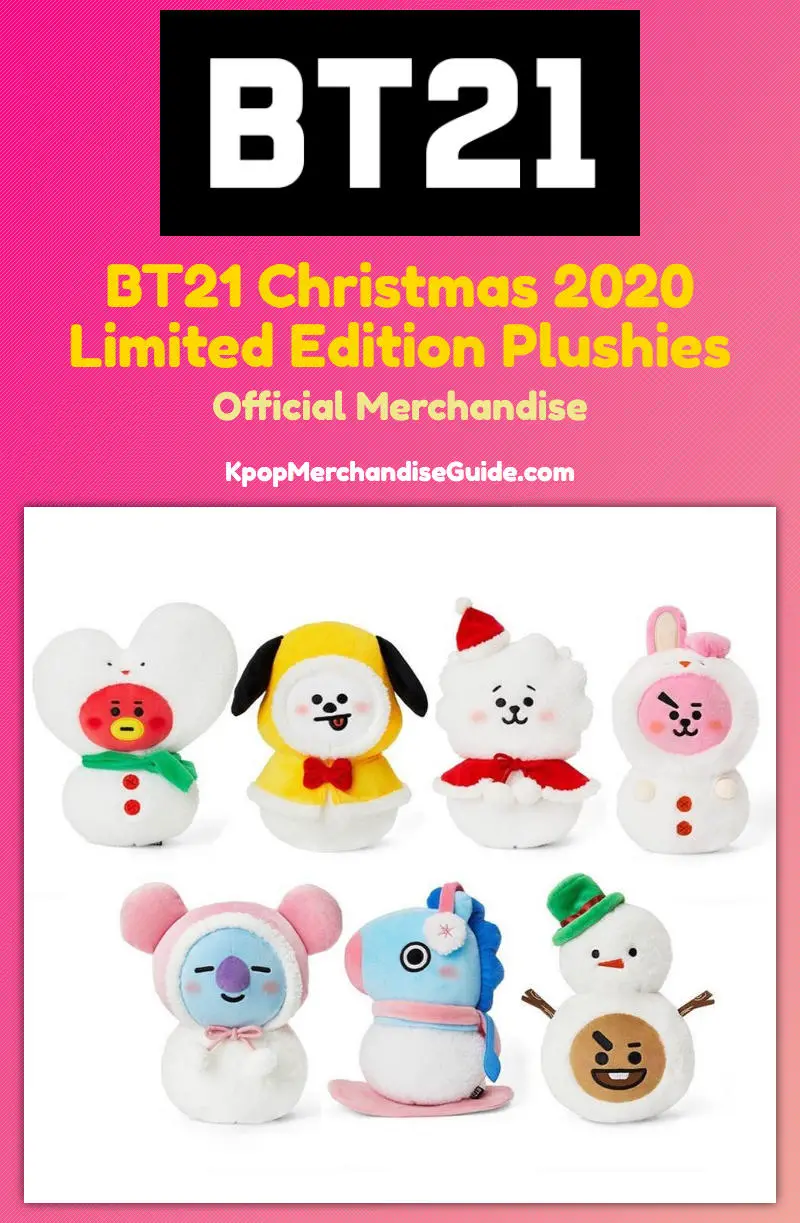 When speaking about special occasions I meant also a Halloween. If you're looking for some spooky stuffed animals, the BT21 plushies will be perfect for you. There are a couple amazing selections available for purchase if you would like to own them. The first one I'll be talking about is from 2018. It is composed of all seven characters in their Halloween costumes. These standing dolls are approximately 250 mm tall (except RJ and Shooky which measure 380 mm and 190 mm). Chimmy looks like a mummy wrapped in white bandages, Koya and Shooky look like a vampire with their bat wings and black horns, RJ is wearing a black hooded costumes, Tata's black cape makes him look like a Dracula, finally we have a cute Mang cosplaying Frankenstein.
In 2019 a new Halloween related collection showed up online on various KPop shops. The BT21 plushies had a new sophisticated outfits. Koya and Tata are cosplaying a Frankenstein, RJ is wearing a navy cape with a white skull while Chimmy looks like a witch with his dark blue outfit and a round wishing ball, Cooky has his orange bodysuit and a blue wand, Shooky this time is wearing a mummy costume while Mang is wearing a white cape. The three BT21 plushies - Koya, Shooky and Mang are accompanied by a very tiny white ghost. This collection is very attractive so you should think about getting at least one of the toys.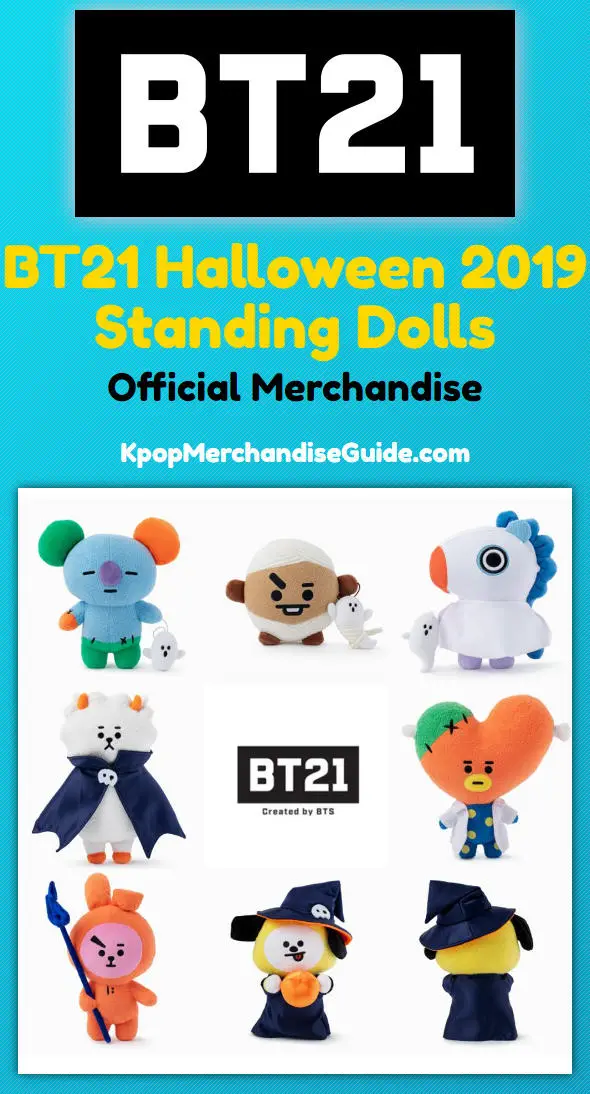 If you're looking for something else than a traditional standing doll you should think about a plush cushions or pillows if you will, especially from the newly released baby representation of the characters line, or maybe even giant toys. Each of the cushions depicts a face of a single baby BT21 character. All of them present a very pleasant expression and are made of a very soft material which will be easy to wash. This kind of BT21 plushies will look beautifully on a couch or your bed. They can also have a decorative attribute.
The next line of baby cushions is very similar to the first one. This time though they have a little bit different expression. All BT21 characters look as if they were sleeping. They can definitely change a decorative mood in your room. All of the plushies are wearing a sleeping night cap in different colors depending on the character. This is the official product from Nara Home Deco based of the license from Line Friends. The pillows measure around 300 mm.
Next we have an original concept - a set of BT21 plushies related to a single character. What you will be getting is 3 to 7 mini plush toys contained in one package. Mang comes with a small plushie identified by a name of Gwang - his dancing rival, and his mentor - a dance master Conn. Cooky is accompanied by his father C-Gul and two friends Jooky and Ian. Next we have RJ and his family - father Ra, mother R, younger sister RK and alter ego DJ. Tata comes in a collection with the royal family of planet BT - king Fafa, prince Tutu, princess Titi and - surprisingly or not - Van. Inside the package with Shooky you will find four BT21 plushies - the patisier Mustashu, a burnt cookie Spooky, Shooky's best friends Donkey and Doorlockey. Finally Chimmy comes with his five best friends puppies, while Koya is joined by his buddies from the forest healing camp - his rival, an acorn pair Toll, Koya's friend Baeby, and the eucalyptus leaf who is going by the name of Leafy.