BTS TinyTan Mic Drop Plush Doll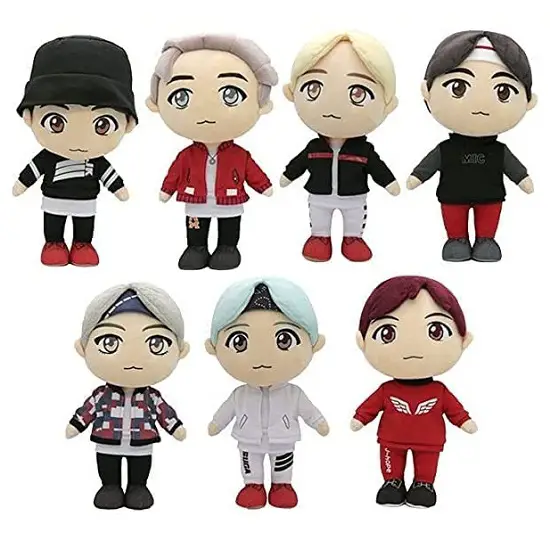 There are many different plush dolls related to your favourite group which is BTS. You can get the toys depicting each of the members or a cartoon characters from the BT21 line representing them. The choice is yours. Although the variety of items you can acquire might be a little bit overwhelming.
This set contains of seven plushies of the TinyTAN characters. They were introduced for the first time at the premiere of a pop-up store BTS Pop-Up: House of BTS in 2019. A large collection related to the characters were offered, that includes these wonderful products.
Each of them represents a single member of BTS including Jin, Jimin, RM, Suga, J-Hope, V and Jungkook. Everyone is styled to look like the members from the music video of MIC Drop. The song was released on the first installment of the Love Yourself series of albums titled Love Yourself: Her. It was later remixed by a famous American producer Steve Aoki.
The dolls are approximately 11 inches (or 290 mm) tall and look very cute. They come in a red box with a cut out window on the front, so you can display them on the shelf without taking them out. On the back side you will find a sticker of authentication. That proves this is the official product from Big Hit Entertainment/Hybe.
If you are a collector you should think about getting the whole set. You can get each of the items for a surprisingly not so expensive price. It will be perfect as a gift for someone you care about.
Available From Ebay ▼
Check It Out
Or Amazon ▼
Check It Out